Rams backup quarterback Sean Mannion is off to a strong start in camp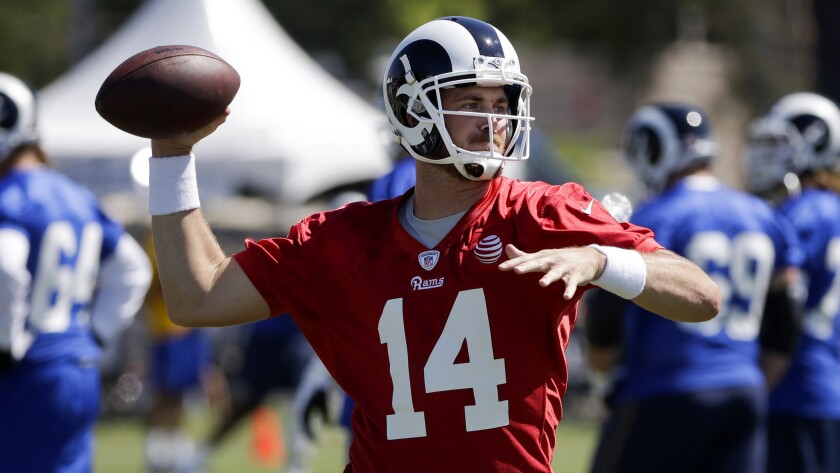 It comes with the position.
Backup quarterbacks in the NFL, and all levels of football, are accustomed to garnering support from fans unhappy with the starter.
When the endorsement comes from a Hall of Fame player, well, the backup takes notice.
Sean Mannion of the Rams did.
In a television interview before training camp, former Rams running back Eric Dickerson said that he would start Mannion over Jared Goff. Multiple media outlets picked up the comments.
"I don't like to pay attention to that kind of stuff," Mannion said Sunday after the team's second training camp workout. "But at the same time, in today's day and age, it's impossible to ignore.
"So I heard about it. I appreciate his comments and I think it's nice that he's been supportive of me but those aren't my decisions to make. I certainly have confidence in my abilities and I feel like if I'm called upon I can do a lot of things to help this team win."
Mannion, a third-year pro, has looked sharp in camp. And he will have plenty of opportunities during the preseason when Goff exits after an assigned amount of work.
But barring an injury or horrendous play by the No. 1 pick in the 2016 draft, Mannion is on track to be the backup.
Just about every decision the Rams have made in the last year has been done with Goff's development in mind.
The Times' Gary Klein and Lindsey Thiry recap the first weekend of Rams training camp, including star tackle Aaron Donald's contract situation, quarterback Jared Goff's progress and standout newcomers.
That includes the hiring of offense-minded coach Sean McVay, the acquisition of free agents such as receiver Robert Woods and left tackle Andrew Whitworth, and the selection of tight end Gerald Everett and receivers Cooper Kupp and Josh Reynolds in the NFL draft.
The Rams recently signed veteran quarterback Dan Orlovsky to bring experience into the position.
The 6-foot-6, 231-pound Mannion said he had a great relationship with Goff and was good friends with the fellow Northern California native. Goff, he said, has made strides in getting the ball out quicker.
But he will continue to compete, hoping to make positive impressions on Rams coaches, and opposing coaches who might one day be in the market for a quarterback.
"All I can do is come out here, focus on my play and play my best football," Mannion said. "I feel like, through these first two practices, I put my best foot forward and have done a lot of nice things, but like I said too, those aren't my decisions to make."
McVay was asked Sunday if there was anything Mannion could do to truly challenge for the starting role.
Mannion, he said, had done "an excellent job" and the coach complimented him for building on his offseason work. But he did not answer the question.
"We're always constantly evaluating these guys," McVay said, "But he and Jared both had good days."
Aaron Donald is still absent
Star defensive lineman Aaron Donald remained absent because of a contract dispute but he has been in contact with teammates.
Defensive tackle Michael Brockers said "it's killing" Donald not to be at training camp, but that he was working out.
"You just miss his personality during some of these hard practices where he might make a joke or do something or jump on your back, something to pick us up," Brockers said. "What people don't realize, he brings a lot of personality to the defensive line as well."
Donald, a three-time Pro Bowl selection, is a team captain whose influence goes beyond the defense.
"When you're missing one of your best players it kind of messes with you as a team," linebacker Robert Quinn said, adding, "We miss him but there's nothing we can do about it right now."
McVay, preparing for his first season, knows he will be asked about Donald every day.
"It's understandable," he said, joking. "I'm asking [front-office] guys too. What is going on?' "
McVay said there's ongoing communication with Donald's representatives.
"We are striving to work for a solution," he said. "In the meantime, guys are out here getting better. I have full trust and confidence that Aaron is working too.
"That is why, you know that he is going to be doing the little things the right way, so that hopefully if we can't come to a solution to this, he will be ready to go."
Etc.
Receiver Tavon Austin caught a short pass and broke free for a touchdown, drawing cheers from the crowd. … Receiver Shakeir Ryan, who played at Northwestern State, made one of the plays of the day when he hauled in a long pass from Orlovsky. … Former Rams receiver Stedman Bailey visited practice.
Follow Gary Klein on Twitter @latimesklein
---