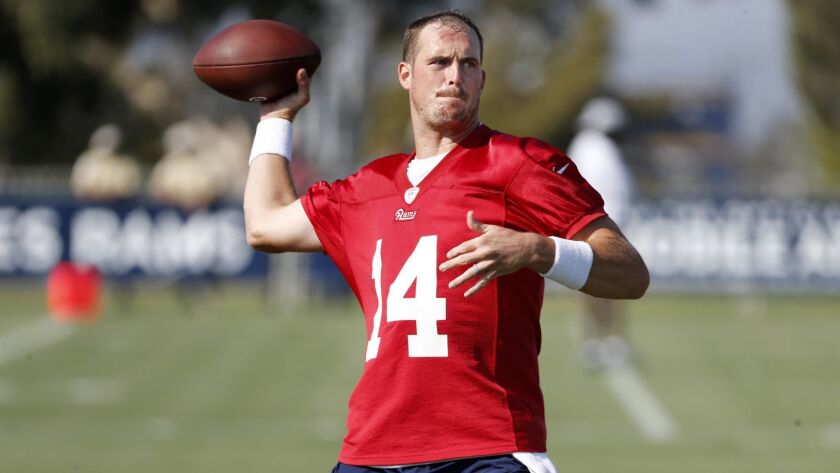 During an NFL career that is moving into its fourth season, Rams quarterback Sean Mannion has received limited opportunities to produce on-the-field highlights.
He backed up Nick Foles and Case Keenum as a rookie in St. Louis in 2015. He sat behind Keenum and No. 1 draft pick Jared Goff when the Rams returned to Los Angeles a year later.
Last season, he was No. 2 behind Goff, a role he is on track to reprise in the final year of his contract.
Mannion, though, recently celebrated a personal highlight. After being excused from training camp for a few days, he was with his wife as she delivered a baby girl.
"There's nothing like it," he said of becoming a parent. "Getting to hold your daughter for the first time is just the most amazing thing."
Mannion, 26, is preparing for what is expected to be another busy preseason.
Goff, coming off a stellar second season, is on track to start Thursday's preseason opener at Baltimore, but his snaps will be meticulously monitored and limited. They might increase in games against Oakland and Houston, but he and other starters almost certainly will sit out the final preseason game at New Orleans.
That means Mannion once again will have the chance to show coach Sean McVay — and 31 other NFL teams — that he is a viable option.
Mannion, a third-round draft pick in 2015, has a salary-cap number of just over $1 million, according to overthecap.com.
Uncertainty about his future does not create added pressure, he said. Just as rookies use the preseason to impress coaches and build a resume with their play, so do veterans chasing a second contract.
"First year or last year," he said, "you have to play well to stay around."
Mannion, 6 feet, 6 inches and 223 pounds, has played in seven regular-season games. He has completed 31 of 50 passes for 235 yards, with one interception.
During preseason games last season, he completed 49 of 76 passes for 490 yards and two touchdowns.
As Goff and other starters sat out the regular-season finale to avoid injury before the playoffs, Mannion started against the San Francisco 49ers. He completed 20 of 34 passes for 169 yards in a 34-13 defeat at the Coliseum.
Goff has noted during training camp that there is comfort in playing in McVay's offense for a second year. Mannion agreed, emphasizing that there are no "mental gymnastics" to navigate, and that he can play and react to situations as they arise.
"You just feel like you're hitting the ground running," he said. "Knowing that you know every aspect of [the offense], it just lets you play with so much confidence."
Third-year pro Brandon Allen and rookie free agent Luis Perez are other quarterbacks in camp.
Timing mechanism
Star defensive tackle Aaron Donald, a holdout because of a contract dispute, tweeted an emoji of an hourglass on Friday.
He offered no explanation or follow-up.
Donald is scheduled to earn about $6.9 million in the final year of his rookie contract. He is believed to be seeking a new deal that would not only make him the NFL's highest-paid defensive player, but also put him among the sport's highest-paid players.
If Donald does not report by Tuesday, he would forfeit a year of service toward becoming an unrestricted free agent when the 2019 league year begins. He would be eligible to become a restricted free agent, but the Rams retain the ability to place the franchise tag on him for as many as three seasons.
Etc.
The Rams were off Friday. They practice Saturday at 3 p.m., and then depart Sunday for Baltimore, where they will hold two joint practices with the Ravens before playing them Thursday. ... Running back Todd Gurley, who signed a $60-million extension on the eve of training camp, turned 24 Friday.
Follow Gary Klein on Twitter @latimesklein
---