Rams' Trumaine Johnson was chairman of the board game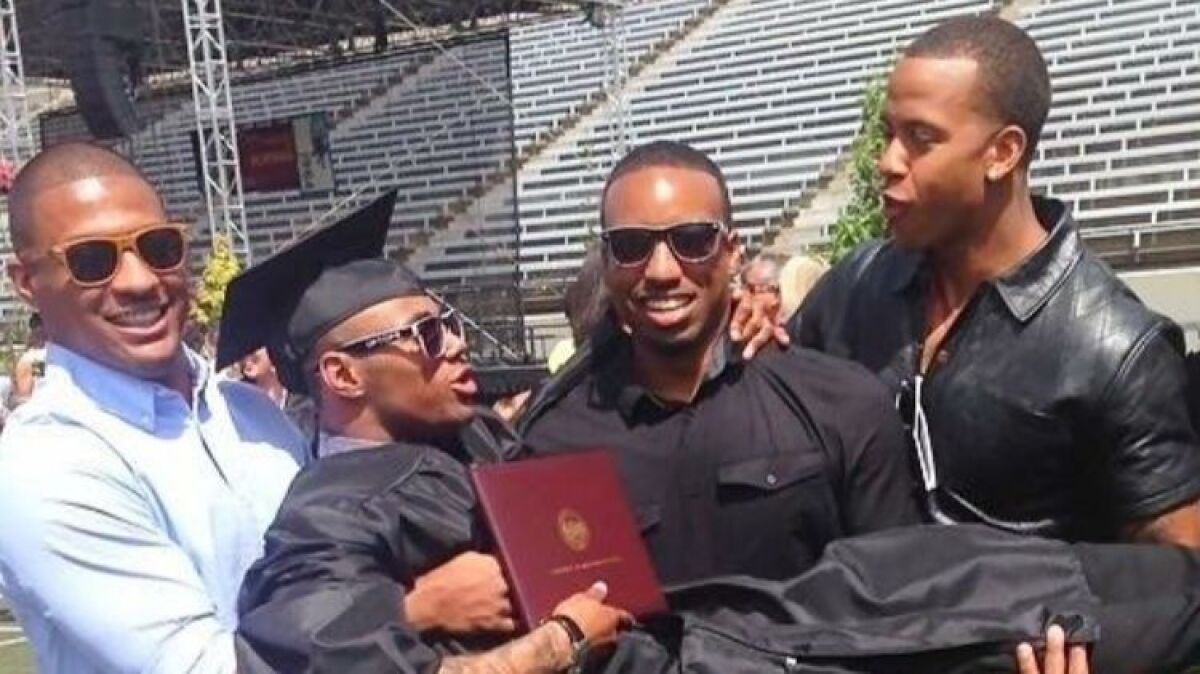 Years before earning an NFL salary of nearly $14 million, Trumaine Johnson spent hours buying and selling houses and hotels.
The Rams cornerback and three college teammates at Montana played the Monopoly board game day after day and night after night.
"It got serious," Johnson said. "Some games didn't end well."
Fellow defensive backs Brandon Dodson, Mike McCord and Andrew Swink went head to head with Johnson and each other, making their own rules in a quest to control properties such as Boardwalk, Park Place and Pennsylvania Avenue.
All will be watching Sunday when Johnson tries to control the Coliseum field in his biggest challenge of the season: shadowing Atlanta Falcons receiver Julio Jones.
"That's the plan," Johnson said.
The Rams are 4-8 going into the matchup against quarterback Matt Ryan and the NFL's highest scoring offense, which features the multitalented Jones, who has 72 catches for an NFL-best 1,253 yards and five touchdowns.
Jones, 6 feet 3 and 220 pounds in his sixth season, has seven 100-yard games this season, including a 12-catch, 300-yard performance in Week 4 against Carolina. But he has not practiced this week because of turf toe, and his availability won't be determined until Sunday.
"He's a beast, he really is," said the 6-2, 208-pound Johnson. "He's fast, big, strong and it's like he has that dog in him. I like that, so it's going to be fun."
Rams cornerback Trumaine Johnson shares the stories behind his tattoos.
This is the kind of matchup the Rams — and Johnson — envisioned when the team decided to let cornerback Janoris Jenkins leave as a free agent and put the franchise tag on Johnson, who intercepted seven passes in 2015.
"Once you get that first one, you just find the ball or the ball finds you," Johnson said. "That's what happened, literally, last year."
This season, Johnson intercepted a pass and forced another pick through four games before suffering an ankle injury in Week 5 against Buffalo. He was sidelined for two-plus games before returning from a condition that typically sidelines players four to six weeks.
Johnson has 11 passes defended for a defense that has been under siege all season because of an ineffective offense. He said he should have at least three or four interceptions, but has misplayed a few balls.
Johnson gave up several late completions, including the game-winning touchdown, in a 14-10 defeat by Miami on Nov. 20.
"He needs to make plays," Coach Jeff Fisher said this week. "Get lined up right every time. Not just 99% of the time …every time."
Johnson, who will turn 27 on New Year's Day, is unhappy about another season marked by losses, but he is glad to be back in California after attending Montana and playing four NFL seasons in St. Louis.
Johnson played quarterback, receiver and safety at Stockton Edison High.
Montana recruited him as a receiver, but after the first day of practice coaches told Johnson they wanted him to cover Cal Poly receiver Ramses Barden —– a future NFL player —– in the 2008 season opener.
"I'm a freshman and I'm thinking, 'OK, it's good for the team,'" Johnson says. "It worked out, so I mean, 'Thanks, Coach.'"
The Rams selected Johnson in the third round of the 2012 draft, one round after taking Jenkins.
Both developed into impact players, so, because of salary-cap restrictions, the Rams decided they'd choose one to put the franchise tag on last winter.
Johnson was in Los Angeles working out and monitoring the March 1 deadline.
"I'm talking to Janoris, Janoris is talking to me — like, 'What is going on?'" Johnson said.
His phone buzzed "probably within one a minute of the deadline" Johnson recalled, and Fisher told him, "We're going to franchise you, buddy."
Johnson said he "broke down" after hearing the news.
"I just started smiling," Johnson said. "This is reality. I'm in L.A., I always wanted to come back to where my family could see me."
Jenkins signed a five-year, $62.5-million deal with the New York Giants.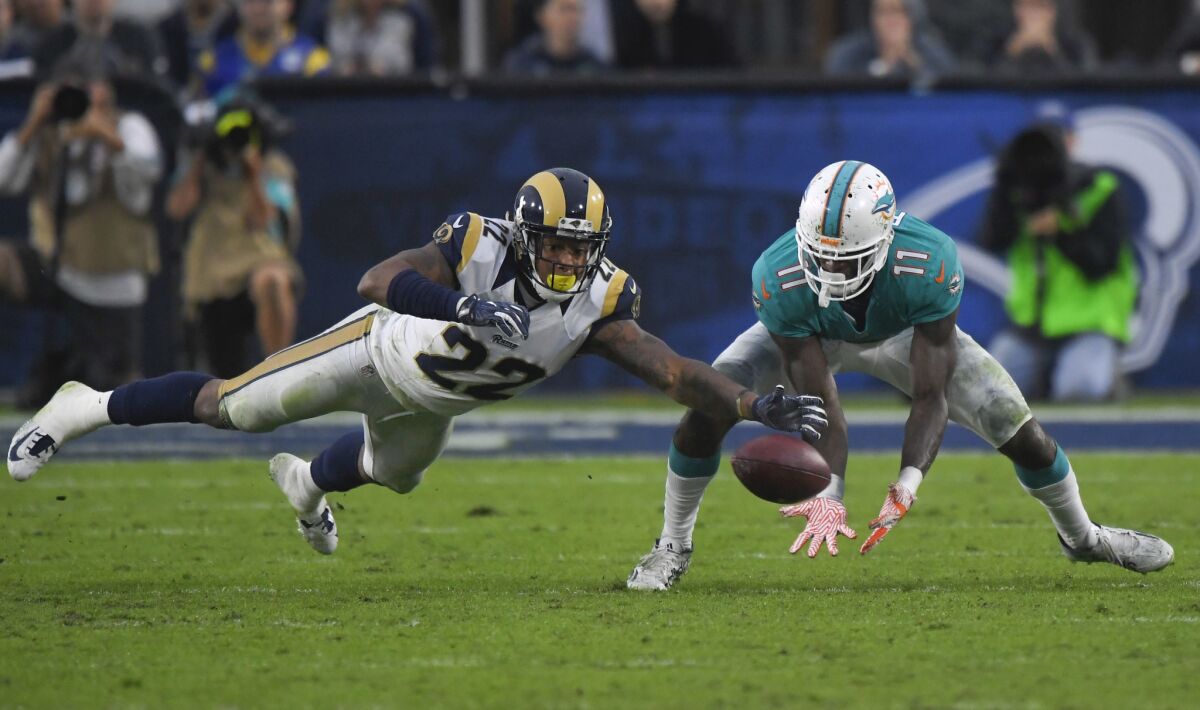 The franchise tag came with a one-year salary of $13,952,000, an amount that once seemed like Monopoly money during those college board games.
Johnson and his friends have remained close. They still group text daily, get together every few months and recently convened at the Coliseum to watch Johnson play against Miami — bound by football and their games.
"Tru was known for making outrageous deals," Dodson said.
"You would think that we were in law school the way we negotiated," Swink said.
"The board was turned over many times by all of us," McCord said. "It got pretty intense."
Today, they all share a similar tattoo.
The one on Johnson's left arm is topped by script that reads "The Crew." Below are images of Monopoly pieces — an iron, top hat, shoe and car — and two dice that came up 10, memorializing McCord's miraculous comeback roll that helped him defeat Johnson. Script at the bottom reads, "More than a Game."
"He could probably buy Park Place and Boardwalk now," Swink said, laughing.
Johnson's future salary will not be determined until after the season.
The Rams have the option of putting the franchise tag on him again — at 120% of this year's salary — working out a long-term deal or letting him test the free-agent market.
"Wait and see," Johnson said, when asked how he was approaching the situation. "My whole focus is these last four games and I feel like that's going to take care of itself."
His more immediate concern is Julio Jones.
"This is my life," he said of the challenge. "I love it.
"Some people shy away from it and some people go to it. I can't wait."
---
Get the latest on L.A.'s teams in the daily Sports Report newsletter.
You may occasionally receive promotional content from the Los Angeles Times.