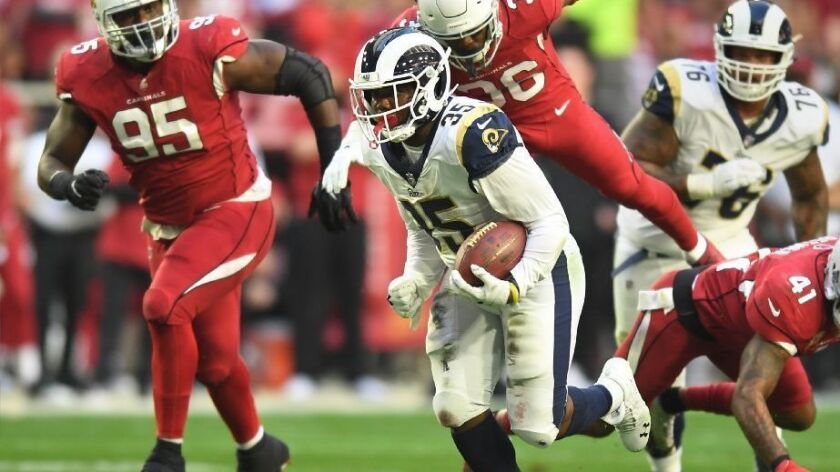 With running back Todd Gurley sidelined because of a left knee issue, the Rams bounced back from two consecutive defeats and moved closer to clinching the No. 2 seed for the NFC playoffs.
Here's what we learned from their 31-9 victory over the Arizona Cardinals:
The Rams are going to be cautious with Todd Gurley's knee
Despite Gurley not practicing all of last week, coach Sean McVay maintained that his expectation was that Gurley would play against the Cardinals, and that a determination would be made after a pregame workout.
Gurley said late in the week that he wanted to play and that the decision would be made in collaboration with trainers and medical personnel.
Gurley went through the workout and was ultimately ruled out.
Was that the plan all along?
It doesn't matter. It was the correct decision for the benefit of a player who signed a $60-million extension, and a team with designs on a deep playoff run.
C.J. Anderson was a smart late-season addition
Veteran running back C.J. Anderson, released by three teams since the end of the 2017 season, provided the Rams exactly what they needed.
He rushed for 167 yards and a touchdown in 20 carries and, after an early pass-protection mishap, showed the experience he gained playing for two Denver Broncos teams that advanced to the Super Bowl.
We'll see if Gurley plays in the season finale against the San Francisco 49ers on Sunday.
Regardless, Anderson showed that come playoff time, he can fill some of the void that was created when Malcolm Brown suffered a season-ending clavicle injury.
The Rams do not let problems linger
McVay described it as a "rough patch."
The Rams had lost two consecutive regular-season games under his watch for the first time, their star running back was questionable because of knee inflammation and their Pro Bowl quarterback was in a minislump.
But the Rams went out and did exactly what they needed to do against an overmatched opponent.
Anderson stepped in for Gurley with a performance that eased the burden on quarterback Jared Goff, who played more like his early-season self.
Gerald Everett is becoming a target
McVay appears determined to get second-year tight end Gerald Everett more involved from two tight-end sets.
Everett was targeted six times, and caught five passes against the Cardinals. He also rushed twice for 16 yards.
That came a week after he was targeted seven times and caught five passes against the Philadelphia Eagles.
Aaron Donald can sense history
Sacks did not become an official NFL statistic until the early 1980s.
Aaron Donald recorded three sacks against the Cardinals, increasing his season total to 19 ½, the most by an interior lineman in league history.
Donald is three shy of tying the league record set by the New York Giants' Michael Strahan in 2001.
Donald has 58 ½ career sacks.
---