Ben Malcolmson's bond with Pete Carroll has roots at USC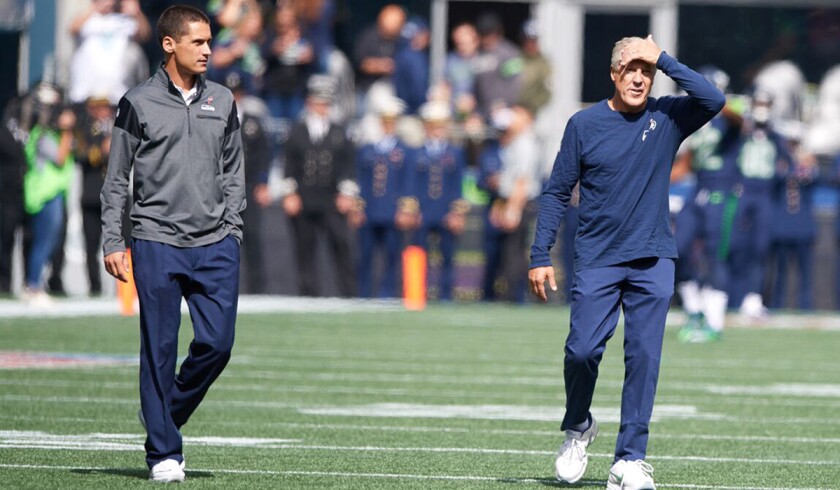 There was nothing to lose; nothing to win.
At least that's what Ben Malcolmson thought at the start of USC football walk-on tryouts in March of 2006. He was there to write a column for the Daily Trojan, the school's newspaper, to run around for a few hours while a bunch of former high school stars jockeyed to make the team, to, more than anything, embarrass himself.
"This is going to be the best thing I've ever written," Malcolmson thought, his knees covered in grass stains and his head filled with self-deprecating humor, when he sat to write that night.
He had no idea.
Two days later, Malcolmson got a call saying he had made the team. He hardly believed it until he was at spring practice, barely filling out his No. 24 jersey and standing next to wide receivers dwarfing him in size. Then in a blink of an eye ...
► He was on the sideline at the Coliseum.
► He finished his graduate degree and was asked by then-USC coach Pete Carroll to join the football staff.
► His journey continued in Seattle when Carroll became the Seahawks coach in 2010, which is where Malcolmson finds himself today as Carroll's special assistant and right-hand man.
It has been 10 years since a gimmick column turned Malcolmson's life into a series of turns. When the Seahawks meet the Rams at the Coliseum on Sunday, it will feel like nothing has changed: He'll be right next to Carroll, wondering what will come next.
"It was all a joke, it was a complete joke," Malcolmson said of the tryout. "Even if I went into it dreaming as big as possible, I wouldn't have thought this up. I had no expectations. I just thought it would be a funny thing to have in the newspaper."
It was the kind of story Malcolmson was known for at the Daily Trojan.
He had written a day in the life of a USC women's cross-country runner. He had spent hours with the football team's equipment manager to provide an inside look. During his sophomore year, he chronicled a 15-hour day with Carroll.
"It's not going to be very interesting, but go ahead," Carroll said about being followed for a day.
Malcolmson's penchant for interesting stories put him on track to be a professional writer. He interned at the Dallas Morning News before his senior year at USC, and an editor there promised him a job. Then the sports section downsized and Malcolmson was told there was no longer room for him.
He was graduating in two months with no future plans. The only thing he knew was that he was trying out for the football team later that week.
"Ben came to me with this idea, and he always had these interesting stories in his head," said Kevin Merfeld, the Daily Trojan sports editor at the time. "I thought it would be funny. We played a football game against other student media every year and didn't even focus on getting Ben the ball. Maybe we should have."
Malcolmson had not played organized football since fifth grade, and was nervous when the tryout started ... but not because of the coaches and their clipboards. He didn't have a notepad or recorder while going through drills, and was hoping he could remember all the details when when he sat to write.
The March 23, 2006, edition of the Daily Trojan had a picture on the back page of Malcolmson catching a football. The headline above the photo was, "HAULING IN A HAIL MARY."
Whoever read Malcolmson's column from start to finish saw this line eight times: This can't be real.
"He was just a college kid and he was trying to make the team," Carroll said of Malcolmson in a phone interview . "The next thing he knows he's wearing a helmet and getting his shoulder busted."
Said Malcolmson: "My dad didn't believe, he kept telling me, 'OK, joke's over.' Then there was a story in Sports Illustrated and he was like, 'Oh, wow. You really made the team.' We were all in shock."
To play on the team as a redshirt senior, Malcolmson enrolled in USC's graduate school. He made it onto the field for one snap, in the Trojans' 44-24 victory over Notre Dame at the Coliseum, when quarterback John David Booty kneeled on the final play to run out the clock.
When the season finished, he saw Carroll walking through campus and went to thank him for the opportunity. That's when Carroll asked Malcolmson to stick around and work for the program as an in-house writer.
Before Twitter and social media emerged, Carroll's idea was to create a USC-sponsored website that provided constant behind-the-scenes updates. Malcolmson had no clue how to build a website, or run one, but said he did. The resulting product, USCripsit.com, caught steam and convinced Carroll to bring Malcolmson to Seattle in the same role.
That quickly evolved into Malcolmson becoming Carroll's personal assistant, a job he has held for nearly seven years. Malcolmson says he is never out of earshot of Carroll, even when the crowd noise at Century Link Field reaches deafening levels.
"I'm right there with him, on the sideline, wherever," Malcolmson said. "Super Bowls, right there. The parade, I was right there. Coming back to USC, I'll be right there in the tunnel, like old times. We never get too far."
Malcolmson has been on the Seahawks sidelines for seven seasons and two Super Bowls, but his days in Seattle are never the same. If Carroll needs something related to football, Malcolmson jumps on it. He organizes all the coach's charity events and public appearances. If Carroll wants a rapper or inspirational speaker to come practice, Malcolmson gets on the phone.
In August, the Seahawks held a teamwide basketball shooting contest in a team meeting room. When receiver Tyler Lockett beat safety Kam Chancellor in the final, Boston Celtics point guard Isaiah Thomas made a surprise entrance. Thomas sank all 12 of his attempts to bury Lockett as the team went crazy. The video went viral. Malcolmson had pulled all the strings.
"I don't think there's any restriction on what he can do. No ceiling," Carroll said. "He's seen so much and has been on the inside of some really special situations and he's added to it. Someday he's going to be running a network or something."
On a quieter day this summer, in a rare moment when Malcolmson and Carroll were sitting around the coach's office, he asked why Carroll let a skinny student journalist walk on to one of the best teams in college football.
"Well, you had a good tryout," Carroll told him. "And you're a pretty good athlete and it was just something cool and different."
That made Malcolmson remember something Carroll had told him two weeks before the tryout, It was something he'd heard Carroll say once before.
""It's not going to be very interesting," Carroll said. "But go ahead."
He had no idea.
Times staff writer Gary Klein contributed to this report.
---
Get the latest on L.A.'s teams in the daily Sports Report newsletter.
You may occasionally receive promotional content from the Los Angeles Times.