Alyssa Thompson scores in her NWSL debut as Angel City falls in season opener
With the exception of family and close friends, no one has seen more of Alyssa Thompson on a soccer field than Carlos Marroquin, her coach for four summers with the second-tier Santa Clarita Blue Heat.
And Marroquin said Angel City can expect a lot more of what Thompson showed Sunday, when she scored her team's only goal while wreaking havoc all night in a season-opening 2-1 loss to Gotham FC in front of a sellout crowd of 22,000 at BMO Stadium.
"You will see an explosive player ready to rock," he said. "Alyssa will be the leader at the front of the team."
"But," he added, "she needs more help."
That could be slow in coming.
America Ferrera is among the Hollywood celebrities who've used their Angel City soccer club ownership stakes as a way to help people and the community.
Riddled by injuries in its first National Women's Soccer League season, Angel City began its second still missing World Cup champions Christen Press (knee) and Sydney Leroux (ankle), who combined for only 11 appearances last year. There is no timetable for either player's return, leaving the offense in the hands of Thompson, an 18-year-old high school senior, and Jun Endo, who lost a goal of her own to a video review.
In fact VAR — which, like Thompson, was making its NWSL debut Sunday — figured heavily in the result, costing Endo her score and setting up Gotham's first goal, which came on a penalty kick.
"For someone like Alyssa, who I'm sure has a lot of pressure on her shoulders, she had a great game. And I think she's lived up to all of the hype and it's just going to get better," captain Ali Riley said. "She's going to be someone that we're going to rely on to score goals in big moments. And she showed that she can do that."
Thompson, who was not made available to reporters afterward, might have been Angel City's brightest light Sunday, with her sprinter's speed giving Gotham's defenders trouble all game. She was quick to get on the scoreboard too, collecting her first NWSL goal just 11 minutes into her first game, pulling up outside the penalty area and lining a right-footed shot toward the far post. Gotham keeper Abby Smith leaped to get a gloved hand on the ball but could only deflect it off the crossbar and into the netting.
"She was an absolute handful down that left-hand side," Angel City coach Freya Coombe said of the 18-year-old. "Being able to face up, being able to go at defenders, she causes some problems. And I think that's going to be a problem that she continues to pose for the opposition."
Angel City FC proved that investing in women's sports is good business. Monarch Collective is a new, $100-million fund that plans to further that success.
Thompson very nearly set up another goal in the dying minutes of the first half when she gathered a rebound of a Gotham corner kick and outran the entire New Jersey/New York team up the middle of the pitch, leading to a corner at the other end. However that chance ended with Smith making a save on a Sarah Gorden header.
Angel City lost a goal in between, with Endo catching Smith well off her line and lofting a shot from just outside the center circle that caromed in off the left post. But after looking at a replay, referee Elijio Arreguin waved off the score because of a foul behind the play.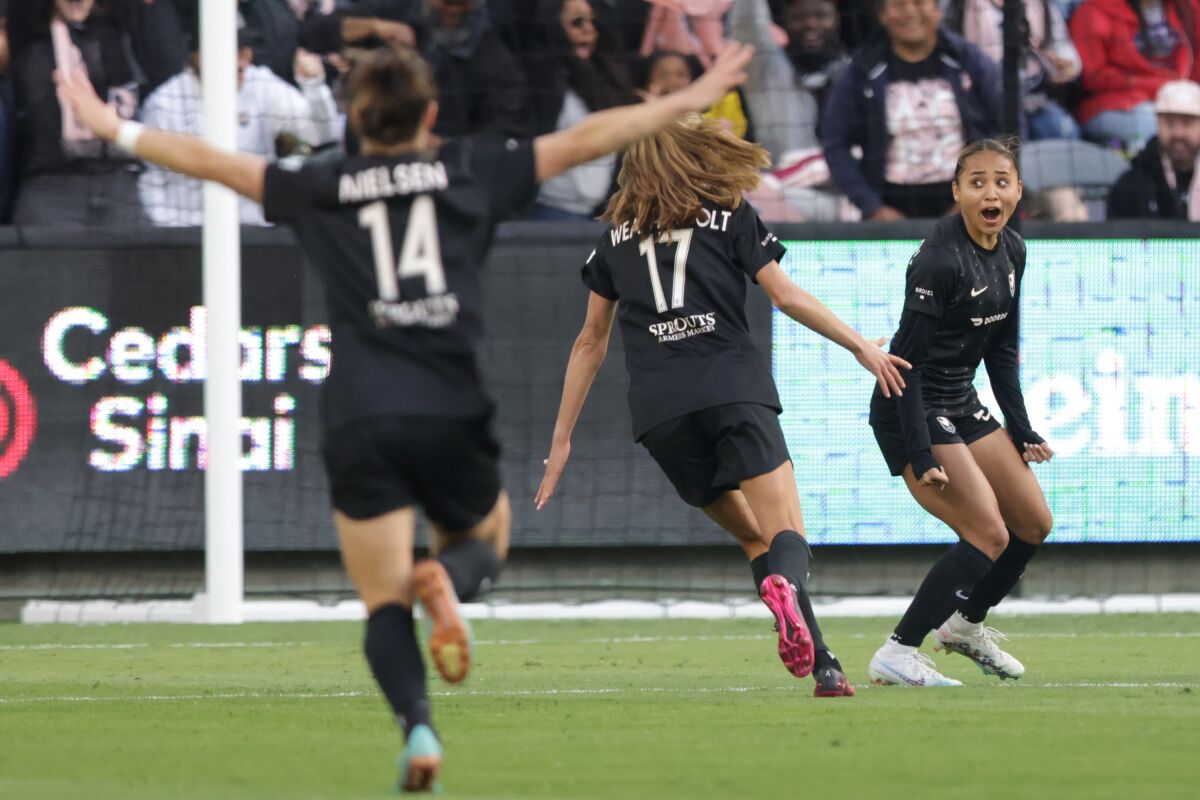 Ten minutes into the second half, another video review convinced Arreguin that Angel City keeper Didi Haracic tripped Svava Gudmundsdottir in the box, resulting in a penalty kick. Angel City was so angered by the call that three players — Haracic, Savannah McCaskill and Katie Johnson — drew yellow cards before Midge Purge calmly stepped up and converted her try.
"Well, we obviously didn't think it was a penalty," Riley said. "But what can you do?"
Nine minutes later, Lynn Williams, given way too much space on the right side of the box, put Gotham in front to stay, driving a right-footed shot by Haracic, who finished with seven saves.
"Really frustrating to lose like that," said Gorden, who saw the game as a learning moment. "When we went down, we just didn't take care of the ball. We didn't have the urgency to go forward and score," she said. "And honestly, it's good for that to happen in the first game because we know exactly where we need to build where we need to get better."
Rams quarterback Matthew Stafford and his wife join Angel City's sprawling, celebrity-rich ownership group, after falling in love with the NWSL franchise.