LAFC's Carlos Vela selected MLS player of the month for March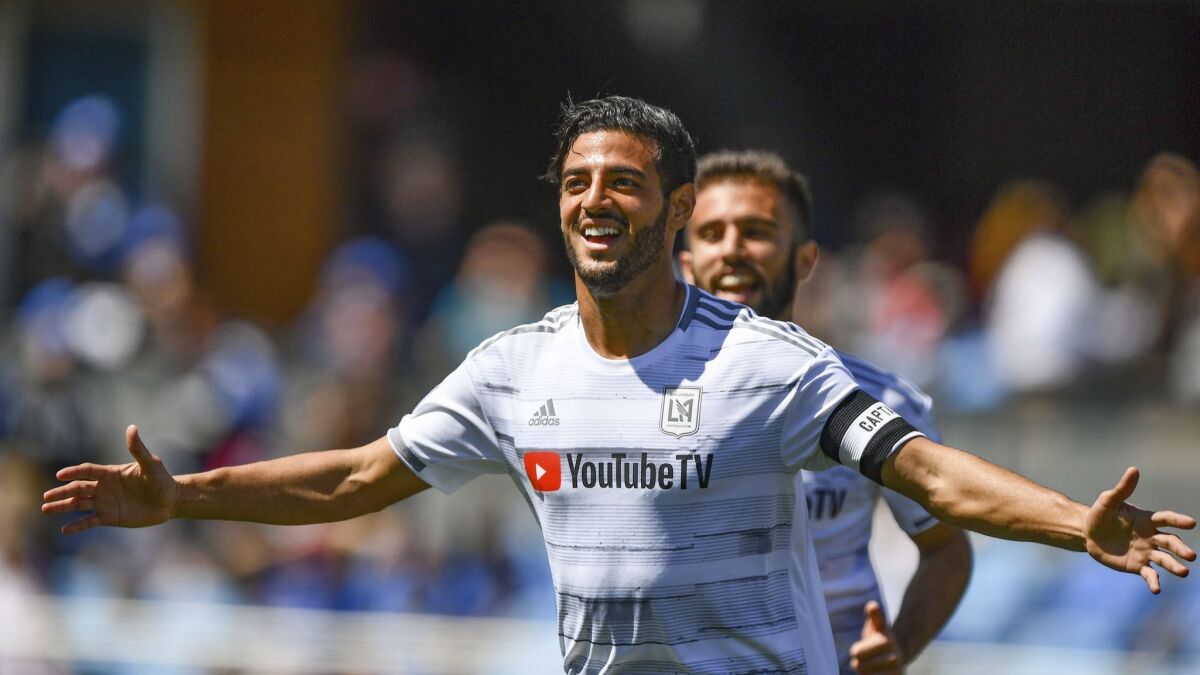 Carlos Vela made no secret about his goals for his second season in Major League Soccer: lead LAFC to the championship and become the league's most valuable player.
He's off to a good start in both races, earning player of the month after leading his team to an undefeated March.
The LAFC captain had six goals and three assists in five games last month, closing March with his first MLS hat trick against San Jose. He added another goal and assist in his first game in April and leads the league in both categories for LAFC (5-0-1).
Some of the credit for the fast start goes to coach Bob Bradley, who has challenged Vela not to be content with his performances, repeatedly showing him video clips of Barcelona star Lionel Messi and pushing Vela to become the same kind of dominant player for LAFC that Messi has been for his team.
"From the time Carlos came here, he was an incredible player. Fantastic guy," Bradley said of the Mexican international, the first player LAFC signed. "Now I'm trying to find ways that he can get better and better and better.
"I think he understood and appreciates that that's what he was going to get at LAFC. None of that means that we didn't see all the great things last year. But now how do we keep trying to help him? I think every player still enjoys the challenges of the game, wherever they come from."
Sign up for our weekly soccer newsletter »
Yet Vela almost missed the first five months of the season after Barcelona expressed interest in acquiring him and pairing him with Messi during a short-term loan. Both the player and the team explored the offer in detail before Barcelona signed Kevin-Prince Boateng from Italian club Sassuolo instead and Vela quickly refocused on helping LAFC.
"He's so into it," Bradley said of Vela's commitment. "His role in going at defenders, he's been very aggressive the way he moves forward. And then when he needs to help us win the ball back, he's done a good job. When your most talented player and your best player also is contributing when you lose the ball, that says a lot to everybody else on the team.
"He's set really a perfect example for all his teammates."
As part of a promotion with game-maker EA Sports, Vela will be honored with a special-edition FUT item in FIFA 19 for winning player-of-the-month honors. Vela can be unlocked by gamers featuring a special squad-building challenge now live in FIFA 19 Ultimate Team.
MLS joins the English Premier League and German Bundesliga as the only leagues to have their players of the months featured with the special FUT item in FIFA 19.
kevin.baxter@latimes.com | Twitter: @kbaxter11