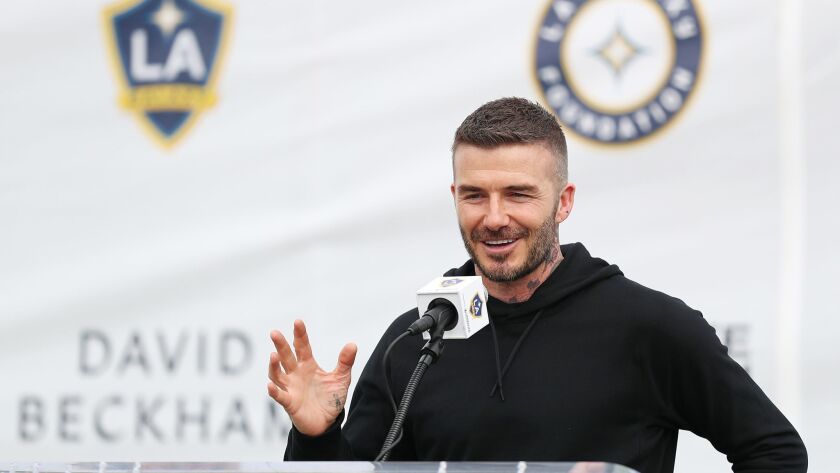 When David Beckham was growing up in London's East End, he used to play soccer in the streets, in his parents' tiny garden or anywhere else he could find a bit of space.
"Wherever there was a wall where I kick a ball, that's where I played," he said.
On Friday, he gave 2,000 kids in Los Angeles a much better place to practice, joining the Galaxy and Herbalife, the team's jersey sponsor, in dedicating a new turf soccer field at the Salvation Army's Red Shield Youth and Community Center in the Pico-Union District.
"To give the kids the opportunity to play in a safe environment on a great field," Beckham said, "it's not all about being the next Messi or the next Ronaldo. It's all about giving them fun and giving them a smile on their face.
"You see kids running around with smiles on their faces. And that's what football, what soccer, does to you. It makes me happy."
It also made Beckham insanely wealth and a global celebrity. But he said it all started as a boy with a dream to someday play for Manchester United and the English national team. So the importance of following dreams was one of the messages he delivered to the grade-school kids who showed up to play on his field for the first time Friday.
"We all have dreams. And living in L.A., this is the place where dreams come true," he said. "It's all about your dreams. It's all about what you want to do with those dreams. And if you can be polite, be energetic, be committed and be passionate about what you want to do -- whether it's soccer, whether it's something that you dream of doing – just believe in those dreams."
Beckham will live another dream Saturday because he'll receive a gift in return when the Galaxy unveil a statue in his likeness in the newly built Legends Plaza outside Dignity Health Sports Park.
The statue, the first such tribute to an MLS player at the stadium where he played, will be unveiled in a public ceremony at 2:30 p.m., about 2 ½ hours before the Galaxy's season opener with the Chicago Fire, which kicks off at 5.
"I try not to think about it too much because it makes me quite emotional," said Beckham, who will be joined by his parents and his wife, former Spice Girl Victoria Beckham. "To say that I have a statue in Los Angeles, it's incredibly humbling to know that the L.A. Galaxy, the MLS hold me in that regard.
"That's something that's going to be there forever. Any of my kids, my kids' kids, will be able to come to L.A. and see their dad, their granddad in bronze with a statue in front of the stadium that he played in."
MLS Commissioner Don Garber and former Galaxy coach Bruce Arena also will be in attendance.
Later Saturday the Galaxy will recognize the late Sigi Schmid, who coached the franchise to its first MLS title, by donning black armbands and honoring his life with a moment of celebration. Schmid died on Christmas Day at the age of 65.
Then at halftime Beckham, who played with the Galaxy from 2007-2012, winning two MLS Cups, will be inducted into the team's Ring of Honor. And while Beckham's statue will be the first to be placed before the stadium's main entrance, it won't be the last. AEG, the Galaxy's parent company, promises a series of monuments similar to the ones outside Staples Center, which it also owns.
Some fans have questioned why Beckham, who changed the league when he became the initial MLS designated player in 2007, should be the first legend honored. And Beckham said that, while he was touched by the honor, he understood the fans' sentiment.
"I'm sure there are a lot of people who are saying 'OK, there's so many other people that also deserve it.' And I totally agree with them," he said. "I'm very proud that the Galaxy have picked me as being the first. But I also feel a little sheepish.
"Of course Landon [Donovan] deserves one. What he's done for this league, this sport, L.A. is incredible. Bruce, what he's done for the sport, what he's done for the Galaxy is really incredible. There's so many more. Robbie Keane. I'm sure that the Galaxy fans know there's more coming."
The next time Beckham visits Legends Plaza he may not be cheering for the Galaxy though. As a member of the ownership group for Inter Miami CF, which is expected to begin play as an MLS expansion club next season, Beckham soon will be rooting for the visitors.
"I've always said my commitment was not just to the Galaxy, it's to the MLS, it's to growing the sport in this country," he said. "In the last 10 years the growth of this league has been incredible.
"I want to be part of this league for a long, long time. The next stage for me is as an owner of Miami. It will be a proud moment for me to come back to L.A. and to the Galaxy with my team."
Sign up for our daily sports newsletter »
kevin.baxter@latimes.com | Twitter: @kbaxter11
---