Landon Donovan sets MLS all-time scoring record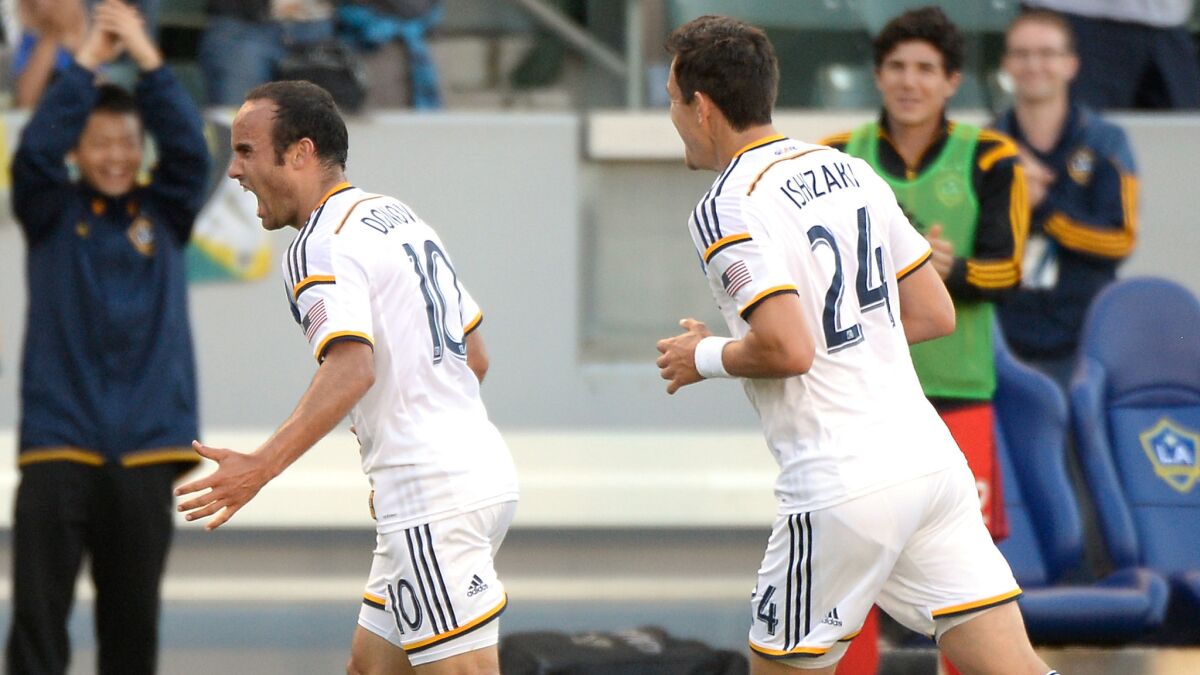 It was a curtain call that Landon Donovan will never forget.
Coming off in the 82nd minute after scoring his second of two goals Sunday that helped the Galaxy beat the Philadelphia Union, 4-1, Donovan walked off the field a new man. He was the all-time top scorer in Major League Soccer.
The journey for the record had stretched eight months, since he tied Jeff Cunningham's record of 134 in October.
But setting the record had even more meaning after Donovan endured probably the most difficult week of his career.
On Thursday, Coach Juergen Klinsmann cut Donovan, who has been the face of U.S. soccer for the last 12 years, from the U.S. World Cup team.
Donovan, a three-time World Cup veteran, said he was surprised and disappointed by the decision.
He thought he was fit. He thought he had performed better than other players at camp. He thought he could even compete for a starting position.
"I'm sad," he said then. "I wanted to go, I really wanted to go."
And on Sunday, he put any doubt about his ability to rest.
It took Donovan, 32, less than two minutes to put his stamp on the game, setting up Leonardo's header for a 1-0 lead.
But the highlight came in the 49th minute, when Donovan tapped in a pass from Robbie Keane.
The stadium erupted. Donovan fell to his knees as the crowd of 21,000, which included his parents and sister, burst into chants of "USA! USA!"
"It's been a long week," Donovan said. "It's been a week where I had moments where I fell out of love with [soccer] a little bit and I want to make sure I keep enjoying it."
In the 64th minute, Keane took advantage when Sheanon Williams mishandled the ball in Philadelphia territory and scored to put the Galaxy ahead, 3-0.
But Donovan wasn't done. In the 81st minute, he took a pass from Keane on a counterattack and scored.
Maurice Edu, who was also cut from the World Cup team Thursday, scored for the Union on a penalty kick in the 88th minute.
"All day today my mind was wandering and thinking where else I could be today, but I kept coming back to being present and enjoy this game," Donovan said.
---
All about the beautiful game
Go inside the L.A. pro soccer scene and beyond in Kevin Baxter's weekly newsletter.
You may occasionally receive promotional content from the Los Angeles Times.