Galaxy refocus on the potential of their youth academy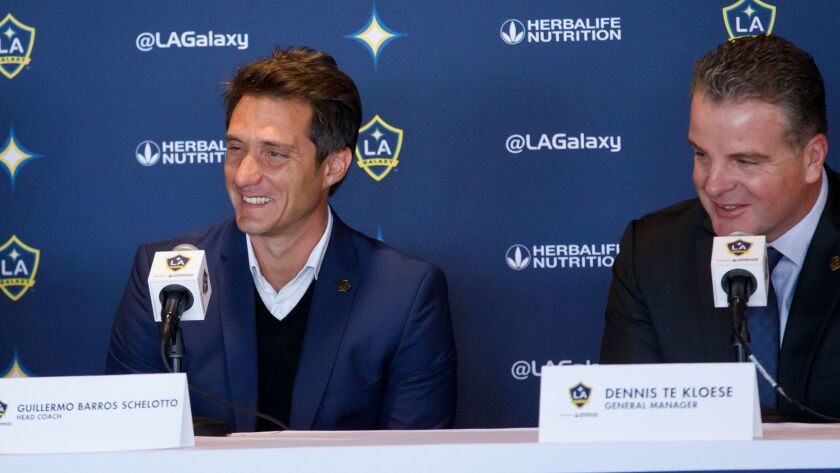 Two years ago the Galaxy launched a bold plan to more fully integrate their rich academy and youth-development programs with the first-team roster.
It proved to be a disaster.
The not-ready-for-prime-time players the Galaxy rushed into the breach accounted for nearly 40% of the playing time in 2017 as the team lost a franchise-record 18 games and sank to last in the Western Conference for the first time.
But the problem wasn't the plan, it was the execution. So after an offseason in which they hired a new general manager in Dennis te Kloese and a new coach in Guillermo Barros Schelotto, the Galaxy are once again placing a big emphasis on youth development.
"You can say [there's] a new philosophy," teenage midfielder Efrain Alvarez said. "Dennis is going to be checking more on everything like that and seeing young players who can play with the first team, play with the second team."
Alvarez, 16, who signed a first-team contract last season but has yet to make his MLS debut, could be one of the beneficiaries of that new philosophy. Last year he watched Alex Mendez, a teammate with Galaxy II, the Galaxy's USL affiliate, leave for Germany, believing he had a better chance to develop and advance in the Bundesliga than with the Galaxy.
So less than a month into his new job Te Kloese reached out in an effort to rebuild both relationships and perceptions, sending Mendez and Uly Llanez, another talented Galaxy II player who left the team in frustration, first-team kits with their names on the back. The meaning of the gesture, he said, was to let the promising players who remained know they would be given an open shot at the MLS roster.
"The only way to attract young players of talent is if they know that they have an opportunity," said Te Kloese, who was hired in large part based on his reputation for identifying and developing young talent. "With the great investment that the Galaxy [make] in their academy and in their second team, there should be a real developmental project. Because I think there's the potential. I think there's talent."
The renewed attention in an academy that has been without a full-time director for more than two years comes at a time when the rest of MLS is beginning to rethink the way it handles youth development.
Soccer America reported last month that many MLS owners want to see a greater return on the massive investments — the website estimates the price at more than $500 million leaguewide over the next three to four years — they have made in their development programs, either by giving first-team roster spots to academy players or by selling the players they develop for large fees. Vancouver did that recently with Alphonso Davies, who passed through the Whitecaps' residency program before commanding a then-record $13.5-million transfer fee from Bayern Munich.
Te Kloese sees it another way. Southern California is so rich in youth soccer talent, he said, that if the Galaxy can harvest just a fraction of that crop and turn them into MLS players, the resources used to develop players will have been money well spent.
"I've always admired the amount of talent and high quality of players that come out of this area. We should take advantage of it," said Te Kloese, who scouted the region for Chivas USA and the Mexican national team program before returning to MLS with the Galaxy.
Getting a return on that investment was partly behind the Galaxy's decision two years ago to purge the roster of veterans and replace them with Galaxy II and academy graduates. But the transition was poorly managed.
Sign up for our daily sports newsletter »
Te Kloese said he envisions a more gradual approach, one that finds "a balance between winning but also developing [players] on the second team and finding the right way to get guys in positions where they actually could raise their hand and say 'I'm ready to make a step up.'"
Efrain Alvarez is waving his hand high, though it's uncertain how much good that will do him this season. With Zlatan Ibrahimovic and Ola Kamara playing in front of a midfield that will be deep in veteran talent no matter what happens to Giovani dos Santos, it may be hard to find much first-team playing time for a teenager this season.
But with Te Kloese and Schelotto now in charge, he's confident his time will come — sooner rather than later.
"I'm just waiting," he said "for the opportunity."
kevin.baxter@latimes.com | Twitter: @kbaxter11
---
All about the beautiful game
Go inside the L.A. pro soccer scene and beyond in Kevin Baxter's weekly newsletter.
You may occasionally receive promotional content from the Los Angeles Times.