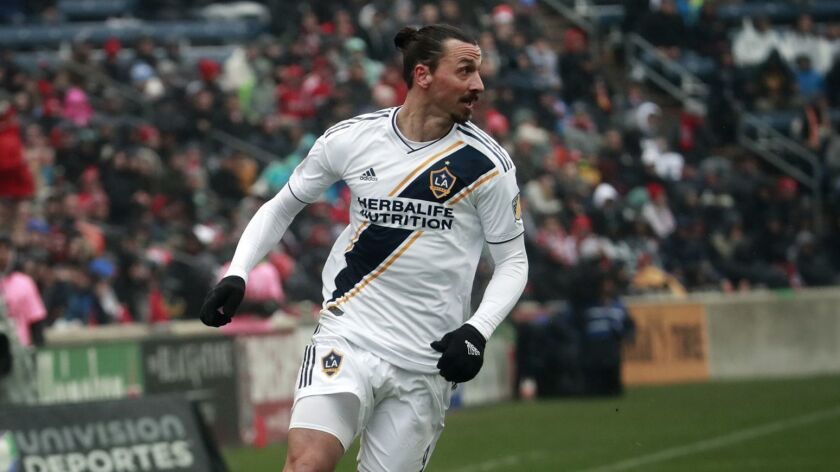 Here's how crazy the Galaxy's schedule is this month: Perry Kitchen has played just 135 MLS minutes for the team this season and even he thinks the games are coming too quickly.
"There's tough stretches for everyone in the league, a couple of weeks where it's, 'Wow, what were they thinking here?" he said. "That's how it goes and everyone deals with it."
Kitchen, whose season was interrupted by a preseason ankle injury, started in Wednesday's U.S. Open Cup loss in Portland and could start again Saturday when the Galaxy return to league play with a road game against expansion FC Cincinnati.
It will be the team's fourth game in 21 days in what was supposed to be a lax month given the Copa America and CONCACAF Gold Cup, both of which began last week. The Galaxy are missing four starters – midfielders Jonathan dos Santos and Uriel Antuna and defenders Rolf Feltscher and Giancarlo Gonzalez – to international duty. Midfielder Sebastian Lletget, who was supposed to go as well, was left off the U.S. roster with a hamstring injury.
The Galaxy is hopeful Lletget can play Saturday and the team will also welcome back leading scorer Zlatan Ibrahimovic, who skipped the two U.S. Open games this month.
With a short roster, especially in the midfield, Kitchen's return comes at a good time.
"It's better to be out involved with the guys, part of winning games, contributing to the team," said Kitchen, who sustained tendon damage and a chipped bone in February but escaped surgery, which could have ended his year.
Kitchen said he never felt left out what he wasn't training regularly -- but he didn't feel part of the group either.
"You just look at it as 'this is what you've got to do, your role's kind of changed as far as your involvement with the team'," he said. "But it's part of the job. You just have to go through it the right way."
The Galaxy (9-6-1) traveled to Cincinnati on Friday second in the Western Conference despite having lost five of their last seven MLS games. But they haven't lost a league game on the road in nearly six weeks.
Cincinnati (3-11-2) has the league's worst record and has won just one of its last 12.
Sign up for our weekly soccer newsletter »
kevin.baxter@latimes.com | Twitter: @kbaxter11
---