Column: Galaxy sent a bulldog to catch a lion — and with Ibrahimovic, it worked
The slow walk that took Zlatan Ibrahimovic from the locker room to the field at the StubHub Center field on Saturday involved just two gentle left turns and lasted only a couple of minutes. But the journey that brought him from one of the world's biggest clubs to the Galaxy in the first place lasted three years and involved more plot twists than a Steven Spielberg film.
It also had a surprise ending, with Ibrahimovic coming off the bench in the final 20 minutes to score the tying and winning goals in a 4-3 win over the cross-town rival Los Angeles Football Club. It was the most memorable debut for a big-name player in MLS history.
"Every movie has a good ending," Ibrahimovic said with a smile afterward. "And a good start."
Yet it's likely this one would have ended before it started if not for the patience and dogged determination of Jovan Kirovski, the Galaxy's technical director, who refused to give up on his pursuit of the man who calls himself "the lion."
"He was a real bulldog on this transaction. Who would have thought a bulldog could catch a lion," said Dan Beckerman, chief executive of AEG, the Galaxy's parent company.
The first contact between the player and the team took place three years ago when Ibrahimovic was still with Paris Saint-Germain and Galaxy president Chris Klein flew to France to meet with Mino Raiola, the player's Italian-born agent. At the time the Galaxy were full up on designated players and Ibrahimovic was reportedly making more than $355,000 a week in France.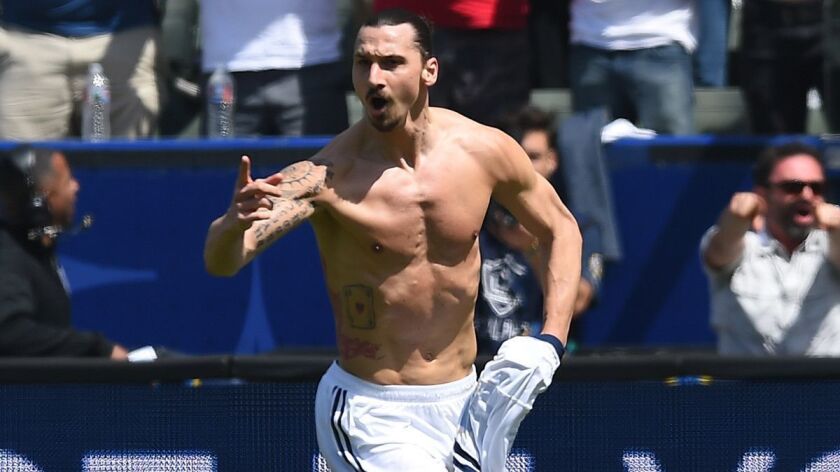 The idea that the two sides could someday come to a deal was ludicrous. So Kirovski got right to work on it.
"I guess I think nothing's impossible," he said last week. "It's worth a shot, it's worth the risk and it's worth trying for."
It wouldn't be the first time the Galaxy or Kirovski made the impossible happen. Who would have thought the team could pry David Beckham away from Real Madrid or Steven Gerrard away from Liverpool? However, both those acquisitions came together relatively quickly, with the team offering contracts in excess of $6 million each time.
When the Galaxy began their pursuit of Giovani dos Santos, Kirovski was still playing for the team. Four years later, as technical director, he closed the deal for the Mexican international, still in the prime of his career, despite the fact the Galaxy had no DP spots open and no money to spend.
"Gio was no chance," Kirovski said. "Everybody was saying no way at that age."
But Kirovski, who had played for six teams in three European countries during an 18-year career, upset the conventional wisdom thanks to uncommon persistence and an impressive network of contacts among agents, coaches, players and club administrators.
He was in constant communication with Dos Santos, eventually convincing the player and his advisors the team's interest was sincere. Not only did he eventually land Dos Santos, but two years later the Galaxy got his little brother, Mexican national team midfielder Jonathan dos Santos, to sign for the bargain-basement price of $2 million a season.
Kirovski used the same approach with Ibrahimovic, working his sources, staying in touch with Raiola and never letting doubt creep into the process.
When Ibrahimovic was in Southern California on vacation a couple of years ago, a former teammate tipped off Kirovski, who gave the Swedish superstar a tour of the StubHub Center, then joined him for dinner with Beckham in Beverly Hills.
"We were just friends going to dinner," he said. "So that's the start of a relationship. It wasn't like I was recruiting then. He wasn't coming.
"But at the same time I'm constantly recruiting. Especially for a player like him."
The Galaxy formally made their interest known before Ibrahimovic left PSG in the summer of 2016. They came up just a bit short when Manchester United offered him $26 million to sign a one-year deal.
The Galaxy have never spent more than $20 million in base salary on their entire roster in a season.
Still, both sides came away encouraged and agreed to keep talking. The team tried again the next spring, offering a contract in excess of $7.2 million, the most lucrative deal in MLS history. But those talks were interrupted in April, when Ibrahimovic sustained serious ligament damage to his right knee, an injury that was expected to sideline him for nine months.
"We were very close before he got injured," Kirovski said.
Instead Ibrahimovic stayed in Manchester, rehabbing and signing a discounted one-year deal. He started just two games, though, so by the time United released the 36-year-old from his contract earlier this month, the Galaxy already had an offer in front of him: two years and $3 million, a large block of which came from the league in the form of allocation money.
Because of Kirovski's dogged persistence, the Galaxy essentially got one of the best players of a generation for next to nothing.
"Jovan started to call me every day," said Ibrahimovic, who said he spoke to the Galaxy executive more often than he spoke to his wife.
"I wanted to be here. Destiny said I was supposed to be here. It was very easy. Los Angeles called and I answered."
And when he did, Kirovski refused to let him say no.
"People still can't believe [it]," Kirovski said. "Like how? No way."
Follow Kevin Baxter on Twitter @kbaxter11
---
All about the beautiful game
Go inside the L.A. pro soccer scene and beyond in Kevin Baxter's weekly newsletter.
You may occasionally receive promotional content from the Los Angeles Times.