Galaxy's Zlatan Ibrahimovic has L.A. guessing what will happen next
In a couple of games over a three-day period, Shohei Ohtani alerted Los Angeles that there was a new can't-miss attraction down the road.
Zlatan Ibrahimovic did the same, except he did it in only six minutes.
That was the amount of time that elapsed between Ibrahimovic entering his first game for the Galaxy and scoring on a breathtaking 40-yard volley.
And as the Galaxy prepares to host Sporting Kansas City on Sunday, Ibrahimovic has the city's attention. Los Angeles is buzzing. There is anticipation not only about what Ibrahimovic might do next, but also what he might say.
This was what Ibrahimovic envisioned when he signed with the Galaxy. And this was what the Galaxy envisioned when they signed him.
But was Ibrahimovic surprised how quickly this happened?
"That I do my job good?" he asked after his team's practice Friday.
He cracked a smile and answered his own question: "No."
The casual response didn't reflect the magnitude of what he accomplished. A city that has mostly ignored Major League Soccer is looking forward to the Galaxy's upcoming game.
The 36-year-old striker has captured the imagination of soccer fans who consider MLS inferior to the world's top leagues. He has awakened the curiosity of casual sports fans who aren't particularly interested in soccer.
In doing so, Ibrahimovic has overcome his greatest obstacle in becoming a major sports figure in this country.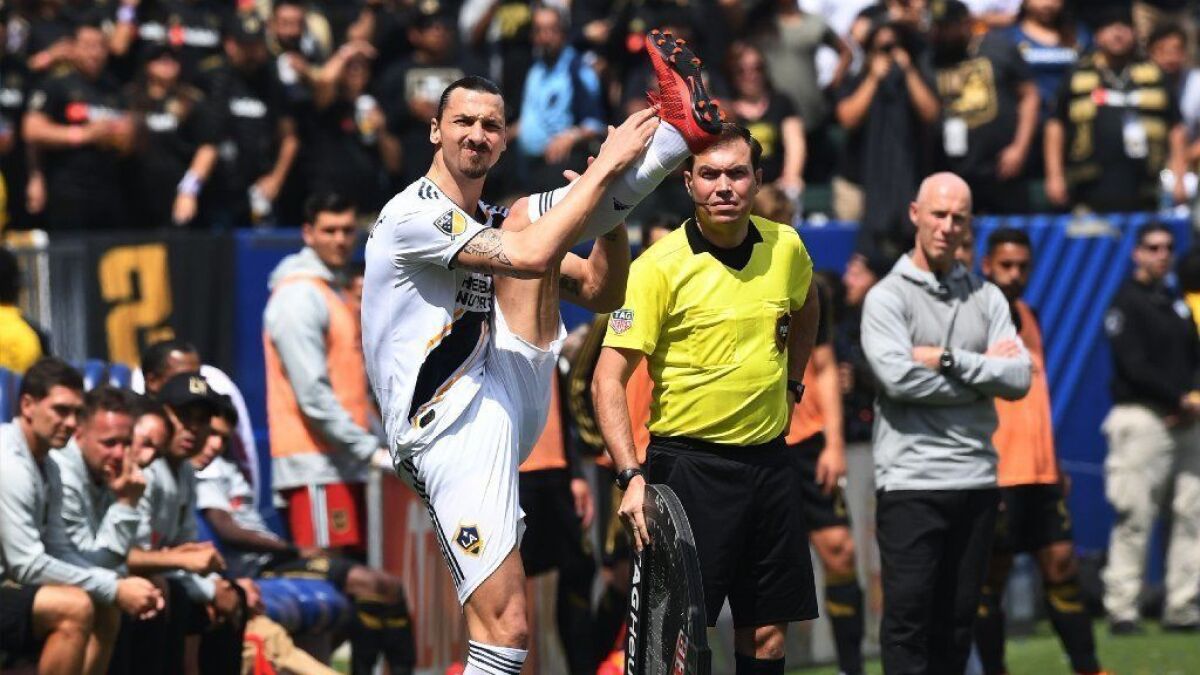 He was always better-equipped than predecessor David Beckham ever was to maintain the public interest because his ability score goals and deliver one-liners. He scored 28 goals in 41 games last season for Manchester United. He figures to be able to average a goal a game in MLS.
What Ibrahimovic didn't have was Beckham's built-in fan base. He didn't play in the last World Cup because Sweden failed to qualify. The average sports fan in the United States had no idea who he was.
A week of sports highlight programs replaying his goal non-stop has changed that. The goal, which was the first of two he scored in the final 19 minutes of a comeback victory over crosstown rival LAFC last week, was the kind of goal required to make that happen.
Someone with absolutely no familiarity with soccer could tell that goal was special, similar to how someone with zero knowledge of baseball could figure out that not everyone could send home runs into AT&T Park's McCovey Cove the way Barry Bonds did.
"I've been around it for a while so as a coach, you learn not to get too high and not to get too low," Galaxy coach Sigi Schmid said. "But certainly that goal was as good a goal as you'll see ever."
Two days after the match with LAFC, when the goal was shown during the Galaxy's review of the game film, Schmid said, "I got goosebumps all over again."
Only a handful of players in the world could have scored that goal. Even fewer would have the audacity to shoot from that distance.
The goal was only the start, as it provided the platform for Ibrahimovic to share his colorful personality.
"The fans wanted Zlatan," he said after the game. "And I gave them Zlatan."
Los Angeles was waiting for someone like this. Kobe Bryant's retirement had drained the city's sports scene of whatever little personality remained in the market. The void was pronounced enough to where LaVar Ball was able to parlay his carnival-barker act to become a celebrity.
As one of the world's most iconic players, Ibrahimovic knows how this works.
"The most important thing is on the field," he said. "Then outside I do what I need to do."
So he's made the rounds.
On an appearance on SportsCenter, he was asked for his thoughts on the bicycle-kick goal Cristiano Ronaldo scored Tuesday for Real Madrid against Juventus in the European Champions League.
"I think he's a goal machine," Ibrahimovic said. "He scored a beautiful goal today."
"But," he added with smile, "he should try it from 40 meters."
The reference was to a goal Ibrahimovic netted for Sweden against England in 2012, when he launched a bicycle kick from 30 yards out into an empty net.
Ibrahimovic stopped by Staples Center on Thursday night to watch the Kings, who are owned by the same parent company as the Galaxy. Ibrahimovic was cheered when he was shown on the arena's video scoreboard.
When he was interviewed on Fox Sports West's broadcast, Ibrahimovic joked, "I should go in now. This is my game now."
Ibrahimovic is still working his way into shape and Schmid was noncommital when asked if he would start Sunday. Ibrahimovic cautioned his team didn't want to relive the drama of the win over LAFC, in which the Galaxy erased a 3-2 deficit in the 19 minutes he was on the field.
"Crazy game like that every game?" he said. "I hope not. I hope we can control the game more and play under control."
He also warned he was unlikely to produce another goal like the one he scored last week.
"Expect scoring goals like this every game?" he said. "No. This, I can already kill the buzz. I'll try, but it's not often it goes in. So please."
Ibrahimovic shouldn't worry. He already did the hard part by getting the city's attention. So long as he remains healthy and productive, he should be able to keep it. He's too good and too likable not to.
Follow Dylan Hernandez on Twitter @dylanohernandez
---
All about the beautiful game
Go inside the L.A. pro soccer scene and beyond in Kevin Baxter's weekly newsletter.
You may occasionally receive promotional content from the Los Angeles Times.