Galaxy thought Zlatan Ibrahimovic would be their safety net. Now he's hurt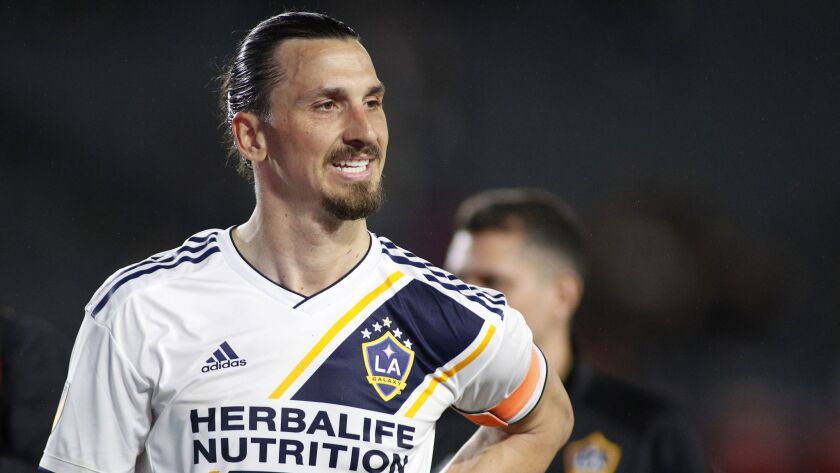 The Galaxy really didn't consider it a problem when they lost forward Ola Kamara and midfielder Gio dos Santos in the days leading up to their regular-season opener two weeks ago. After all they still had Zlatan Ibrahimovic, and he had promised to break every MLS record this year.
Then they lost Ibrahimovic and … well, now they have a problem.
"We miss a very good player like him. But we need to figure it out," coach Guillermo Barros Schelotto said. "I know it's impossible to try to reach to the same level as Ibra. But we need to [keep] working."
Ibrahimovic scored the deciding goal in the team's first game, a 2-1 win over Chicago, but complained of a sore Achilles afterward and hasn't played or practiced since. He'll miss a second straight game Saturday night when the Galaxy meet unbeaten Minnesota United at Dignity Health Sports Park.
The Galaxy (1-1-0) are calling Ibrahimovic's injury an Achilles strain. Schelotto on Thursday appeared uncertain how severe the injury was, saying only that he anticipated Ibrahimovic would return to training next week and could play in the team's next game against Portland on March 31.
"I'm not sure because I'm not a doctor," he said. "But I've been talking with the doctor, with the [physiotherapist], with [Ibrahimovic] and we hope he plays against Portland."
His absence leaves a huge void in the team's offense. In 28 MLS games, Ibrahimovic has scored 14 goals that have either tied the score or put the Galaxy ahead. The team was shut out in the last two games he missed — including last Saturday's loss in Dallas, in which the Galaxy didn't put a shot on goal until stoppage time.
"As a whole — as a team and myself — we played far too passive last game," said veteran Chris Pontius, who took Ibrahimovic's spot on the field. "So we're looking to change that."
Schelotto experimented with some different lineups this week and may do away with the target-striker position Ibrahimovic played in favor of three forwards, with Uriel Antuna in the middle.
"We need to figure out the problem, to play without a striker," Schelotto said. "We don't have a striker without Ibra, without Ola. We are working to bring somebody.
"But right now we need to figure out the problem with Antuna, with Chris."
Unbeaten LAFC hits the road
Officially the soccer field at Yankee Stadium, where New York City FC plays, is a regulation 110 yards long and 70 yards wide. Ask anyone who has played there, though, and they will tell you those numbers are inflated.
In reality, the field is so compact Sporting Kansas City once scored a goal off a throw-in. And those tight conditions could present a challenge for LAFC, whose quick-passing game needs space to breathe.
"It's a weird field. It looks cockeyed. It's small. There's a few different kinds of grass. There's a pitcher's mound," said coach Bob Bradley, whose unbeaten team is making its first trip to the Bronx on Sunday to play New York City FC (0-0-2).
"In those ways, it changes the game. But the mentality for a team [is] to go in, still find the right ways to connect and move the ball quickly. I don't think that the game is going to have a great flow so there's the importance of just quick reactions both in attack and defend."
The way LAFC played in its first two games this season, dismantling Sporting Kansas City and Portland at home, an odd-shaped field may be the best option to slow it down. Carlos Vela had a goal and two assists in last weekend's victory, earning league player of the week honors, and Adama Diomande has come off the bench to score in each win.
Now comes the first road trip of the season, one that covers a continent and four time zones — and one the team will be making without defender Steven Beitashour (concussion symptoms).
"We have a chip on our shoulder. We left some unfinished business last year and a lot of the guys returned and are fueled by that," forward Christian Ramirez, whose first-half goal against Portland proved to the game winner, said of LAFC's early playoff exit in 2018. "At the same time the approach that teams are taking on us sometimes, when they're more physical or more defensive, we're starting to figure that out, how to break that down.
"That was a challenge that Bob presented to us last season and all of preseason. So it's been to get the early results."
Sign up for our weekly soccer newsletter »
kevin.baxter@latimes.com | Twitter: @kbaxter11
---
All about the beautiful game
Go inside the L.A. pro soccer scene and beyond in Kevin Baxter's weekly newsletter.
You may occasionally receive promotional content from the Los Angeles Times.