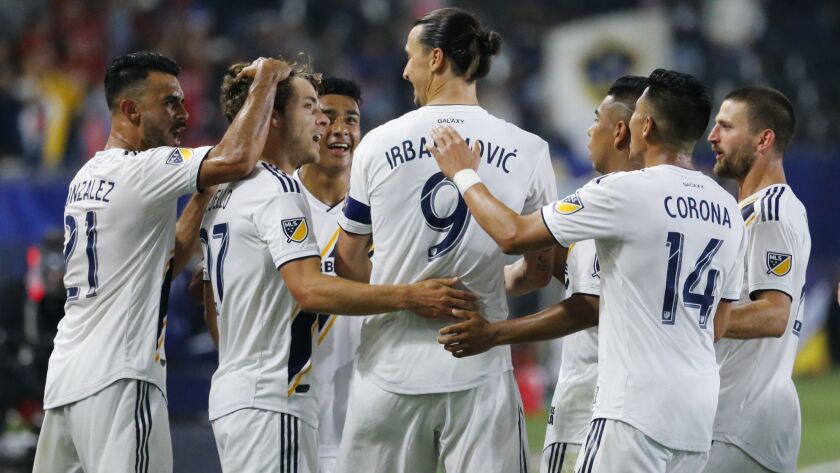 When Giancarlo Gonzalez played his first season in MLS five years ago, the title race was more a coronation than a competition. The Galaxy won their third MLS Cup in four years that season and to Gonzalez, who played for the Columbus Crew, MLS looked like many other leagues in the world: There were a couple of superior teams that traded the title while everyone else fought over the table scraps.
The league he returned to this winter couldn't be more different. MLS has crowned four first-time champions since 2014 while the once-dominant Galaxy, the team he now plays for, haven't made the playoffs in two seasons.
And Gonzalez finds the new set-up far more appealing.
"It's completely different," said Gonzalez, a defender who played the last 4 1/2 seasons in Italy. "New teams have joined and every team is competitive. Everyone wants to be the best, and that makes for a healthy competition between all of the clubs. It just makes the league continue to grow.
"Anyone can beat anyone and that's not the case in other leagues around the world."
The Galaxy and LAFC will both test that theory Friday when the Galaxy host the San Jose Earthquakes, who beat them two weeks ago, while LAFC travels to Houston to meet the Dynamo, who are unbeaten at home.
With just one loss since May 11, San Jose (8-7-4) is one of the league's hottest teams and included in that streak was a 3-0 win over the Galaxy at Stanford Stadium.
The Galaxy (11-7-1 and one of three teams in MLS with double-digit wins) played that game without four starters — Gonzalez and fellow defender Rolf Feltscher and midfielders Jonathan dos Santos and Uriel Antuna — who were all on international duty. All four are expected to be in uniform Friday and that could create a dilemma for coach Guillermo Barros Schelotto, who got splendid performances from teenagers Efrain Alvarez and Julian Araujo in a win last week over Toronto.
"Every time he's on the field he learned something," Schelotto said of Alvarez, a 17-year-old midfielder. "He's more professional, he's more experienced. He's better now than six months ago. Much better."
Sign up for our weekly soccer newsletter »
LAFC left for Texas just hours after a 1-0 loss Wednesday to Portland in the quarterfinals of the U.S. Open Cup. The game in Houston will be the team's fourth in 10 days.
"This time of the year is tough. There are a lot of games in the MLS and you have international duty and Open Cup," said midfielder Mark-Anthony Kaye, who spent much of June with the Canadian national team. "To manage minutes is very important.
"It goes the same with the other team. They're going to experience fatigue the same way we are. You can't really use that as an excuse."
Coach Bob Bradley used his first-team lineup against Portland so he's likely to rest many of his starters — including forwards Carlos Vela and Diego Rossi, the team's top two scorers — for either all or part of the game in Houston, where the heat index at kickoff is forecast to be near 100 degrees with 47% humidity.
LAFC is a league-best 13-2-4 although it has lost two of its last four, including the Open Cup result. Houston, which has lost four of its last five, is 8-7-3 overall but unbeaten in 10 games at home.
kevin.baxter@latimes.com | Twitter: @kbaxter11
---