Getting down to the fiber of LAFC's branding fabric
Reporting from Herzogenaurach, Germany —
Mike Walker, like most proud fathers, keeps several pictures of his baby on his cellphone. Only Walker's baby isn't flesh and blood, it's mainly polyester double knit.
Walker, who has been the creative force behind Major League Soccer gear from German sportswear giant Adidas for nearly two decades, has lovingly nurtured hundreds of team jerseys into being. But he admits he has a soft spot for the inaugural uniforms of the Los Angeles Football Club, which will be unveiled Saturday in a downtown fan event.
"It's fantastic," he said, swiping through cellphone photos. "It may be the best jersey of the entire season."
The gestation period of the LAFC jerseys lasted more than two years from concept to creation, the delivery delayed slightly while the team finalized a sponsorship deal with YouTube TV, which will splash its logo across the front.
Now born, however, the shirts — white and gold for road games and black and gold at home — are more than just pieces of cloth. They are also the team's most important visual symbol, one that represents the fledgling franchise's brand and values as well as a chief source of revenue. It's also a magnet for potential fans.
"We kind of feel like the jersey is the crown jewel," Walker said. "It's the embodiment and personification of what the team wants to represent and how they look.
"The first interaction most people have with the team is by seeing them and what they're wearing. It shows how they want to be perceived."
That hasn't always worked well. For the last seven years, the Philadelphia Union's jerseys have had Bimbo pasted across the chest, the result of a marketing deal with Bimbo Bakeries. That deal has enriched the team, but it has hurt merchandise opportunities for the Union, which didn't have a player rank among the top 25 in the league in jersey sales last year.
"Your most visible marketing partner becomes synonymous with your brand," said Scott Rosner, academic director of the sports management program at Columbia University. "[Bimbo] is not the best fit. All things being equal, you would prefer to have your kit sponsor be a brand that resonates with people."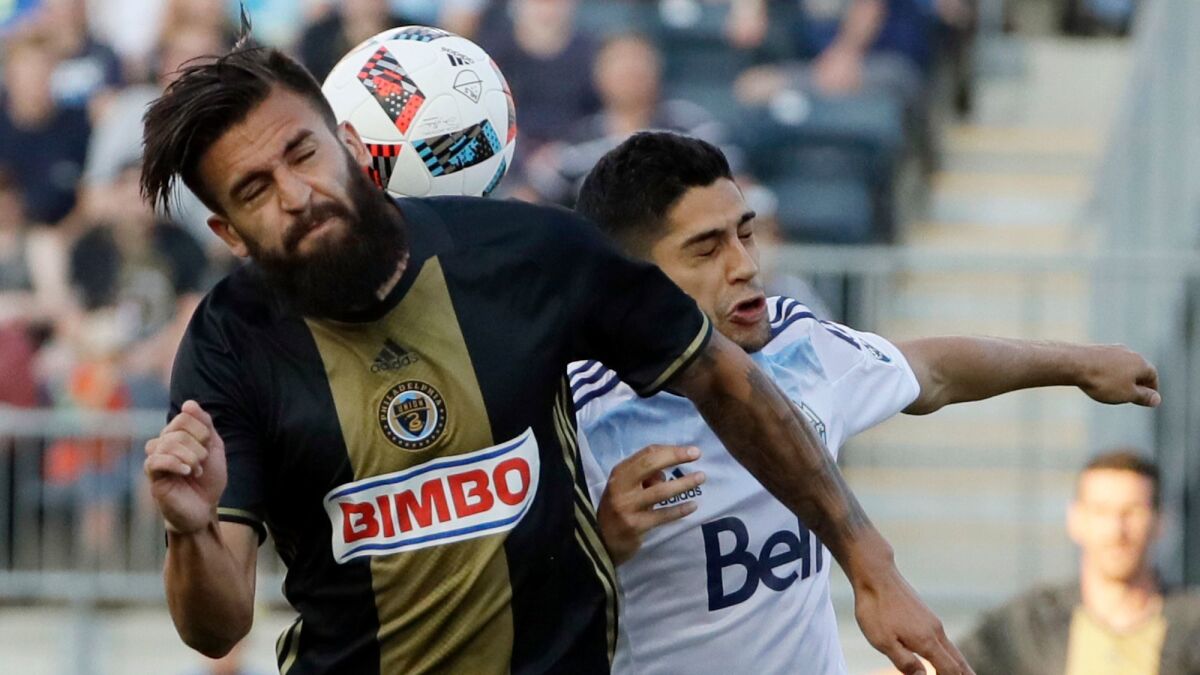 A good jersey is unique, attractive and conveys a message, through color and design, about the team. Think of the Mexican national team's shirt, in the colors of the country's flag.
"A big part of the football-creative direction is really understanding the contemporary world where a football kit is as much a piece of lifestyle apparel as a piece of athletics apparel," said Adidas' Sam Handy, vice-president of design for soccer products. "We see these boundaries between fashion and high performance really blending. People are buying football jerseys to wear all the time.
"This happened a lot before but it's a trend that's only getting bigger and bigger."
Get it right and the shirts will fly off shelves, even if the team has no history or tradition. Expansion franchise Atlanta United made its MLS debut in 2017 and by the end of the season its red-and-black striped jersey was the most popular shirt in the league.
"After watching what happened in Atlanta, we all expect that LAFC is on the same course to do the same thing," said Walker, who also credits the team's work in cultivating a fan base. "They've had a lot of time to just be in with the people. Not, 'Hey, look who we are. Come support us.' But they've been going about trying to get engaged and listen to fans and work with fan groups.
"And they haven't even played a game yet."
It's a frosty winter morning more than two months before LAFC's jerseys are to be unveiled and Walker is sitting behind a closed door in a first-floor conference room at the spacious Adidas campus in pastoral Herzogenaurach, Germany, about 16 miles north of Nuremberg. On the other side of a grassy square flanked by sand volleyball courts are office buildings where prototypes of the shirts — "there are six correct ones in the entire world," Walker boasts — are kept under lock and key.
Adidas and MLS guard new jersey designs the way some governments guard nuclear codes. So the closest anyone without a security clearance got to the uniforms before last week was a peek at Walker's cellphone.
The shirts are distinct and handsome — white with gold trim and a gold-and-white crest for the road kit; black and gold with a black-and-gold crest for home games. But on the prototype shirts, the most important real estate — the area across the chest — was blank.
LAFC didn't choose a jersey sponsor until late January, when it signed a three-year, nearly $18-million deal with YouTube TV to put its logo on the team's shirts and stream the team's games on the Internet.
That caused a couple of problems for Walker. First, he had to make the iconic YouTube logo mesh with the colors and logos already on the shirt. More challenging was pairing that logo, the globally known brand of a 21st-century tech company, with LAFC's Art Deco-inspired crest.
"It ends up being a design process just because design works according to its own mysterious logic. It doesn't necessarily take into account what the elements mean and what they mean together," said Nathaniel Friedman, creative director at Doubleday & Cartwright, a Brooklyn-based media and design agency. "You can also find consistency through design. It is how you reconcile disparate things that identity has to encompass.
"A design solution makes sense of the whole picture."
That identity for LAFC begins with a stylized crest crafted by Matthew Wolff, a New York graphic artist who also created the visual identity for New York City FC ahead of its MLS debut in 2015. The black-and-gold color scheme, Wolff said, reflects the urban texture and glamour of Los Angeles while the Art Deco typeface is a nod to the city's architectural history.
In the center of the crest is a wing, homage to the City of Angels and its Mexican heritage.
Some of the research that went into the crest's design was done at Union Station, L.A.'s historic train terminal, which was built with a mix of Art Deco, Mission Revival and Streamline Moderne styles. It's also reflected in fine detail in LAFC's black home jersey, in which an image Walker said was inspired by a gold Art Deco door at the train station has been replicated in the fabric.
But the logo, which appeared on T-shirts, billboards, magnets, scarves and bumper stickers long before it was added to the uniforms, has made its biggest commercial impact on the team's cap, already among the best-selling items in MLS merchandise.
"It has caught fire," said Walker, who recently saw someone wearing one in London. "They just randomly show up."
The sports landscape in Southern California is more crowded than anywhere else in the country. With the addition of LAFC, which plays its first game March 4, the metropolitan area will have two teams in each of the five major professional leagues. Add in two major college programs, a WNBA franchise and minor league teams in basketball, baseball and hockey, and it's hard to imagine another professional franchise trying to squeeze into that picture.
That could make LAFC the last team to try to capture the hearts, minds and wallets of the Southland's sprawling and diverse population with a sports jersey.
"A new team coming into an extremely crowded marketplace, they need to differentiate themselves is as many different ways as possible. And establish their own brand identity in doing so," Rosner said. "Having marks, having logos, uniforms, merchandise that resonates beyond just the core soccer audience is very important for them."
That may already be happening. According to data gathered by Crimson Hexagon, a social-media analytics company, the emotion most commonly associated with the LAFC brand is joy, which was chosen more than 10 times as often as any other response.
Rob Frankel, author of "The Revenge of Brand X: How to Build a Big Time Brand on the Web or Anywhere Else," says buying a hat or adding a data point to a survey doesn't prove the brand strategy has worked.
"They are confusing awareness with branding," he said. "Totally different things. Just because people know you doesn't mean they're going to buy you."
The best sports brands, he said, evolve intuitively, pointing to the Oakland Raiders and the Philadelphia Flyers of the 1970s. The two teams' thuggish play, not their logos, was what drew fans to watch their games and buy their jerseys.
"People start to take ownership in the brand because they understand what they're relating to," Frankel said.
LAFC has yet to play its first regular-season game, but it does have a jersey now — two in fact — and that's a start.
"It's great that they're introducing really cool merchandise," Rosner said. "They're hoping to grab millennial fans. That can help in the process.
"But over the long term, you're going to want the people who are affiliating themselves with the brand and the club, not the fashion statement. That makes it sustainable."
---
All about the beautiful game
Go inside the L.A. pro soccer scene and beyond in Kevin Baxter's weekly newsletter.
You may occasionally receive promotional content from the Los Angeles Times.