Column: LAFC's play shows strides taken by MLS
LAFC will host the Galaxy for the first time at its sparkling new stadium Thursday and most of the conversation around the game is about what will happen in the stands, how the influx of Galaxy fans could enhance the already electric atmosphere at Banc of California Stadium. The excitement is justified. That such spirited crowds would watch Major League Soccer in such a magnificent downtown-adjacent arena was unimaginable even a decade ago.
Except such talk about the stadium and fan culture has overshadowed what was supposed to be the main attraction: The actual soccer.
This will almost come as a surprise to anyone with only a passing familiarity with the MLS, but LAFC can play.
Not they-can-play-by-MLS-standards play. This team can really play. Like actually play skillful, creative, attacking soccer.
And this isn't only about star attacker Carlos Vela, who was one of Mexico's two or three best players at the World Cup.
As coach Bob Bradley said matter-of-factly, "We play good football."
I was skeptical of promises Bradley made to field an entertaining team shortly after he was hired by LAFC last year. I'd heard this before.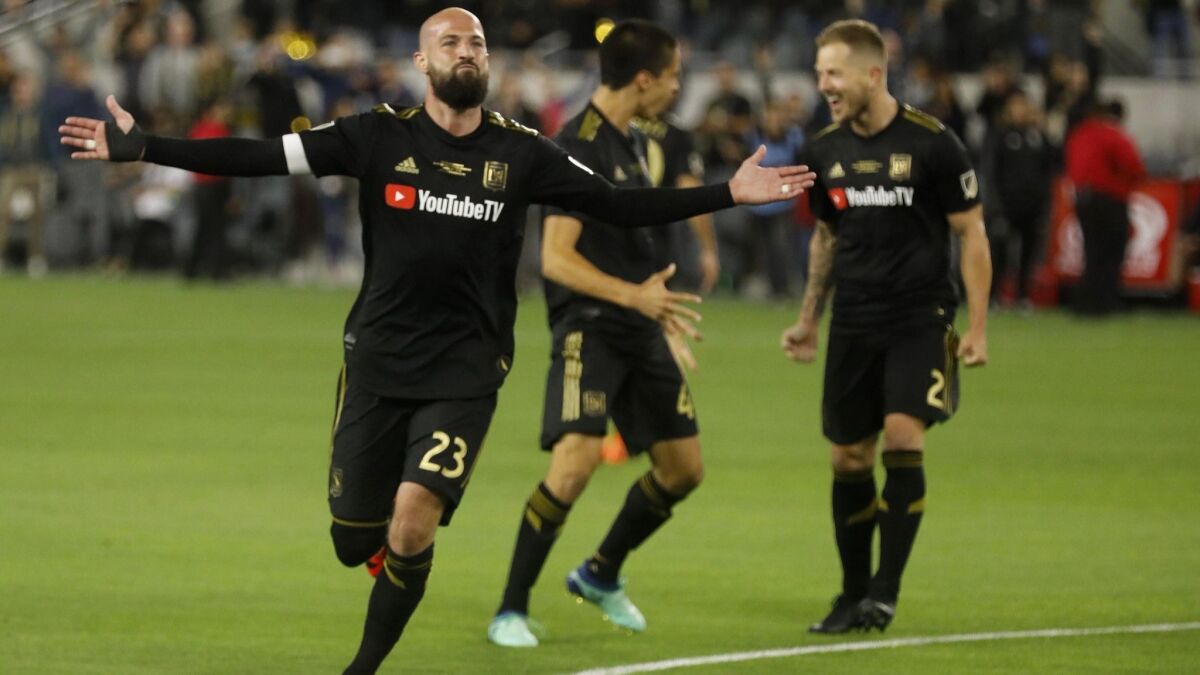 MLS was like the boy who cried wolf, periodically selling the idea that the level of play had vastly improved, only for in-person visits to stadiums to reveal that the progress was minute, if not nonexistent. If you know a knowledgeable soccer fan who has seen LAFC but hasn't mentioned anything about how well they play, this is why. He or she was probably duped by MLS in the past and still skeptical about what he or she saw.
LAFC midfielder Benny Feilhaber, who started his professional career in Europe, moved to Sporting Kansas City in 2013.
At the time, Feilhaber said, "A lot of teams, including Kansas City, played with a high press."
Essentially, teams were counting on their opponents to lack the technical proficiency to pass the ball out of the back. The team's shortcomings were obvious. Supporters of MLS either failed to recognize what they were watching was amateurish or willfully ignored the sloppy play because they wanted to do their part to keep the league afloat with hopes the soccer would eventually improve.
Those hopes were realized sometime over the last few years, as changes in the league's salary-cap rules allowed teams to sign better mid-level players. This produced more well-rounded teams, making defenses more selective about when, where and how they apply pressure.
"I think there are still some teams that play like that, but it's harder to do now because teams are better with the ball," Feilhaber said. "If teams are good with the ball and you try and press all over the field, you're just going to tire yourself out.
"It is ridiculous, over the last two, three years, how much the soccer itself has improved."
Bradley's vision, which was shared by general manager John Thorrington and assistant general manager Will Kuntz, was more specific. He wanted a team that attacked and entertained.
"I talk a lot about having ideas when we go forward," Bradley said. "You can create chances in different ways and score different kinds of goals. That's what the best teams do.
"You need midfielders who see the right pass. You need wide attackers who can go by people, who can get in the box and can score. You look for strikers who can take advantage of the midfielders, and their way of moving and finishing is good. You need defenders who can play from the back. You need outside backs who can join in. You can go around the field, but if you summed it up in a simple way, you need guys who bring real football qualities, real football intelligence."
Bradley has already found the players. The team typically plays in a 4-3-3 that often resembles a 4-2-3-1. Vela, who often starts wide but is afforded the freedom to drift into the middle, is the fulcrum of the attack. Unlike many of the international stars who played in the league before, Vela has players around him who can think and play at his speed.
Former Belgian international Laurent Ciman and Walker Zimmerman anchor the defense and start attacks out of the back. Outside back Steven Beitashour can be an overlapping threat down the flanks. Feilhaber, Mark-Anthony Kaye and Lee
Nguyen provide stability in the midfield. Diego Rossi, a fleet-footed 20-year-old from Uruguay, is a wide complement to Vela. Adama Diomande and Marco Urena provide options up front.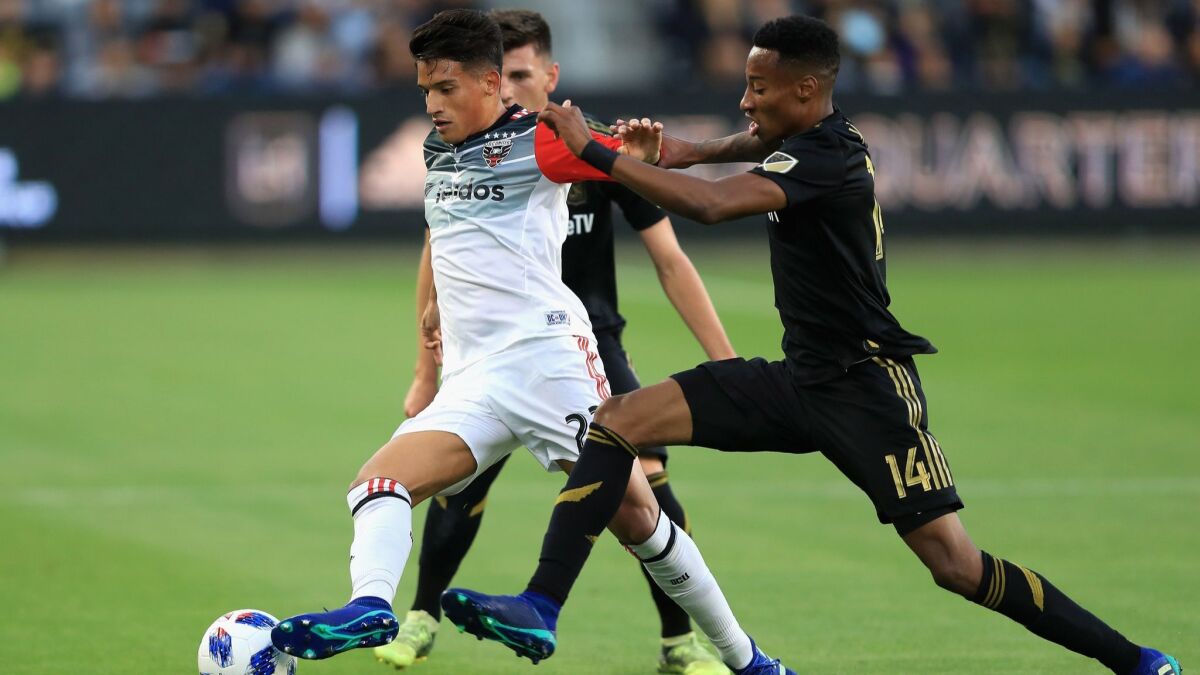 And the team is waiting to integrate Andre Horta, a 21-year-old midfielder who was purchased for $7 million from Portuguese power Benfica. He could be the most talented player on the roster.
Style is valued almost as much as results in soccer and LAFC is doing well on both fronts. The team is in second place in the Western Conference behind FC Dallas and leads MLS in scoring with 2.1 goals per game.
When Borussia Dortmund of Germany visited Banc of California Stadium in May, it was LAFC that controlled the tempo of the game. Dortmund was jetlagged and its season was over, but even under those circumstances, it would have dominated an MLS team from a decade ago.
The United States has soccer that is now professional not only in name, but also in quality. The downside is that LAFC have been emboldened to follow the lead of other teams in major sports leagues by exploiting the loyalty of its fans, raising the prices of some season tickets for next year by more than 50%. If that isn't a sign that soccer has made it in this country, what is?
So if you attend the game Thursday night, enjoy the atmosphere. Enjoy the nonstop cheering of the fans in the north end. Enjoy the stadium amenities. Just don't forget to enjoy the soccer.
It's worth watching now.
---
All about the beautiful game
Go inside the L.A. pro soccer scene and beyond in Kevin Baxter's weekly newsletter.
You may occasionally receive promotional content from the Los Angeles Times.