LAFC signs rising Uruguayan star Diego Rossi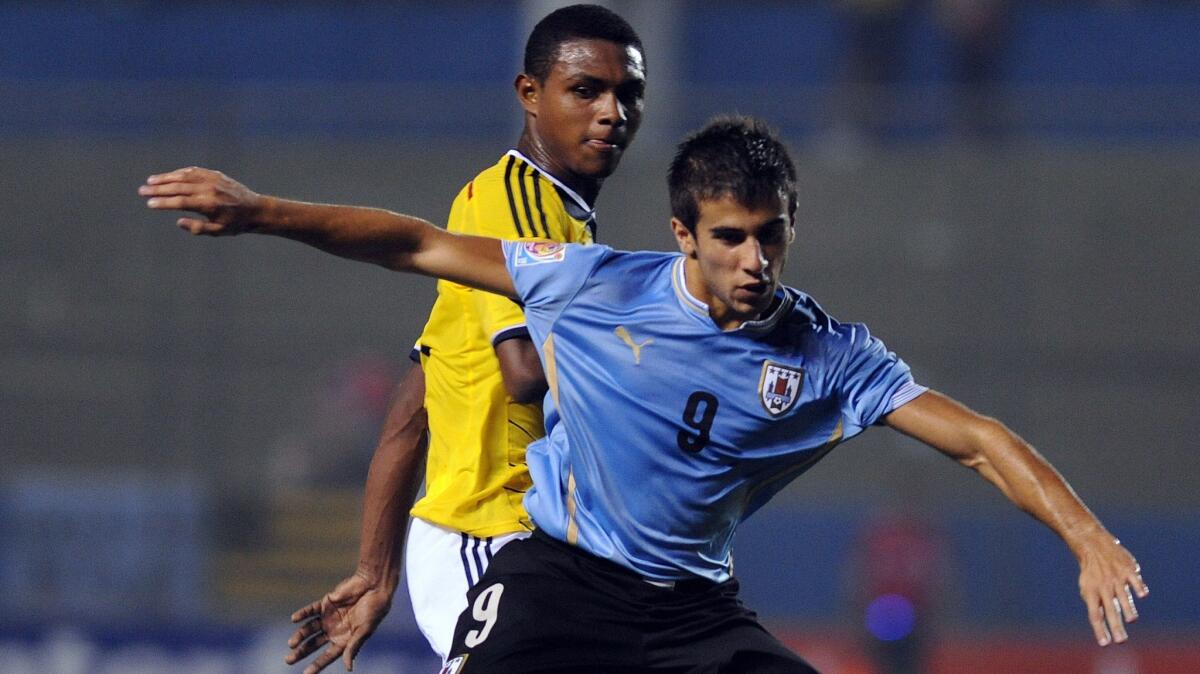 Age may be just a number, but Los Angeles soccer fans will have a chance to see a rising Uruguayan star play in a new stadium for a new team.
The Los Angeles Football Club today announced the signing of 19-year-old Uruguayan striker Diego Rossi. LAFC, just removed from acquiring five players in Tuesday's Major League Soccer expansion draft and then pulling off a trade for Montreal center back Laurent Ciman, landed its second designated player in Rossi.
Mexican international Carlos Vela, who averaged 10 goals a year in six seasons with Spanish side Real Sociedad, became the team's first designated player in August.
Rossi, a right-footed dynamo who turns 20 on March 5, appears to be a good pairing with Vela, who plays from the outside of the field in. Since he joined Uruguayan club Peñarol in January of 2016, Rossi had 13 goals and 11 assists in 51 appearances.
LAFC reportedly paid a transfer fee of close to $4 million to Peñarol for Rossi. Terms of his yearly salary, however, were not disclosed.
"Diego is a young and exciting attacking player," LAFC head coach Bob Bradley said in a press release. "His experiences at Peñarol and his ability fit perfectly with our vision of the team we are building at LAFC. We believe Diego will mature into a top-class player."
The club gave fans a hint that Rossi was coming to Los Angeles on Sunday when team officials tweeted congratulations on his Uruguayan club's Primera Division championship. Rumors of his arrival had begun surfacing last month.
Rossi will become the second youngest designated player in MLS history next to FC Dallas' Fabian Castillo, who signed with the club in 2011 at the age of 18. The Uruguayan standout will fall under the Young Designated Player Rule, which states any player 23 years of age and under and signed to a designated player contract will have a reduced salary-cap hit. Because Rossi is yet to turn 20, he could count for as little as $150,000 against the cap.
That's significant savings for a team building a roster with as many as 30 players before training camp begins at the end of January and has only seven players signed. Three others are on loan to Orange County SC of the United Soccer League.
LAFC next will turn its focus to free agency and the various drafts (re-entry, etc.) MLS conducts to facilitate player movement. More trades also might be expected, with coach Bob Bradley and general manager John Thorrington reportedly in the mix to acquire several players.