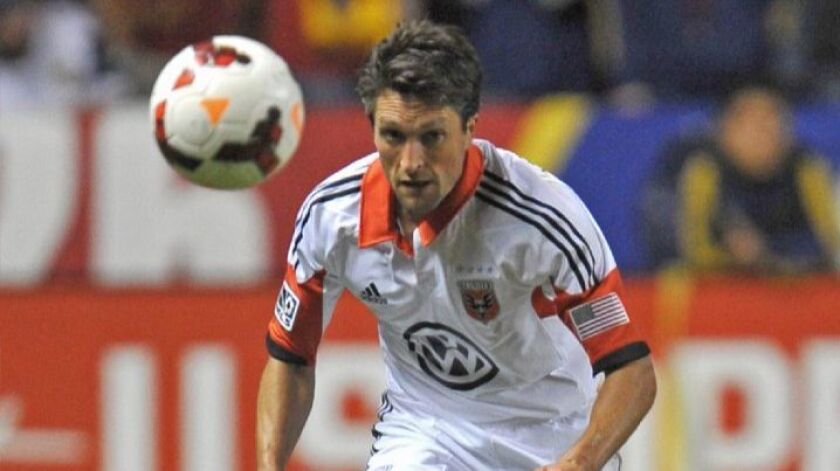 Three days before the start of its first preseason training camp, the first-team roster for the expansion Los Angeles Football Club is just 12 players deep — enough to field a starting lineup, but not much else.
LAFC will add to those numbers Friday, when it picks first in each of the first three rounds of the four-round MLS SuperDraft in Philadelphia.
"What we are looking at is the guy that helps us best," said John Thorrington, LAFC's executive vice president for soccer operations. "And in part that is, you look at someone's upside and think where he'll be in a few years. Then you also have to weigh who's going to help us Day 1.
"We would like to think that we've identified players who have both."
Unlike the NFL and NBA, the MLS draft rarely features players who become game-changers in their rookie seasons. According to MLS.com, just 27 of the 81 players selected in last year's SuperDraft are still on an MLS roster.
But the draft takes on oversized importance for expansion teams.
Last winter Atlanta United took German midfielder Julian Gressel in the first round and Gressel went on to play in 32 games, winning the league's rookie-of-the-year award. Minnesota United, the other first-year team, used the first overall pick in the draft on UCLA's Abu Danladi and the forward from Ghana scored eight goals in 27 games to finish second in the rookie-of-the-year vote.
"We think that there are some really talented and strong, good players in the draft," Thorrington said. "We've done a lot of work. We've watched a fair number of games live and now, thankfully, with technology we can catch up on a lot of video.
"So we're getting great intel on all the players of interest. And we see the No. 1 pick as a huge asset that will help us."
LAFC's greatest need is in the midfield, although Thorrington said the team isn't limiting its focus to that position. Among the top players heading into Friday's draft is Wake Forest forward Jon Bakero, winner of the Hermann Trophy, college soccer's version of the Heisman. Bakero beat out defender Tomas Hilliard-Arce of Stanford, who could jump over Bakero in the draft.
Bakero and Hilliard-Arce, both seniors, have already signed MLS contracts; which teams they wind up playing for will be determined Friday.
Also up for selection will be seven Generation Adidas players, underclassmen who enter the draft with a special designation under which their initial contracts do not count against a team's salary cap. Only two players on that list — Syracuse's Mo Adams and Ema Twumasi of Wake Forest — are listed as midfielders. But the best players in that group may be Michigan forward Francis Atuahene — who can play on the wing — and Akron defender Joao Moutinho, either of whom could go No. 1.
LAFC could also swap the top pick for a later selection in exchange for allocation money, although that seems doubtful. The Philadelphia Union, who do not have a first- or second-round pick, have been anxiously looking to trade for one and might be willing to give LAFC the money it needs to sign free-agent defender Steven Beitashour, with whom the team has been negotiating.
Beitashour made $264,000 last year when he helped Toronto win the MLS Cup.
LAFC coach Bob Bradley traded away the top pick in 2006 when he was with Chivas USA but that was a second-year team with a full roster, not an undermanned expansion franchise.
"We will pick every round," Thorrington said.
Follow Kevin Baxter on Twitter @kbaxter11
---