Column: Has Arsene Wenger's time at Arsenal finally run out?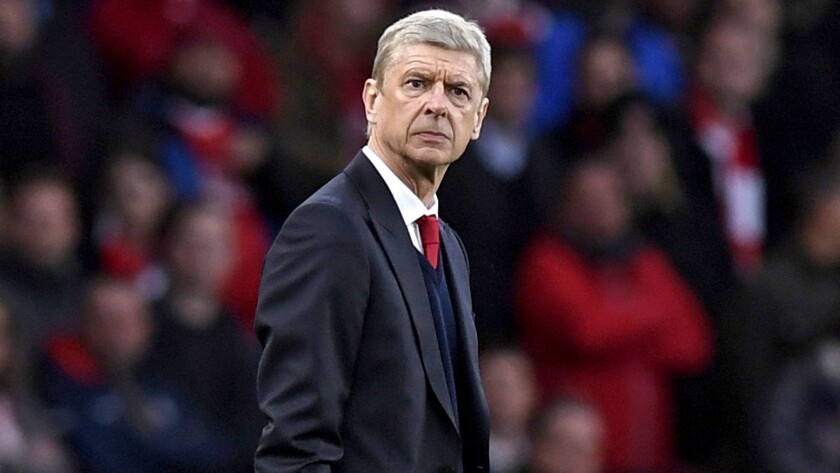 Things have gotten so bad for Arsene Wenger that the embattled Arsenal manager can't even look to the heavens for help anymore.
When he glanced up during his team's road loss to West Bromwich Albion last month, for example, he saw not clouds or blue skies, but rather two small planes circling the stadium towing banners, one that read, "No Contract #Wenger Out," and the other, "In Arsene We Trust."
Britain hasn't been this divided on a single issue since last year's Brexit vote. And for some, Wenger's future at Arsenal is more important than Britain's future in the European Union.
"Anyone who seriously thinks that Wenger is still fit for purpose should check themselves in at the nearest psychiatrist!" Aidan Reynolds, an expatriate Arsenal fan wrote on a Facebook page devoted to the coach's dismissal. "New blood in the form of a new manager is paramount."
English fan Matt Heavens answered in a Twitter thread backing the manager: "Please don't leave Arsene."
In the eye of the storm sits Wenger, the 67-year-old coach who is so closely identified with Arsenal that he shares the first five letters of his name with the club's name.
His latest contract ends when the season does, though, and while it appears the coach and the team's ownership — led by Rams owner Stan Kroenke — have come to an agreement over what comes next, they aren't ready to share that just yet.
Wenger has long been an anomaly in the English Premier League. While the average life expectancy of a coach in the EPL is less than two years, Wenger has been with Arsenal for more than two decades, making him the second-longest serving manager in the history of English soccer.
This season alone 12 teams have fired coaches, two of them twice. Yet Wenger has survived, largely because his Gunners have never finished lower than fourth in his 20 EPL seasons, making 19 consecutive Champions League appearances.
But being good is no longer good enough for Arsenal fans, who haven't seen their team win a league title since 2004 and have never seen them capture a European trophy under Wenger.
And this spring things got worse rather than better, with Arsenal losing four consecutive road games for the first time since 1995. The Gunners were also humiliated in the Champions League's knockout round, falling twice to Bayern Munich by identical 5-1 scores. And if they drop just two of their final six league games, they will finish with 10 losses, matching their most in a single season under Wenger.
Arsenal will enter Sunday's north London derby against second-place Tottenham standing in sixth place in the EPL table, five points out of a European Championships berth.
Yet the coach still has many supporters, among them Jens Lehmann, the goalkeeper on Arsenal's unbeaten 2003-04 EPL team, which won Wenger his third and most recent league title.
"I think the option right now is that he will stay," Lehmann said. "He's very intelligent. He's always gotten into the top four. Sometimes he's won it — or gotten very close.
"Of course the team has to play better. Everybody has to perform a little bit better. But Arsene is not tired."
He is stubborn, however, continuing to emphasize attractive, possession-heavy soccer even if the rest of Europe has moved on. Last season, Leicester City won its first EPL title despite playing without the ball 45% of the time; Spain's Atletico Madrid has ridden a defensive style of play to two of the last three Champions League finals.
That's left Wenger, once an innovator, looking like a tactical dinosaur at times. And while he has captured more trophies than any coach in club history, the biggest thing he's won in the last decade is the FA Cup, hardly a major prize.
His team will play in the FA Cup final again next month, where a victory would offer him a chance at a face-saving sendoff. But without a resolution of Wenger's future by then, the game could be played under a cloud of uncertainty instead.
"It's important to know if he stays or if he goes. We need to think toward next season," Arsenal midfielder Mesut Ozil told London's Daily Mail.
Besides, Ozil added, Wenger has earned that much.
"He's a superb coach. He's been successful for many years … and has always managed to get Arsenal to the Champions League, making Arsenal a big club. He deserves to be shown respect."
Instead he's been engulfed in controversy.
Just last month, conflicting reports from England had Wenger agreeing to either a one-year extension, a two-year contract or no contract at all. Betting houses, meanwhile, began laying odds on his successor, with Juventus boss Massimiliano Allegri, Borussia Dortmund Coach Thomas Tuchel and New York City FC's Patrick Vieira among the favorites.
In the end, however, both Wenger's supporters and detractors may get what they're asking for.
Barring a miraculous final month, this season will rank among the worst of the coach's EPL career. So a return to the sideline next year would inflame the rancor of the unhappy supporters, tarnishing Wenger's legacy.
Yet, given all the coach has accomplished, it is unconscionable that Arsenal would fire the most iconic figure in the club's history.
One way out of all this would be to "promote" Wenger to the front office, allowing him to guide Arsenal's first coaching transition since Bill Clinton's first term as president, while at the same time easing him into retirement. It's not a perfect solution because if Wenger is an active executive the team will continue to reflect his philosophy, which is how Arsenal got into this mess in the first place.
But it's certainly better than most of the alternatives.
Twitter: kbaxter11
---
All about the beautiful game
Go inside the L.A. pro soccer scene and beyond in Kevin Baxter's weekly newsletter.
You may occasionally receive promotional content from the Los Angeles Times.