Bruce Arena is keeping busy retooling the Galaxy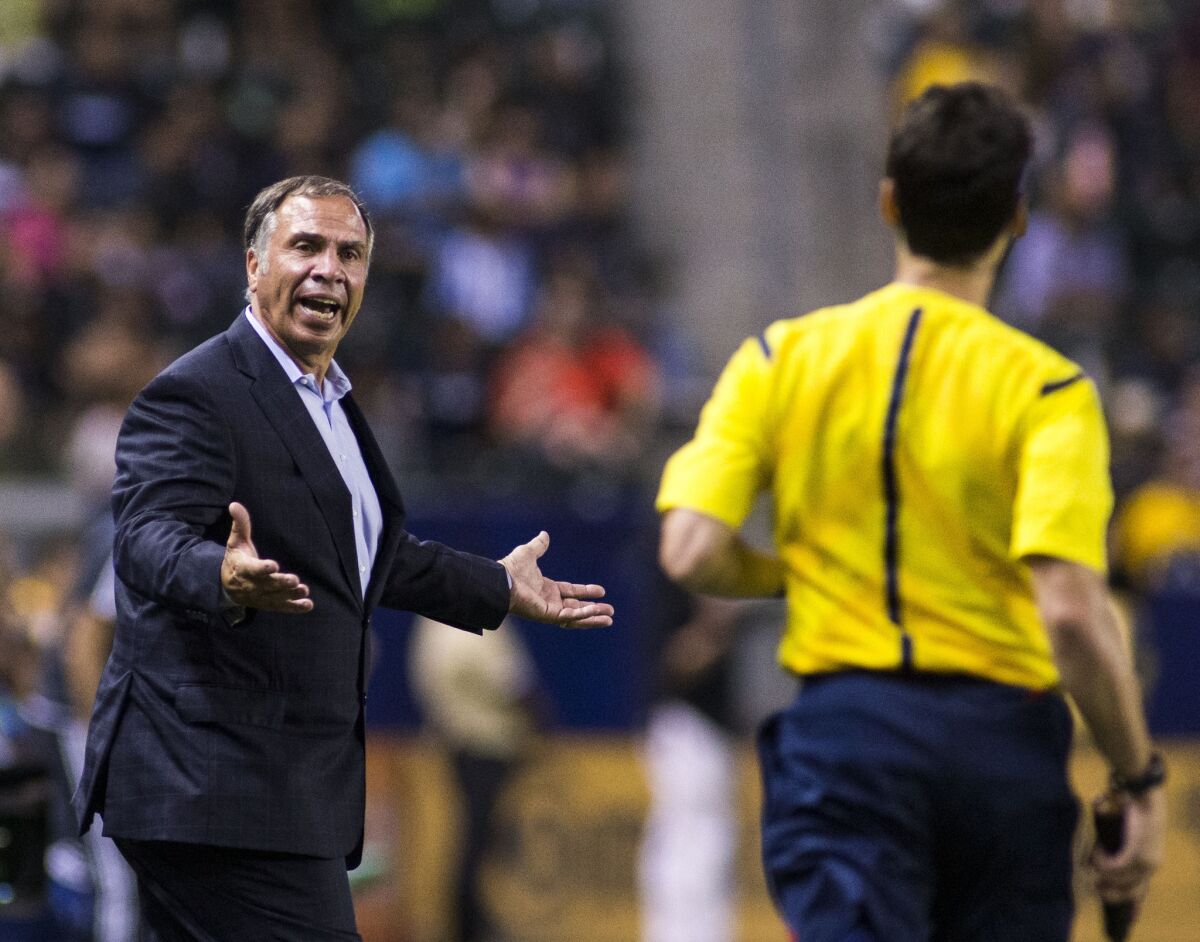 Bruce Arena's off-season started six weeks earlier than usual last fall, after the Galaxy bowed out of Major League Soccer's playoffs short of the conference semifinals for the first time since 2008.
But it wasn't much of a vacation.
"I've worked every day," Arena said Friday. "A lot of hours, meticulously doing contracts."
As a result 10 players from last season are gone, including defender Omar Gonzalez and midfielder Juninho, who were sold to teams in Mexico's Liga MX last month after playing at least 180 MLS games for Arena.
Returning to StubHub Center is forward Mike Magee and former Chivas USA goalkeeper Dan Kennedy, two of five key off-season additions. And even though training camp opens in six days, Arena appears far from done.
The Galaxy has spent much of the last month pursuing former English national team defender Ashley Cole, a chase that will end soon now that Italian club Roma has bought him out of the final five months of his two-year contract.
The team also appears close to deals with Belgian defender Jelle van Damme, 32, and AC Milan midfielder Nigel de Jong, 31. De Jong, who is under contract with his Italian club through 2018, also needs to be bought out of his deal but a resolution is believed to be close, awaiting only approval from the league and Galaxy owners.
See more of our top stories on Facebook >>
Out of the picture, apparently, is 33-year-old center back Joleon Lescott, who will remain with relegation-bound Aston Villa of the English Premier League.
The team refused to discuss any of the players publicly. But if the Galaxy can land all three, it would add experience and star power to the roster without the use of a designated-player spot nor, apparently, all the $800,000-plus in targeted allocation money the team has squirreled away, giving Arena salary-cap flexibility.
"No one's signed," Arena said. "It's slowly coming together. We've got probably two, maybe three more additions and we're done. And I think we're going to have a very strong team."
A deep team, too. Last season, the Galaxy was weakened by the loss of several front-line players to injury and international duty and Arena entered the off-season determined to prevent that from happening again.
"We don't expect Robbie Keane and Steven Gerrard to play every game," said Arena, the Galaxy's coach and general manager. "There's going to be injuries. There's going to be suspensions.
"So we went out and got players who can play. I'm not afraid to play Mike Magee, Jeff Larentowicz, Alan Gordon."
Yet, the off-season would have unfolded far differently if Arena had been able to re-sign Gonzalez, as he expected.
Get the latest in sports with our free newsletter >>
Gonzalez started last season with a designated-player contract worth more than $1.2 million. But the team used a one-time infusion of targeted allocation money from the league to buy that contract down in July, opening a designated-player spot for Dos Santos. Without another designated-player exemption available for 2016, the Galaxy was unable to reach a deal with Gonzalez that would have squeezed him back under the cap. So the team had to sell him and Juninho instead.
The off-season hasn't been all about change, though. Ten of the 13 players who appeared in the Galaxy's season-ending playoff loss in Seattle are back, including Gyasi Zardes, who this season is expected to play primarily as a forward, a role he and Dos Santos split in 2015.
"See those names there?" Arena said, pointing at a roster scribbled on a large dry erase board along one wall of his StubHub Center office. "A lot of those guys were here."
The Galaxy plays the first of three scheduled preseason games against former Armenian champion FC Shirak on Jan. 30 before meeting Mexico's Santos Laguna on Feb. 24 in the first game of a two-leg CONCACAF Champions League quarterfinal. The team opens MLS play at home against D.C. United on March
"There've been changes," Arena said. "[But] I don't think it's drastic."
The Galaxy has undeniably grown older, though, shipping out two 27-year-olds in Gonzalez and Juninho and bringing in the 32-year-old Larentowicz and the 31-year-old Magee and, potentially, the thirtysomething trio of Cole, Van Damme and De Jong.
As a result, the core of the team — Keane, Gerrard and Cole — will all be 35 when the season begins. And that's a gamble for a team that faces four cross-country trips and a schedule crowded with Champions League and U.S. Open Cup games in addition to 34 MLS games.
It may also become a problem for Arena, who could be facing another busy rebuilding project next off-season. Only this time he's hoping a longer playoff run will delay the start of that work.
"I don't think I want to have six weeks again next year," he said.
Follow Kevin Baxter on Twitter @kbaxter11
ALSO
Galaxy announces re-signing of Alan Gordon
Galaxy signs Mike Magee and Emmanuel Boateng, more moves expected
Galaxy extends contracts of Robbie Rogers, Jose Villarreal and Rafael Garcia
---
All about the beautiful game
Go inside the L.A. pro soccer scene and beyond in Kevin Baxter's weekly newsletter.
You may occasionally receive promotional content from the Los Angeles Times.