Midfielder Jermaine Jones is stuck in a limbo partly of his own making and it could keep him off U.S. soccer team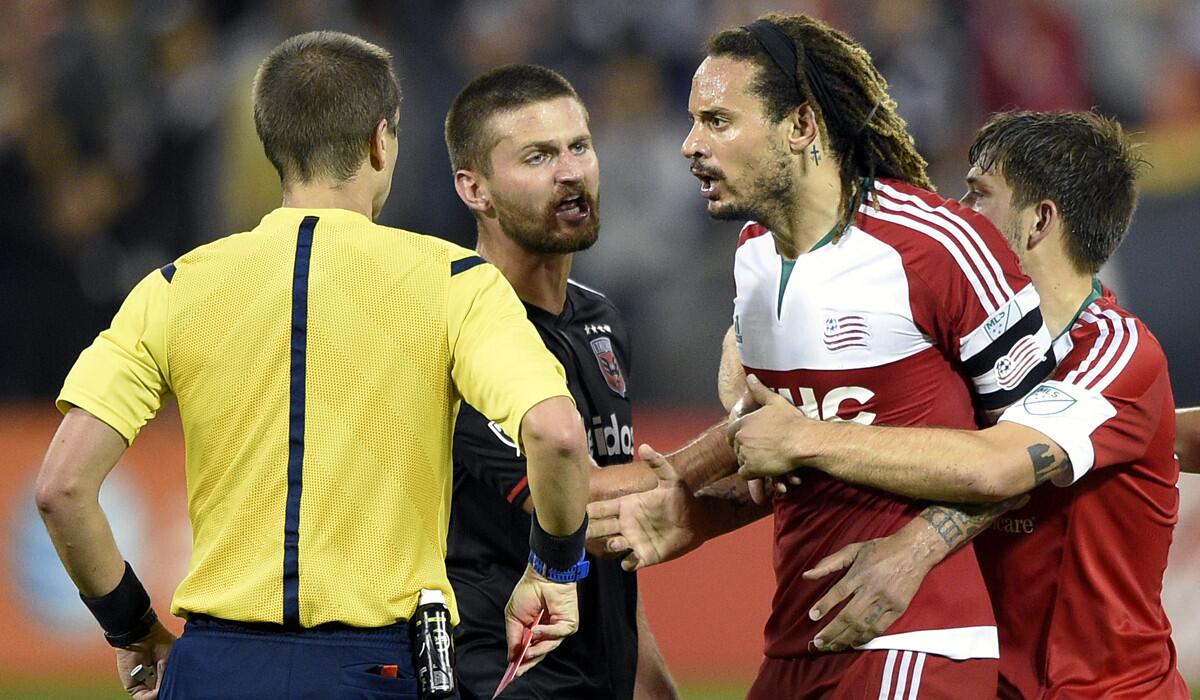 Time is running out on Jermaine Jones. And not just because, at 34, he's approaching the expiration date for a world-class midfielder.
Jones finds himself at a career crossroads because of a couple of poor decisions — one rash and the other about cash — he made in the last four months.
In the first case, Jones earned a six-game suspension for angrily putting both hands on referee Mark Geiger, then pulling on Geiger's shoulder, to protest an uncalled penalty in stoppage time of last October's Major League Soccer playoffs.
Despite the ban his team, the New England Revolution, offered to re-sign Jones — albeit at a steep discount. Poor decision No. 2 came when Jones turned that offer down, apparently in hopes of a more lucrative deal overseas, a reduction in his suspension, or both.
Instead he got neither. And as a result the U.S. national team's two friendlies at the StubHub Center — Sunday against Iceland and Friday versus Canada — could mark the beginning of the end for Jones, who is trapped in something of a catch-22 from which there is no good escape.
He remains free to continue playing with the U.S. because his suspension won't be enforced until he signs with another club. But until he signs with another club, Jones won't have a team with which to train and play after the national team's winter camp closes next weekend.
And without that, by Coach Juergen Klinsmann's own definition, he won't be fit enough to play for the national team.
"It's a little bit ridiculous, everything," Jones said. "It's really crazy."
In December, Jones said New England offered him a contract worth less than 20% of his $2.8-million base salary for 2015, a season in which he started only half of the team's 34 regular-season games. If he had swallowed hard and taken the deal, his suspension would have been up by early April, costing him two World Cup qualifiers with the national team in March but presumably leaving him fit and available for June's Copa America and the next round of qualifiers in September.
Instead Jones gambled that by leaving MLS after parts of two seasons and joining another league, he could have his suspension reduced, clearing the way for him to sign a more lucrative deal and return to Germany. In that he miscalculated, since FIFA rules are unambiguous: Any disciplinary suspension imposed on a player prior to a transfer must be enforced or applied by the new association at which the player is registered.
And with the Bundesliga schedule now more than half over, the suspension has scared off teams since Jones, at best, would be eligible for just a handful of late-season games. One possible exception is bottom-of-the-table Hannover, which is battling to avoid relegation and reportedly is interested in adding Jones for its final eight games.
But to do that, it will have to sign him this week.
A more painful solution would see Jones swallowing hard and slinking back to MLS, although New England continues to own his rights and Jones hasn't exactly been complimentary of the Revolution. Last week he even called out the Kraft family, the team's investor/operator, while labeling the team's final offer "a joke."
Jones places the blame for his predicament on MLS Commissioner Don Garber and Sunil Gulati, president of the U.S. Soccer Federation.
"I want to be fit for the Copa America. And right now it's MLS who really put stones in the way," said Jones, who asked to meet with the media before last Thursday's training session to discuss his situation. "That makes me a little frustrated.
"I want to go back to Germany. They don't give me the chance to go. And I have to sit here. It's tough for a guy like me who wants to play. . . . It makes me mad."
Jones doesn't dispute the suspension. But he does believe six games is too severe — especially since former U.S. teammate Clint Dempsey was banned just three games for tearing up a referee's notebook during a U.S. Open Cup game last June. Jones said he pleaded his case to both Garber and Gulati, believing his 56 appearances with the national team should count for something. But he received little sympathy.
"I feel like it's unfair . . . for a player who did a lot for this country and this sport. [I] said 'OK. I'm ready to go and I accept the suspension in the States.' But let me go somewhere else and play. It's tough."
And it will get tougher — and the offers lower — the more desperate Jones becomes.
Meanwhile, the clock keeps ticking.
"It's not fair," Jones repeated. "I stayed quiet a long time. But now it's the point where I have to look [at] what's going on with my career."
Twitter: @kbaxter11