Soccer! Major League Soccer keeps growing
Hello and welcome to this week's edition of the L.A. Times soccer newsletter. I'm Kevin Baxter, The Times' soccer writer, and we start today with Major League Soccer.
Stop me if you've heard this before, but the league is expanding.
Again.
The MLS board of governors, meeting Thursday in Beverly Hills, voted to expand to 30 teams "in the coming years." The league currently has 24 teams, with Miami and Nashville scheduled to join next season and Austin, Texas, in 2021. That makes MLS, which has added 17 teams since 2005, the fastest-growing league in North American professional sports.
"We particularly, in the last 10 years, have been experiencing unprecedented growth," Commissioner Don Garber said. "Expansion has been a key driver of that growth, and it really is a great measure of the enormous enthusiasm and really the commitment that our fans have in markets both new and old to support our league and our players and to see the support grow continually."
"We feel very strongly that expansion is a driver of interest, it furthers the momentum story that MLS continues to be a league on the rise," he added.
The board authorized Garber to enter advanced discussions with parties in St. Louis and Sacramento that, if fruitful, will make those two cities the league's 28th and 29th teams. Garber said the league hopes to make a decision on those bids by the all-star break in late July.
The expansion fee for those two spots has been set at $200 million. When Real Salt Lake joined MLS in 2005, growing the league to 12 teams, it paid $10 million.
The timeline for adding the 30th team has not been set, but some of the cities mentioned as possible contenders are Phoenix, Las Vegas, Detroit and Charlotte, N.C. MLS has seen six teams, including the Los Angeles Football Club, begin play in the last five seasons.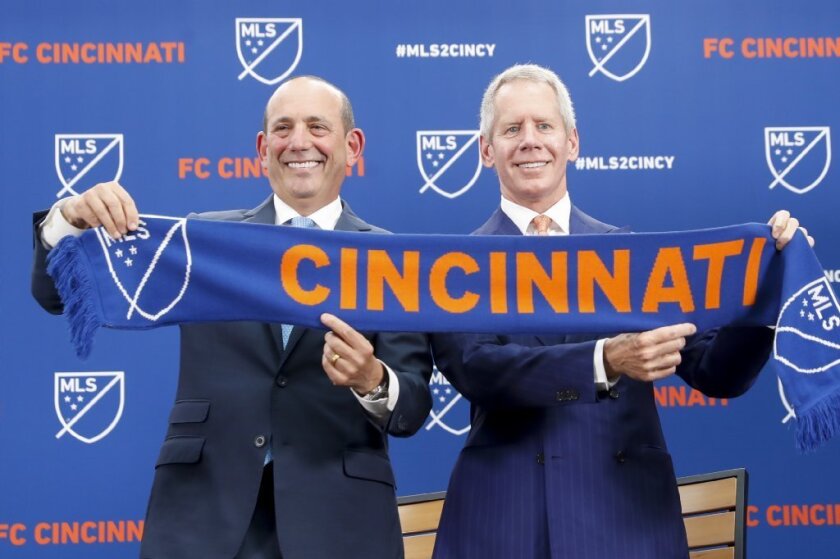 Garber, who had earlier said MLS would not expand beyond 28 teams, said Thursday the league may not stop at 30. Major League Baseball and the NBA each have 30 teams, while the NHL has 31 and the NFL 32.
"I don't know that we have a firm handle yet on what the final number of teams in the league ought to be," Garber said. "We have a lot of work to do to determine what the future state of Major League Soccer is in 10 years and in 20 years. We continue to believe that there are many, many cities across the country that can support an MLS team with a great stadium with a great fan base and with great local ownership that will invest in building the sport in their community."
But is the league growing too fast? In Southern California, one of the nation's most crowded sports markets, LAFC has sold out every game it has played at Banc of California Stadium, while the Galaxy saw its own attendance jump 10% last season, even though the team missed the playoffs.
That success isn't shared through much of the rest of the league, however. Only eight teams showed attendance increases last season with three — the Chicago Fire, New York Red Bulls and Columbus Crew — experiencing double-digit declines. That led to the first league-wide attendance drop in five seasons.
The television numbers are better, with cable viewership increasing in each of the last six seasons and ad inventory selling out each of the last three years. The five games Fox showed on its over-the-air channel averaged 988,000 viewers, an increase of 59% over 2017.
The overall numbers were modest, however, with the 2018 cable average of 276,000 ranking behind what the WNBA playoffs drew last year. Negotiations for a new TV deal, to replace the eight-season $720-million agreement the league signed in 2014, will begin in two years, and Garber hinted that expansion will figure in those talks.
"We want to have a league that is of the proper size by the time we are getting into negotiations with our new television deal," he said. "And we want to be right-sized, if you will, by the time the World Cup is here in 2026."
What isn't as certain is whether there are enough talented players to support that growth. The league was established, in part, to assist in the development of domestic players, but in the last five seasons the percentage of U.S.-born players on MLS rosters has declined nearly 9%, to 44.3%, although the overall number of American players has fallen by just one, to 290, thanks to expansion.
The growth of the league has been supported by an increase in international signings that has made MLS the youngest and most diverse sports league in North America. But that growth could be difficult to maintain without an overhaul of the league's roster rules or a noticeable decline in the quality of play.
Currently each team is allotted a maximum of three designated players and eight international roster slots. If those numbers don't increase, domestic players will have to fill the remaining roster spots. That could lead to a decline in play.
Garber disagrees that expansion has had a negative effect on play but suggested Thursday that the way rosters are built and paid for may have to change.
"There has been no impact on the quality of play through expansion," he said. "We have the ability to change our investment strategy; the TAM program and the designated, discretionary TAM program were initiatives that were put into place because we knew we would be adding a lot of teams and we wanted to give our teams the opportunity to go outside of the domestic player pool and be able to expand the quality of our rosters, make our domestic players better, give more opportunities for our domestic players with the TAM program, but in essence have an increased quality of play.
"We're in a global market. We have 30,000 registered professional soccer players to select from. Frankly, I think it's the opposite. You start thinking about the global interest in coming to our league, it's driven by the fact that there's so much opportunity, so many jobs. One of the byproducts of expansion is just opportunity."
MLS wants to cash in on player development
Speaking of opportunity, Garber and the rest of MLS insist they're creating just that through the league's multimillion-dollar investment in youth development, and now they want return on that investment. So about an hour after MLS made its expansion announcement, the league said it would begin asserting claims for training compensation and solidarity payments under a FIFA program designed to reward clubs for spending on player development.
MLS clubs paid more than $70 million for youth development in 2018, according to Soccer America, and have spent or plan to spend hundreds of millions more in training facilities for their first and second teams and youth programs. Yet some of the top players that investment has produced have left and signed professional contracts with European clubs that haven't had to pay a penny for their development.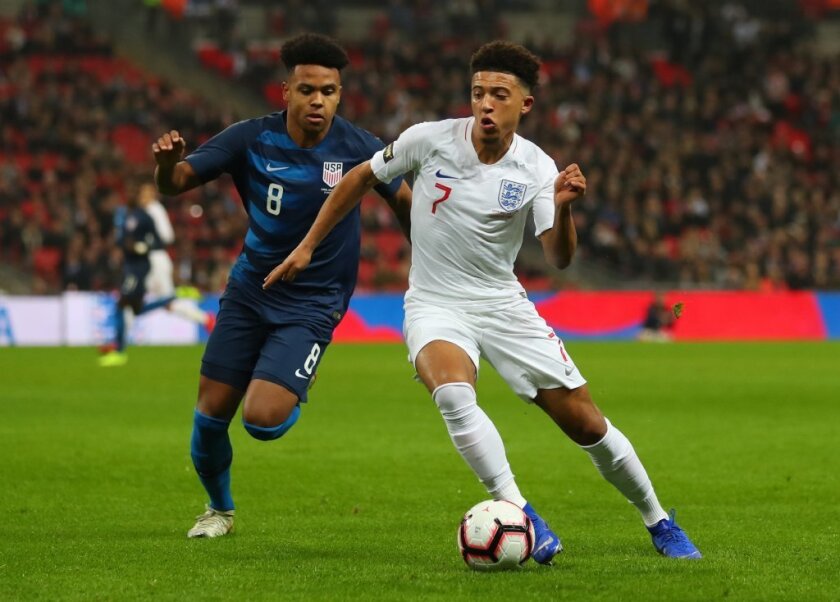 National team star Weston McKennie left FC Dallas academy for German club Schalke in 2016, for example, and late last year, U-20 standouts Alex Mendez and Uly Llanez left the Galaxy system for clubs in Germany, while Arizona teenager Richie Ledezma quit the Real Salt Lake Academy to sign with Dutch club PSV.
"Historically that had not been an area of major investment for us," Mark Abbott, the league's president and deputy commissioner, said of player development. "What's changed now is that there is a justification based on the level of investment that without making this move, we wouldn't be able to justify that level of investment. So that's what changed.
"The only way you can justify it growing forward is to show a return. And that return can come in a number of ways. It can come through training compensation, it can come through transfer fees for players under contract, it can come from players that become contributors to the first team. You have to justify this investment in some way. And this is one component of this justification."
Solidarity payments are due when a player is transferred to another club while under contract if that transfer involves moving to another country. Five percent of the transfer fee is paid to the youth clubs responsible for the player's development between the ages of 12 and 23. Payments are also due if a player signs his first pro contract with a club in a foreign country.
Training compensation must be paid when a player transfers to a club in another country before the season of his 24th birthday. And the money can be substantial.
According to ESPN's Jeff Carlisle, if a 17-year-old spent six seasons at an MLS academy, then signed a professional contract with a top-tier club in Europe, the training compensation paid to the MLS would be approximately $247,000.
Calculating solidarity payments depends on the size of the transfer fee, but the payments can regularly top $100,000 — and in the case of one oft-quoted example, could be several times that much. If the Pennsylvania youth club that had developed Christian Pulisic decided to seek compensation based on Pulisic's $73-million transfer from Borussia Dortmund to Chelsea, those payments would top $550 million.
Those kinds of numbers are the exemption, not the rule — the Pulisic transfer is the most lucrative ever paid for an American player. But even a slice of that is too much money for MLS to leave on the table and Garber, speaking in his state of the league address in December, said the league needs to start pursuing all sources of revenue.
"We need to become more of a selling league," he said. "We all need to get used to the fact that in the world of global soccer, players get sold."
"We have been buying for so long and as we've gone through the analysis, it's hard to justify that investment and the investment that we have to make in player development," he continued. "We've got to have something that turns this model around, or else it's going to be unsustainable."
Ajax is cleaning up
Galaxy captain Zlatan Ibrahimovic has played for two of the four teams in the Champions League semifinals, but last week he had a hard time hiding the soft spot he still has for Ajax, the first club he played for after leaving his native Sweden.
"The way they play, they didn't change nothing," he said of the Dutch Eredivisie co-leaders, who upset Cristiano Ronaldo and Juventus in the quarterfinals.
"When I was there, we played the same type of football, the same type of game. That's the philosophy. That is what I like. It's good football. It's dominant football."
Before beating Juventus, Ajax knocked off three-time defending champion Real Madrid in the round of 16 to reach the semifinals for the first time since 1997. Ajax opens its two-leg semifinal Tuesday afternoon against Tottenham, who has advanced this far in this tournament just once, in 1962 when it was called the European Cup. It lost to Portugal's Benfica that year.
The other semifinal will match Barcelona, for whom Ibrahimovic also played, against Liverpool, which lost to Real Madrid in last year's final.
Real Madrid's early exit guarantees a new champion, and Barcelona is the only semifinalist that is familiar with being in the top spot, having played in the semifinals six times in the last 10 tournaments, winning it three times. Ibrahimovic thinks that will inspire more interest.
"I think the fans like it when you have results that don't follow the normal tradition," he said. "I think many are hoping that Ajax will make it."
By the way, Ibrahimovic won 33 club trophies playing with some of Europe's biggest teams, but he never won a Champions League crown, making it as far as the semifinals just once.
Until this year Ronaldo had played in the semifinals of eight straight Champions Leagues, winning the tournament five times.
Feeding the lion
Speaking of Ibrahimovic, both he and the Galaxy head into Wednesday's game in Minnesota on hot streaks.
Last Friday's 2-1 win over the previously unbeaten Houston Dynamo was the Galaxy's fifth in a row, its longest winning streak since 2014. And at 6-1-0, the team is off to its best start since 2010.
Ibrahimovic is a big reason for that: With seven goals and one assist, he's had a hand in eight of the team's 13 scores. No other player has scored or assisted on more than two goals.
(Watch Ibrahimovic's latest score on a penalty kick against Houston.)
That's been by design, not chance. Since returning from an Achilles' tendon strain that sidelined him for two games, Ibrahimovic has taken 22 shots, seven on goal. The rest of the Galaxy have combined for 28 shots, eight on goal.
Want more numbers? Ibrahimovic has scored in all five games he's played in this season, has 13 goals in his last 11 games dating to last fall, and with 29 goals in 32 MLS games overall, he is off to one of the fastest starts in league history.
Mamadou Diallo scored 32 times in his first 34 MLS games — the length of the current regular season — for the Tampa Bay Mutiny in 2000-01. Ibrahimovic is already tied for fourth on that list despite having played two fewer games.
Most goals in first 34 games of an MLS career
32: Mamadou Diallo, Tampa Bay, 2000-01
31: Raul Diaz Arce (D.C. United, 1996-97), Josef Martinez (Atlanta United, 2017-18)
29: Stern John (Columbus Crew, 1998-99), Carlos Ruiz (Galaxy, 2002-03), Zlatan Ibrahimovic (Galaxy, 2018-19)*
* 32 games
As for scoring over a shorter span, no one is off to a better start this season than LAFC's Carlos Vela, who picked up his ninth and 10th goals of the season in his ninth game Sunday, a 4-1 rout of the previously unbeaten Seattle Sounders.
It was Vela's third multi-goal game of the year. He also had a two-assist game this season and leads MLS in both departments for LAFC, which has the league's best record at 7-1-1 and the most goals, with 25.
"Individually, I'm trying to help my team and do my best every game," he said.
As for the scoring race with Ibrahimovic, whose seven goals in five games is second to Vela, the LAFC captain said the competition doesn't bother him.
"The only pressure is myself," he said. "If I work hard and do my best, I can score more goals and I can help my team. What's important is to win games, make the playoffs and try to win the MLS Cup. The rest doesn't matter."
MLS scoring leaders
Goals
10: Carlos Vela (LAFC)
7: Zlatan Ibrahimovic (Galaxy)
6: Diego Rossi (LAFC)
5: Darwin Quintero (Minnesota United), Jozy Altidore (Toronto FC), Kei Kamara (Colorado)
Assists
5: Vela, Alejandro Pozuelo (Toronto FC), Mark-Anthony Kaye (LAFC)
4: Jonathan Osorio (Toronto FC), Diego Valeri (Portland), Mauro Manotas (Houston), Nani (Orlando City), Nicolas Lodeiro (Seattle), Latif Blessing (LAFC), Michael Barros (FC Dallas), Eduard Atuesta (LAFC)
(Watch the highlights of LAFC's win over Seattle, including two goals from Vela, three assists from Mark-Anthony Kaye and another helper from Eduard Atuesta)
Podcast
Don't miss my weekly podcast on the Corner of the Galaxy site as co-host Josh Guesman and I discuss the Galaxy each Monday. You can listen to the most recent podcast.
Until next time
Stay tuned for future newsletters. Subscribe here, and I'll come right to your inbox. Something else you'd like to see? Email me. Or follow me on Twitter: @kbaxter11.
---
Get our high school sports newsletter
Prep Rally is devoted to the SoCal high school sports experience, bringing you scores, stories and a behind-the-scenes look at what makes prep sports so popular.
You may occasionally receive promotional content from the Los Angeles Times.