Soccer! USWNT is the greatest program in soccer history, men's or women's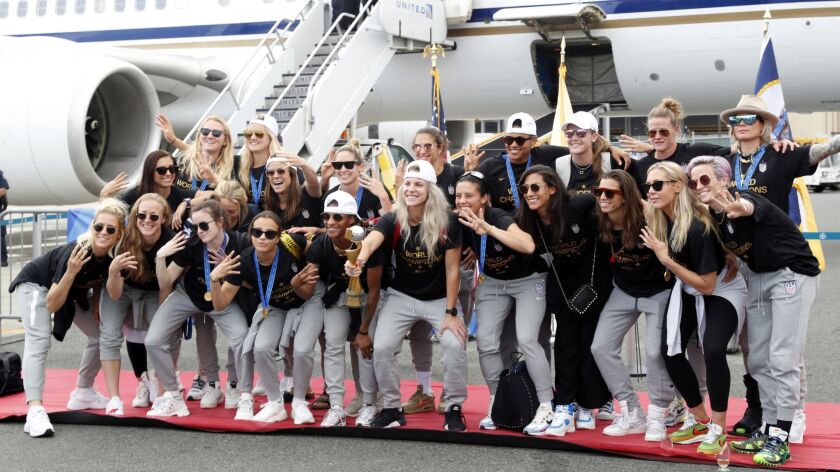 Reporting from Paris —
Hello and welcome to the latest edition of the L.A. Times soccer newsletter. I'm Kevin Baxter, the Times' soccer writer and I'm actually finishing the newsletter this week in the massive Charles de Gaulle Airport near Paris.
It's been an interesting and eventful month following the U.S. national team around France and watching it wreak havoc on all comers in a dominant Women's World Cup performance. After second-half goals by Megan Rapinoe and Rose Lavelle gave the U.S. a 2-0 win over the Netherlands in Sunday's final, Paul Kennedy, Soccer America's hall of fame writer, called the 2019 team the best in women's soccer history.
I'll go that one better and argue the entire U.S. women's program, dating to its first game in 1985 — a 1-0 loss to Italy — is the greatest in all of soccer history, men's or women's. And the evidence is pretty convincing.
The U.S. has won four of the eight Women's World Cups contested since 1991. Only one other country, Germany, has won as many as two.
On the men's side Brazil has won five — one more than the American women — but the men's tournament has been played 21 times.
The U.S. women have played in the last three finals, winning the last two and losing on penalty kicks in 2011. Brazil made three consecutive finals on the men's side from 1994 to 2002 and also won twice, but not in consecutive tournaments.
But wait, there's more.
Not only has the U.S. won its last 12 Women's World Cup matches, it hasn't even trailed in any of those. The longest winning streak on the men's side is 11.
The U.S. hasn't lost in 16 Women's World Cup games dating to 2011; the longest unbeaten streak on the men's side is 13. And Jill Ellis is only the second coach to win two World Cups since Italy's Vittorio Pozzo in 1934-38. Ellis is not only unbeaten in her 14 World Cup games, she has never trailed in a World Cup game.
The 26 U.S. goals in France were the most by any World Cup champion and its plus-23 goal differential was also the best ever.
OK, I know what you're thinking. Brazil, West Germany — and even the united Germany, which made the semifinals of four consecutive men's World Cups between 2002 and 2014 — faced much stiffer competition. And you're right. (The U.S. women, by the way, have made the semifinals of every Women's World Cup. They've also made the final of five of the six women's Olympic tournaments, winning four of them.)
But the women's team can only beat the teams it faces. Are you going to argue the Dodgers don't deserve their six consecutive division titles because the NL West isn't as deep as the AL East?
Besides, there's no denying the women's game is far more competitive now than it has ever been — and the U.S. has become even more dominant. Including the World Cup, the U.S. has lost just twice in its last 50 matches, outscoring the opposition 159-32.
More than half of those matches have come against teams ranked among the top 10 in the world by FIFA.
Even the women who built the foundation for the current team agree it's no longer a soccer team. It's a band of traveling rock stars.
Sign up for our weekly soccer newsletter »
"I see it through the eyes of my kids, who are 10 and 12. How excited they get with the current team," said Julie Foudy, a two-time world champion. "These current players are carrying on this inspiration that we dreamed about as players. Our whole thing as players was, of course we want to win but everything we did was about inspiring that young girl, or even the young boy in the stands, to think about women being professionals and to think about that dream being a reality.
"For me to see it in their eyes, with them wearing Rapinoe's jersey or saying hi to Alex [Morgan] right now, they get so excited. To see it is really fun. That was always our goal."
Kristine Lilly, who played more international games than any player of any gender, agrees.
"What's cool for us is our kids are looking up to these players," she said. "And when we see the look in their eye when they see the players come out or they say hello, we're like, 'Oh my gosh, look at the impact.'
"It's great for our kids to be looking at this generation and we like watching them compete and play."
Former Galaxy player Mike Magee said he's been trying for years to get his daughter excited about the family business, soccer, without success. But after Sunday's final, Magee said he found his daughter, by herself, kicking a ball against a wall. Stories like that suggest the U.S. juggernaut will continue to perpetuate itself, with the success of the current team inspiring the teams of the players to come.
"I look up to my team, all 22 of them. They just are role models. They want to leave a legacy off the field," said defender Julie Ertz, who was inspired by the 1999 team of Foudy and Lilly and has gone on to win two World Cups of her own. "It's super important for us. When we see the 12-, 13-year-olds that want to take our place, we want to make sure they have that opportunity to be able to play. Because the opportunities that I've been given through soccer means the absolute world to me.
"I dreamed about it when I was 12 too."
And making dreams come true is probably enough to qualify the U.S. women's program as the greatest of all time.
(Watch the highlights of the 2-0 U.S. win over the Netherlands in Sunday's final here: https://www.youtube.com/watch?v=_6VeZAZdff0)
World Cup scores and groups
Group Stage
Group A
W L T GF GA GD Pts.
France 3 0 0 7 1 +6 9
Norway 2 1 0 6 3 +3 6
Nigeria 1 2 0 2 4 -2 3
South Korea 0 3 0 1 8 -7 0
Group B
Germany 3 0 0 6 0 +6 9
Spain 1 1 1 3 2 +1 4
China 1 1 1 1 1 0 4
South Africa 0 3 0 1 8 -7 0
Group C
Italy 2 1 0 7 2 +5 6
Australia 2 1 0 8 5 +3 6
Brazil 2 1 0 6 3 +3 6
Jamaica 0 3 0 1 12 -11 0
Group D
England 3 0 0 5 1 +4 9
Japan 1 1 1 2 3 -1 4
Argentina 0 1 2 3 4 -1 2
Scotland 0 2 1 5 7 -2 1
Group E
Netherlands 3 0 0 6 2 +4 9
Canada 2 1 0 4 2 +2 6
Cameroon 1 2 0 3 5 -2 3
New Zealand 0 3 0 1 5 -4 0
Group F
U.S. 3 0 0 18 0 +18 9
Sweden 2 1 0 7 3 +4 6
Chile 1 2 0 2 5 -3 3
Thailand 0 3 0 1 20 -19 0
Round of 16
Germany 3, Nigeria 0
Norway 1, Australia (Norway advances on penalties, 4-1)
England 3, Cameroon 0
France 2, Brazil 1 (extra time)
U.S. 2, Spain 1
Sweden 1, Canada 0
Italy 2, China 0
Netherlands 2, Japan 1
Quarterfinals
England 3, Norway 0
U.S. 2, France 1
Netherlands 2, Italy 0
Sweden 2, Germany 1
Semifinals
U.S. 2, England 1
Netherlands 1, Sweden 0 (extra time)
Final
U.S. 2, Netherlands 0
Leading scorers
6 goals: Ellen White (England), Alex Morgan (U.S.), Megan Rapinoe
5 goals: Sam Kerr (Australia)
4 goals: Cristiane (Brazil), Wendie Renard (France)
Assist leaders
4: Sherida Spitse (Netherlands)
3: Beth Mead (England), Manuela Giugliano (Italy), Amel Majri (France), Alex Morgan (U.S.), Sam Mewis, Megan Rapinoe
Not every U.S. team won a trophy Sunday
While the women's team was winning its fourth Women's World Cup in eight tries, the U.S. men, who didn't even qualify for their last World Cup, were losing to Mexico 1-0 in the final of the CONCACAF Gold Cup.
The only goal came from Galaxy midfielder Jonathan dos Santos in the 73rd minute. Clearly no one enjoys playing for new coach Tata Martino more than Dos Santos, who didn't score at all in his first 39 games for his national team but has three goals in seven appearances under Martino.
Dos Santos started the sequence that led to his latest goal, taking the ball at midfield and sending it on for Rodolfo Pizzaro, who took it up the right side before crossing to Raul Jimenez in the penalty area. Jimenez played a nifty back-heel pass to Dos Santos at the top of the box and Dos Santos slipped a left-footed shot under the crossbar just inside the left post.
The goal was just the second the U.S. allowed in the tournament.
(Watch Dos Santos' goal here: https://www.mlssoccer.com/post/2019/07/08/la-galaxys-jonathan-dos-santos-scores-decisive-goal-gold-cup-vs-usa)
"Over the course of 90 minutes, Mexico was the better team," U.S. coach Gregg Berhalter said. "What we lacked was I think some of the calmness, some of the composure."
The age of Berhalter's starting lineup Sunday averaged just 25 and included two 20-year-olds, including captain Weston McKennie.
The tournament was the first as coach for Berhalter, who was named the permanent U.S. manager in December. And though it started well, with the Americans blitzing Guyana and Trinidad and Tobago by a combined 10-0 in their first two games, it became a struggle after that with 1-0 wins over both Panama and Curacao.
Berhalter has undertaken a bold remake of the national team, rejuvenating what had become an old roster under Bruce Arena and introducing a high-tempo attacking style. And the team continues to struggle with it, lacking for confidence and creativity at times.
"We've got a young team, and I think there's moments of growth there," forward Jozy Altidore, one of four holdover starters from the U.S. team that lost the last match under Arena in the 2017 World Cup qualifying tournament, said of the team's second-half performance against Mexico. "If you look at that 10-, 15-minute period, we lost the game a bit.
"We were trying to play out of the back and stick to our guns and try to get up the field a bit, get in their half and try to change the momentum a bit."
But Berhalter said he saw progress.
"The understanding of ball movement, some of the offensive principles are much better understood," he said. "Defensively, we conceded two goals all tournament. "It's a long process but you have to stay focused, you have to keep trying to build."
Martino said his team is a work in progress as well.
"We're still not there, we need more time together, more time working and training, but we're on the right path," he told reporters. "Nothing would've changed that with the final result. A bad result wouldn't have changed that either."
Many of Mexico's first-choice players — including Chicharito Hernandez, Hector Herrera, Hirving Lozano, Miguel Layun and LAFC's Carlos Vela — did not accept call-ups to the national team for the Gold Cup, some for personal reasons.
We'll be better with those that couldn't come," said Martino, who was also coaching the Mexican national team in a tournament for the first time. "We think there's a bright future. I'm content with how these first six months of my time in charge has gone."
One player who may have won himself a role in the future is Galaxy midfielder Uriel Antuna, who scored four goals in six games in his first tournament with the senior national team.
Gold Cup
Group Stage
Group A
W L T GF GA GD Pts.
Mexico 3 0 0 13 3 +10 9
Canada 2 1 0 12 3 +9 6
Martinique 1 2 0 5 7 -2 3
Cuba 0 3 0 0 17 -17 0
Group B
Haiti 3 0 0 6 2 +4 9
Costa Rica 2 1 0 7 3 +4 6
Bermuda 1 2 0 4 4 0 3
Nicaragua 0 3 0 0 8 -8 0
Group C
Jamaica 1 0 2 4 3 +1 5
Curacao 1 1 1 2 2 0 4
El Salvador 1 1 1 1 4 -3 4
Honduras 1 2 0 6 4 +2 3
Group D
U.S. 3 0 0 11 0 +11 9
Panama 3 2 0 6 3 +3 6
Guyana 0 2 1 3 9 -6 1
Trinidad and Tobago 0 2 1 1 9 -8 1
Quarterfinals
Haiti 3, Canada 2
Mexico 1, Costa Rica 1 (Mexico advances on penalties, 5-4)
Jamaica 1, Panama 0
U.S 1, Curacao 0
Semifinals
Mexico 1, Haiti 0
U.S. 3, Jamaica 1
Final
Mexico 1, U.S. 0
Leading scorers
6 goals: Jonathan David (Canada)
5 goals: Lucas Cavallini (Canada), Raul Jimenez (Mexico)
4 goals: Uriel Antuna (Mexico)
3 goals: Neil Danns (Guyana), Gyasi Zardes (U.S.), Christian Pulisic (U.S.)
LAFC playing a numbers game
LAFC has 15 more regular-season games remaining. But if Carlos Vela never played another one, his 2019 campaign would go down, statistically, as one of the best in MLS history.
Vela — one of the players who refused a call-up to the Mexican national team — leads the league in goals with 19 and assists with 12. His goal total is already enough to have won the single-season scoring race 10 times in the league's previous 23 seasons, while his 12 assists would have topped MLS twice.
No player has ever finished an MLS season with at least 20 goals and 20 assists. Only one player — Arsenal's Thierry Henry — has ever done that in the English Premier League.
If he stays healthy, Vela figures to do that easily. He's also well ahead of the pace to break Josef Martinez's year-old record of 31 goals in a season.
"He's having fun, he's making teammates better, scoring goals, setting up goals," coach Bob Bradley said. "It's fun to watch."
Vela's two latest goals came in the second half of Saturday's 6-1 rout of the Vancouver Whitecaps at Banc of California Stadium. He also had an assist on Adama Diomande's first-half header as LAFC set a franchise record for goals in a game, winning league player of the week honors.
(Watch Vela's latest goal here: https://www.lafc.com/post/2019/07/06/goal-carlos-vela-lafc-5-1-vancouver-whitecaps-7619)
Speaking of records, Saturday's win also gave the team 100 points in its first 53 matches, making it the fastest MLS franchise to get to the century mark. Atlanta United was the previous fastest and it needed 57 matches to get there. LAFC also leads the league with a 13-2-4 record, 50 goals, a +34 goal differential and is on pace to shatter MLS records for points and goals.
"That's a good record," Vela said. "The important thing for us is that we want more. We know that if we don't win the MLS Cup then this doesn't mean anything. We know this is a long year. We have a stretch with a lot of games. We have to be mentally ready to fight every game.
"We want to try to involve every player in the squad. We want to follow this model of play because we're enjoying it."
Want some more numbers? After being shut out in Colorado in its final MLS game in June, LAFC has 11 goals in its first two MLS games in July. And with Diego Rossi scoring in both games — the first time he's had goals in consecutive games since early April — LAFC is the only team in the league with two players in double digits for goals.
"The most important thing is that we keep improving, we keep seeing improvements," midfielder Lee Nguyen said. "Bob and the coaching staff are so detail-oriented on all our games. You see from Day One — since preseason till now — it's always the mindset of getting better than the day before.
"You're starting to see us get that when we get in that fluid moment, and when we're flowing in the game like that, it's hard to stop us. It's fun to watch when we're finishing our chances."
What's in a name?
Zlatan Ibrahimovic hasn't seemed like himself lately, going scoreless in the Galaxy's final two games in June. So he took the field for the team's first game in July under an assumed name, with the nameplate on the back of his white jersey reading "IRBAHIMOVIC."
And that did the trick, with the Galaxy captain ending his scoring drought with a pair of goals in a 2-0 Fourth of July win over Toronto FC.
"Of course I will score. That's the last problem I have," said Ibrahimvoc, whose two goals gave him 13 for the season, second in MLS only to Vela. "I just need to be in the right spot and the right position, which is the most difficult part. I'm not worried about the goals, I think the collective performance is more important than my goals, because if the collective performance is there, the goals will come."
Thursday's collective performance included key contributions from a pair of 17-year-olds in defender Julian Araujo and midfielder Efrain Alvarez. With seven starters missing — two to international duty and five to injury — coach Guillermo Barros Schelotto had to get creative, giving Alvarez his first MLS start. And he was rewarded in the 75th minute when Alvarez curled a long left-footed cross over the Toronto defense to Ibrahimovic, who headed it over Toronto keeper Quentin Westberg and into the netting at the far post for the only goal the Galaxy would need.
"He is the biggest talent in this league and he's ready to play," Ibrahimovic said. "He's only 17 and I believe that in this league, if you're 16 or 17, you can be ready to play, because the level is not like Europe."
(Watch Alvarez set Ibrahimovic up with the pretty cross here: https://www.youtube.com/watch?v=gCmbFMEwNPE)
Schelotto came to the same conclusion after watching Alvarez in the second half of his team's loss to the San Jose Earthquakes.
"After the game we were talking at the table and we said he needs to play in the next game," Schelotto said of a conversation with this staff. "The best thing I could say about him was that he always tries to get the ball and do something with it. Even sometimes where he could easily lose the ball; one minute after, he recovers the ball, he has the ball."
Ibrahimovic doubled his team's advantage one minute from the end of regulation time when rookie Emil Cuello, who entered in the 82nd minute, made a run up the left side, spotted Ibrahimovic breaking in behind the defense and delivered a perfect pass that Ibrahimovic finished flawlessly for his 35th goal in 42 MLS games.
"When he doesn't score or when he doesn't have the opportunity to score, he gets frustrated," Schelotto said of his captain. "And today, the young players gave him the possibility to score twice."
As for the misspelling of his name, Ibrahimovic isn't the first to suffer that indignity. Last year defender Rolf Feltscher's name was misspelled for a preseason game and Steven Gerrard had his rendered "Gerrrad" for a 2016 game with the San Jose Earthquakes.
Here are the MLS standings
Eastern Conference
W L T GF GA GD Pts.
Philadelphia 10 5 6 39 28 11 36
DC United 8 5 7 25 21 4 31
Atlanta 9 7 3 27 23 4 30
Montreal 9 9 3 26 34 -8 30
New York City 7 2 8 30 20 10 29
NY Red Bulls 8 7 4 33 27 6 28
Toronto 6 8 5 30 33 -3 23
________________________________________________
New England 6 8 5 22 36 -14 23
Orlando 6 9 4 27 27 0 22
Chicago 5 8 7 31 29 2 22
Columbus 5 13 2 17 30 -13 17
FC Cincinnati 4 13 2 18 44 -26 14
Western Conference
W L T GF GA GD Pts.
LAFC 13 2 4 50 16 34 43
Galaxy 11 7 1 26 22 4 34
Seattle 9 5 5 29 25 4 32
Minnesota 9 7 3 36 29 7 30
Dallas 8 7 5 29 25 4 29
San Jose 8 7 4 30 30 0 28
Houston 8 7 3 28 25 3 27
__________________________________________________________
Salt Lake 8 9 2 25 29 -4 26
Portland 7 8 2 26 28 -2 23
Kansas City 5 7 7 29 34 -5 22
Vancouver 4 8 8 22 31 -9 20
Colorado 5 10 4 29 38 -9 19
Alumni watch
Gio dos Santos has finally found a new home and it's one his family is familiar with. The former Galaxy midfielder signed last week with Club America of Mexico's Liga MX, four months after the MLS team bought out the remaining year and $6.5 million of his designated-player contract.
"We worked closely with Giovani to find a new club that will be a good destination for him both on and off the field," Galaxy general manager Dennis te Kloese said.
Dos Santos' father, who played under the name Zizinho, made two stops at Club America in the early to mid-1980s during a 17-year career that saw him play for six teams in Mexico, El Salvador and the U.S. But Gio dos Santos left Mexico for Spain's famed La Masia academy in Barcelona when he was 11. So while he has more than 100 caps with the Mexican national team, he's never played for a club team in his homeland.
With Club America, Dos Santos will be reunited with Miguel Herrera, coach of the World Cup team he played on in Brazil in 2014.
'"It's a dream fulfilled personally and for the family," he said in an interview with Univision. "I said if I returned to Mexico one day it would be with America. It's happening and it's the perfect moment because there's a coach that I know very well and he knows me, so I'm really happy.
"There are no words, I feel happy, I'm proud of being part of the most important institution in Mexico football and it's a really happy moment for me. It's a new challenge, very special personally and for my family. I'm an America fan, my father played there, it was part of the family and it is a very special challenge."
Dos Santos, 30, reportedly signed a multiyear deal, which America could come to regret. Dos Santos has played for eight clubs in his career and in every stop his first full season was his best. At Villarreal, for example, he scored 11 goals in league play his first season and one the next. With the Galaxy he scored 17 times in 38 games in his first two seasons and nine times in 39 games after that.
The Galaxy bought out Dos Santos' contract on the eve of this year's season-opener to clear a DP slot for Ibrahimovic.
Another player who left the Galaxy just before the MLS season opener hasn't exactly found success in his new home. Ola Kamara, who really didn't have a position after the team added Ibrahimovic, jumped to Chinese club Shenzhen in March, with the Galaxy getting a cut of the $3.5-million transfer fee and pocketing another $900,000 in salary it didn't have to pay Kamara.
That's money the club used in its spring spending spree, landing Joe Corona, Giancarlo Gonzalez and Favio Alvarez.
For Shenzhen (3-9-3 and 12th in the 16-team Chinese Super League), the deal hasn't been as good. Kamara has played in just five games with no goals and an assist. Kamara, 29, averaged 16 goals in three MLS seasons with the Columbus Crew and Galaxy, who acquired him in trade for Gyasi Zardes before the 2018 season.
He had 14 goals and three assists in 31 games in his only season in Southern California.
Quotebook
"It's hard to put into words. I'm going to sit and have a long think about it. Because it's crazy. It's absolutely crazy. I feel like we did the impossible today. And this past month. And these past couple of years."
-- Defender Kelley O'Hara on the national team's fourth Women's World Cup victory Sunday
---
All about the beautiful game
Go inside the L.A. pro soccer scene and beyond in Kevin Baxter's weekly newsletter.
You may occasionally receive promotional content from the Los Angeles Times.