France could be first country to hold men's and women's World Cup titles at same time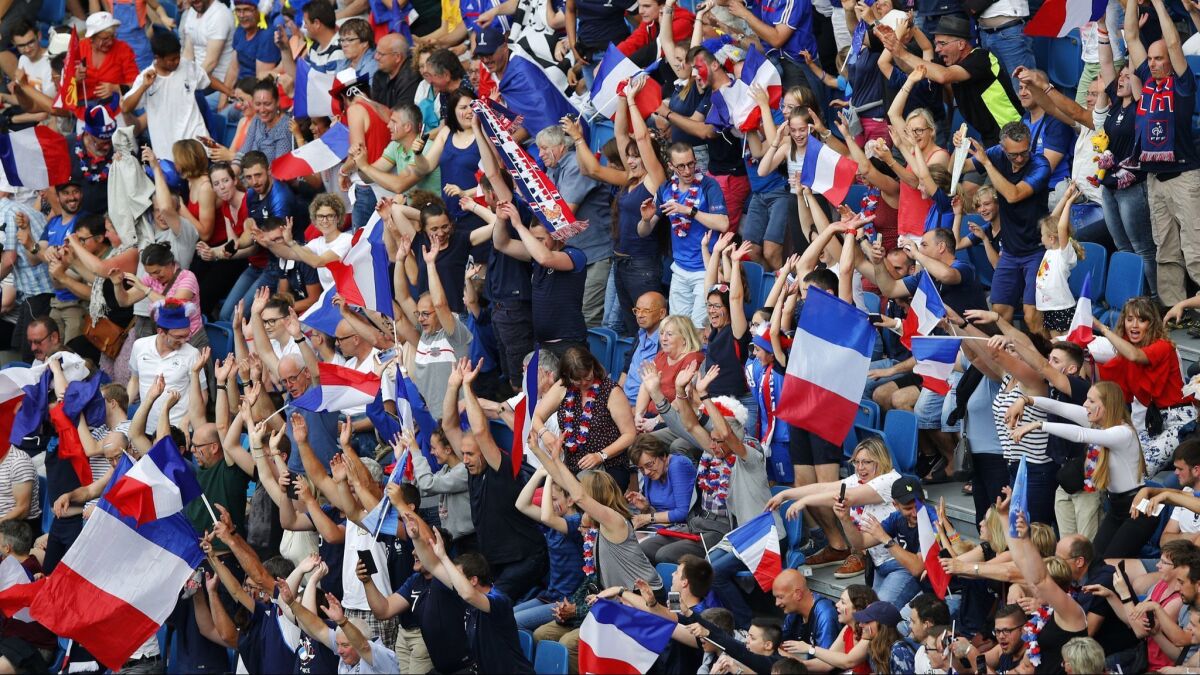 Reporting from paris —
The entrance to the French soccer federation's training center at Clairefontaine, about 30 miles outside Paris, is fronted by a 12-foot-tall replica of the World Cup trophy and two giant gold stars, reminders that the country has won two men's world championships, the latest coming 11 months ago in Russia.
They are also reminders that the women's team has never finished better than fourth in a major international tournament, a standing it will have a chance to improve if it gets past the United States in the Women's World Cup quarterfinal Friday in Paris.
"There is some pressure because the men won their World Cup," forward Kadidiatou Diani, who drives past the statues every day on her way to practice, said through an interpreter. "So there will be additional motivation because we want to do the same."
No country has held the men's and women's World Cup titles at the same time, and the chance to become the first has the nation rallying behind its women. Though attention on the Women's World Cup has been uneven in France, where it can sometimes be difficult to find the games on television, support for the home team has been intense.
Posters around Paris show members of the women's team sandwiched between the message, "You did a lot of screaming in 2018. Don't stop in 2019. Half the history of French football remains to be written."
The TV audience for France's four games has averaged more than 10 million viewers, more than double the previous record for a women's match.
"Playing in the World Cup at home is unusual," Diani said. "It's like a dream for me since I was a child."
The only other World Cup played in France in the modern era was in 1998, when France's men won their first title. But that was a surprise. The host country wasn't a clear favorite and needed extra time, then penalty kicks, to get through the first two knockout rounds.
When it won the title, tens of thousands of stunned Parisians flooded the streets in celebration.
The women entered their World Cup no worse than co-favorites with the top-ranked U.S., the defending champion, based in part on France's 3-1 friendly win over the Americans in January, the only loss to U.S. has suffered in 42 matches dating to July 2017. The U.S. hasn't beaten France, ranked fourth in the world, since 2016.
"It gave us confidence," Diani said of the win, in which she scored twice. "I've never been scared of the USA. I'm not scared of any team. There are a lot of very good teams and we're looking forward to playing against them.
"That's why we play football."
Diani, who plays for Paris Saint-Germain, is representative of French soccer in ways that go beyond her talent and confidence. The men's team last summer included 16 players from immigrant families, many of whom grew up in the banlieues, or suburbs, of greater Paris.
The French women's team is no different. Diani, 24, is the daughter of immigrants from Mali who played against boys until she was a teenager. She is one of 11 players who trace their roots to Africa, the Caribbean or the Indian Ocean island of Reunion.
Star defender Wendie Renard is from Martinique. Goalkeeper Sarah Bouhaddi is of Algerian descent. Midfielder Elise Bussaglia is from Nassau in the Bahamas. And, like team captains Amandine Henry and Eugenie Le Sommer, they all passed through the academy system at Clairefontaine, where the team's diversity became its strength.
"It's just the talent," said Laura Georges, who played for France in three Women's World Cups and is now, as secretary general of the country's soccer federation, the local point person on this World Cup.
"Our country is a mixed country, people from different places, because we had colonies. And they are black or they are white or they are from Arabic origins. When they did the selection, they took the best players who could work together. From different colors."
Georges, whose family in from Guadeloupe, a French island in the southern Caribbean, played 17 years for the national team and said she was often the only black player on the field. That's changed now.
"I like the atmosphere," she said of the current roster.
And so does France. In a Women's World Cup that is averaging less than 20,000 fans in the stands per match, France has sold out all four of its games, drawing three of the tournament's four largest crowds in the group stage.
But Diani isn't focusing on the start; she's spent much of this year fantasizing about how this World Cup might end. Last summer she watched French President Emmanuel Macron, a passionate soccer fan, greet the men's players with a hug and kiss following their World Cup win in Moscow. Now she wants a hug and kiss from the president in France — and she hopes some little girl sees that and gets inspired just as she did.
"I don't know how many World Cups I will play in in my career, so of course I ask myself, 'Why not me?' " she said. "We are hoping to bring back the Cup to France."
Diani then paused and smiled.
"Well, actually, it will already be in France," she said. "I hope a lot of little girls will watch the World Cup and will dream of playing for the French team some day."
Sign up for our weekly soccer newsletter »
kevin.baxter@latimes.com | Twitter: @kbaxter11
---
All about the beautiful game
Go inside the L.A. pro soccer scene and beyond in Kevin Baxter's weekly newsletter.
You may occasionally receive promotional content from the Los Angeles Times.