Bobby Wood's late goal gives U.S. tie with Honduras, keeps World Cup hopes alive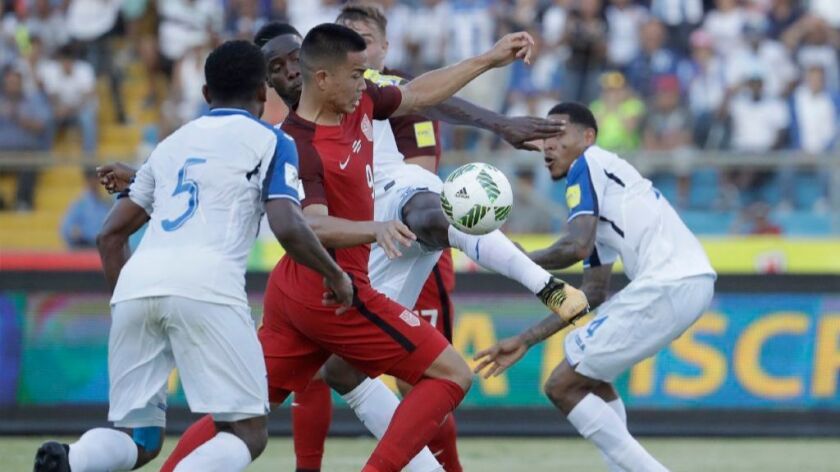 Reporting from SAN PEDRO SULA, Honduras —
Bobby Wood has played 34 games for the U.S. national soccer team, nearly half of them as a substitute. So he knew what was expected of him when came off the bench Tuesday.
"Coming on as a sub, you always want to change the game in some way," he said. "That's my job."
But on this steamy afternoon at the raucous Estadio Olimpico Metropolitan, he not only changed a game, he dramatically altered the World Cup qualifying campaigns of two countries with an 85th-minute goal that gave the U.S. a 1-1 draw with Honduras.
With the tie, the U.S. (2-3-3) remained ahead of Honduras (also 2-3-3) by the slimmest of margins — goal differential — and remained in control of its destiny in the battle for CONCACAF's third and final ticket to next summer's World Cup in Russia.
Hours after tying Honduras, the U.S. surrendered that spot to Panama, which beat last-place Trinidad and Tobago 3-0 in Tuesday's late qualifier. That was of little concern to the Americans, though, since they face Panama in their next qualifier in October. And if they win that game and finish the 10-game tournament by beating Trinidad and Tobago, they go to Russia no matter what the others do.
Had the U.S. lost Tuesday, it would have dropped to fifth in the six-team standings. That would have left the Americans needing wins in their last two games as well as losses by both Honduras and Panama to advance to an eighth straight World Cup.
"That's a huge point," coach Bruce Arena said of the tie. "In the two games in qualifying remaining, we have everything to play for.
"We're going to get out of here and not look back."
Arena admitted for most of Tuesday afternoon he was considering another scenario.
"I was thinking we might have an early vacation at the end of this year," he said.
Afternoon games in San Pedro Sula are always challenging and this one was even more punishing than usual, with the 91-degree temperatures and 69% humidity at kickoff combining for a heat index of 107 degrees. A noisy crowd of more 37,000 made things even more uncomfortable for the Americans, who fell behind in the 27th minute when poor defense led to a soft goal from Romell Quioto.
For most of the first half Honduras scorched the U.S. on the wings, which is where the scoring play started with Alex Lopez launching Quioto on a run up the left side. Omar Gonzalez was the closest American to Quioto but when he got only part of the ball on a slide tackle at the edge of the penalty area, the Houston Dynamo forward was able to step away and curl a right-footed shot in off the far post.
The U.S. regrouped at the intermission and came out for the second half far more organized. But perhaps the most important thing that happened at halftime was a conversation between Arena and Wood.
"I told him he'd probably go in for the last 20, 30 minutes," Arena said. "It was planned. We knew that."
Asked what advice he had for Wood when he sent him on, Arena said "score a goal."
Twelve minutes after replacing Darlington Nagbe, he did just that.
With the U.S. growing more desperate with each passing second, Christian Pulisic drew a foul about 30 yards out. Kellyn Acosta put the ensuing free kick directly on goal but keeper Luis Lopez made a brilliant play to swat it away. Matt Besler kept the rebound alive, however, sending it on to Jordan Morris, who headed it back toward the goal.
There the ball found Wood, a spectator for most of the play. He neatly chested it to his right foot, then poked it past Lopez.
"I was just kind of expecting it to land right in front of me. And it did," Wood said. "As a striker I was in the right spot and I finished."
The goal was the ninth of Wood's international career and, given the circumstances, he was quick to christen it as the most important of those nine.
"It's a pretty big goal even though it wasn't the nicest," he said. "It would have been very difficult if we didn't come out with the tie."
Standing next to Wood outside the team bus, captain Michael Bradley agreed.
"A huge point. A great point," Bradley said in what, for him, passes as giddiness. "This is what qualifying's all about. There's so many days where it's not pretty. It's about finding a way to survive. And dealing with everything that gets thrown at you.
"It's never been easy. It's never going to be easy. Today was big time."
Follow Kevin Baxter on Twitter @kbaxter11
---
All about the beautiful game
Go inside the L.A. pro soccer scene and beyond in Kevin Baxter's weekly newsletter.
You may occasionally receive promotional content from the Los Angeles Times.