LAFC's expansion success has Walker Zimmerman wanting to return for more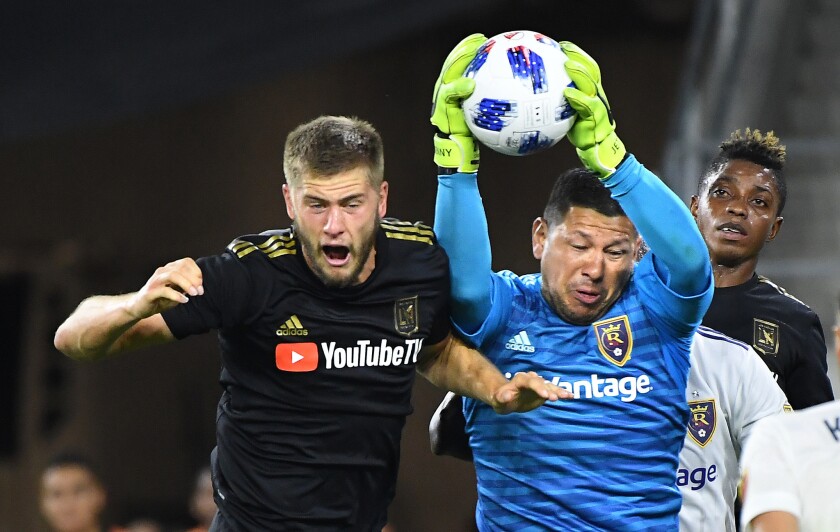 Reporting from CHULA VISTA —
The Los Angeles Football Club had the best regular season of any expansion team in MLS history last year. Its postseason, however, lasted only a game.
And for defender Walker Zimmerman, that makes 2018 more a disappointment than a success.
"You can talk to any player and they would say we underachieved in terms of how we finished," Zimmerman said of the team's first-round playoff loss. "Expansion team or not, we knew that we were one of the most talented teams in the league. For us that means we probably should have ended up holding the trophy."
Instead they wound up empty-handed, leaving the team with some unfinished business heading into the new season.
There's no guarantee Zimmerman will be back to help close that account though. He declined a contract extension in September, intending to explore options elsewhere. And though published reports said teams in Mexico, Turkey and Europe had expressed interest, Zimmerman now says he wants to stay with LAFC.
"We're in talks and I think we're working toward a deal," he said. "It's a great club, great staff, great teammates. It's a place I would love to be."
John Thorrington, LAFC's general manager and executive vice-president of soccer operations, is equally optimistic.
"I'm certainly hopeful," he said by phone from Chicago, site of Friday's MLS SuperDraft. "Walker did a great job for us last year and hopefully we can find the right deal that makes sense for him and the club."
LAFC's 57 points last year are the most for a first-year MLS team, while its 16 wins are second only to the 1998 Chicago Fire, who also won the MLS Cup. Zimmerman, 25, a six-year MLS veteran, was a big part of that success with his 26 starts trailing only Steven Beitashour among defenders and his four goals matching a career high.
And though LAFC has added defenders Eddie Segura and Mohamed El-Munir over the winter and are close to a deal to bring back center back Danilo Silva, the departure of Laurent Ciman last August makes Zimmerman's return important for a team that held opponents to 52 goals in 2018, fifth-lowest in the 12-team Western Conference.
Zimmerman, however, reportedly was seeking more than double the $230,000 he made last season, according to the MLS players union, a figure LAFC refused to meet. That led to an anxious offseason for Zimmerman and his family.
"Any time you're in a contract year there's a lot of different parts that are moving. And it's stressful in the sense that you don't necessarily know where you're going to end up," he said.
Returning to the field with the national team in Chula Vista this week has helped pushed some of that uncertainty aside. It's the third consecutive year Zimmerman has been called into January camp with the national team, but it's his first time under new coach Gregg Berhalter, who will guide the U.S. through the next World Cup cycle.
"It is preseason, but it's also a chance to impress with the national team. And 2019 is an extremely important year," Zimmerman, whose four international caps are second-most among the 10 defenders on the U.S. roster, said after the team's second training sessions Tuesday morning. "So my focus is how can I develop, how can I adapt to what Gregg brings to the table?"
Zimmerman still isn't sure where he'll go when camp ends early next month in San Jose. But he said he's compromised on his salary demands and LAFC seems happier with the new numbers, so he's got his fingers crossed for a short flight to L.A., where he has some business to attend to.
"There's certainly a lot of pieces that we had in place last year that made us a dangerous team," he said. "You had building blocks and you can spin it in a positive way.
"But as a player you always want to win and we probably left at the end of the season with a little bit of a bitter taste in our mouth."
kevin.baxter@latimes.com | Twitter: @kbaxter11
---
All about the beautiful game
Go inside the L.A. pro soccer scene and beyond in Kevin Baxter's weekly newsletter.
You may occasionally receive promotional content from the Los Angeles Times.