Tim Weah ready to step out of his father's shadow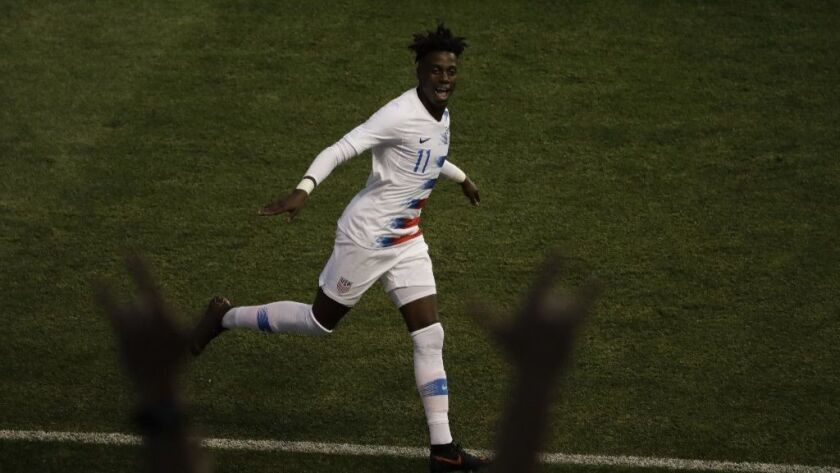 Reporting from WHIPPANY, N.J. —
From a young age, Tim Weah knew his father's name and reputation would hang around his neck like a heavy weight. That comes with the territory when your dad was soccer's world player of the year before you were born and was sworn in as the president of Liberia before you were old enough to drink.
"I use it to my advantage," Weah said. "With whatever I do there's always going to be hate, there's always going to be people who say, 'He's not as good as his dad.' I just focus on my game."
That approach is helping the younger Weah make a name for himself — and may soon help his homeland rebuild its reputation as a soccer country.
This week, Weah, 18, was called into training camp by a U.S. national team entering a new World Cup cycle; the last one ended in failure, with the U.S. failing to qualify for soccer's biggest event for the first time since 1986. The team is breaking with the past and rebuilding around a young group that includes Weah, the youngest player on a 24-man roster that averages 23 years of age.
"We've established a core of guys that have taken on that responsibility of turning that page and looking forward," said interim coach Dave Sarachan, who has been leading the reconstruction process the last 11 months.
The core group includes Christian Pulisic, who will miss this month's training camp as well as friendlies with Brazil and Mexico because of a minor injury. But Pulisic, 19, who led the national team with six goals and four assists last year, is already an established player, as are veterans such as Jozy Altidore and Michael Bradley, who remain in the picture going forward. They were left off this team to give the coaching staff a chance to evaluate new players.
Under Sarachan, the U.S. has restocked the team's talent pool by giving 18 players their senior national team debuts. One of them was Weah, who last spring became the first player born in the 2000s to earn a cap with the senior team. In his first international start, against Bolivia, he scored, becoming the fourth-youngest player in U.S. history to get a goal.
"The value of the experience for younger players is invaluable," Sarachan said.
Weah also leans on his father for that.
"My dad, who's really experienced everything, he tells me, 'Just wait your turn. You're a young guy and you're playing with stars,'" said Weah, who this year made his first-team debut with French superclub Paris Saint-Germain — one of his father's former teams — where he plays alongside Brazil's Neymar, Uruguay's Edinson Cavani and World Cup champion Kylian Mbappe of France.
Weah scored twice in three appearances for PSG this summer and will be facing three of his teammates, including Neymar, when the U.S. meets Brazil on Friday at MetLife Stadium in East Rutherford, N.J.
"I come out here each training session focusing on doing well in the games and trying to give performances so I can get myself out there in the world and to let people know that I'm here and I'm ready," Weah said.
George Weah, 51, had a spectacular 18-year professional career, playing for major clubs in France and England and winning African, European and world player of the year honors in 1995. Near the end of his career, he resettled in New York, where his son was born.
The family eventually moved to South Florida, but with the elder Weah consumed by events in his homeland — he ran unsuccessfully for president and vice president and won a seat in the Liberian Senate before being elected president last year — Tim learned the basics of soccer from his mother.
He still relies on both parents for advice.
"I talk to my mom and dad all the time," he said before Monday's humid training session in northern New Jersey.
He said he also talks with teammates such as DeAndre Yedlin, the most experienced player in camp, with 52 international appearances for the U.S.
"It wasn't that long ago that I was in that position. So I can relate to them a lot," Yedlin said of the team's young players. "It's a new cycle, it's a new group."
A group that Yedlin, who played in four games during the failed World Cup qualifying campaign, is excited about.
"Everybody can feel it. This whole new cycle has started," he said. "It's a young group and everybody's hungry. That's the main thing: that we're all hungry. That's the identity of American soccer.
"We have to keep that identity going forward if we want to be successful."
Just ask Tim Weah. He knows all about creating a successful identity.
Twitter: @kbaxter11
---
All about the beautiful game
Go inside the L.A. pro soccer scene and beyond in Kevin Baxter's weekly newsletter.
You may occasionally receive promotional content from the Los Angeles Times.