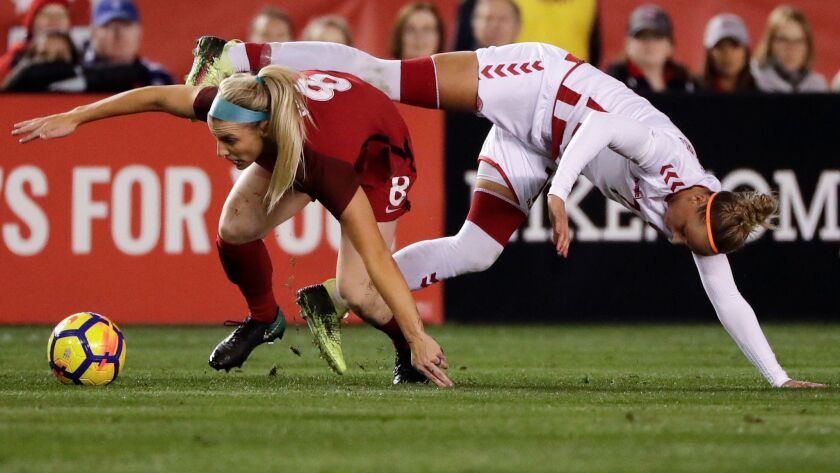 Reporting from SAN DIEGO —
It's been nearly a decade since the women's national soccer team finished a year with fewer victories than the 12 it had last season. And it's been 16 years since it lost more games than the three it lost in 2017.
That probably says more about how good the U.S. women have been over the years than it does about last season's 12-3-1 record. But it's also evidence of a bigger plan by coach Jill Ellis, who challenged her team by scheduling games against eight of the top countries in the world last year in preparation for the 2019 World Cup.
And it's a strategy that appears to be paying off if Sunday's 5-1 win over Denmark, before an announced crowd of 17,526 at SDCCU Stadium, is any indication. In its first game of the new year, the U.S. looked poised, polished and purposeful in routing a team that reached the final of last summer's European championships.
"In the course of a year you want to play a variety of styles and systems to test yourself," Ellis said after a game in which her team outshot Denmark 19-6 and gave up just one shot on goal. "We took a good step tonight and it's continuing to grow.
"We always will learn more about ourselves in terms of being challenged. The final exam here is 2019."
Denmark, ranked 12th in the world, stunned the No. 1 Americans in the 14th minute when Nadia Nadim, an Afghan refugee who obtained Danish citizenship eight years after fleeing her homeland, nodded home Katrine Veje's corner kick from the edge of the six-yard box for a 1-0 lead.
But a mistake by Danish keeper Stina Lykke Petersen allowed the U.S. to pull even three minutes later. After stopping a shot from Alex Morgan, Petersen tried to clear the ball to Veje only to have Mallory Pugh step in front of the long throw on the right side of the penalty area.
Pugh then sent the ball back toward the goal for Morgan, who tapped it in. In the 19th minute, the U.S. went ahead to stay when Julie Ertz redirected in a long header from teenager Tierna Davidson, who earned the assist in her first national team appearance.
Pugh, who scored her first career goal in her first U.S. cap in the same stadium two years ago, made it 3-1 two minutes into the second half when she jumped another bad pass, this one just outside the center circle, raced two Danish defenders into the 18-yard box, then beat Petersen cleanly with a right-footed shot.
And the 19-year-old wasn't done, adding another score in the 65th minute to complete her first two-goal game.
That one also came after a poor clearance by Petersen, with Pugh stealing a pass on the right flank and taking it back into the center of the penalty area before pulling up and drilling a left-footed shot into the net for her eighth international goal in 30 games — four of them in San Diego.
"I've had good luck here," Pugh said. "It's just a great atmosphere."
Between Pugh and Davidson, teenagers were responsible for two of the U.S. scores and both assists. And that leaves Ellis with a deep roster heading into World Cup qualifying this fall.
"It's the plan," said Ellis, whose team will play three more top-six teams in Germany, France and England in the four-nation SheBelieves Cup in March. "Last year was all about finding players. You can't just suddenly do this in two weeks and put new players out there. It was an important part in terms of our development.
"Last year, sometimes you take knocks in terms of that growth period. But it will pay off in 2019."
The final score came in the 81st minute when Crystal Dunn knocked home the rebound of a Christen Press shot.
Follow Kevin Baxter on Twitter @kbaxter11
---