Christian Ramirez determined to make most of second chance with U.S. national team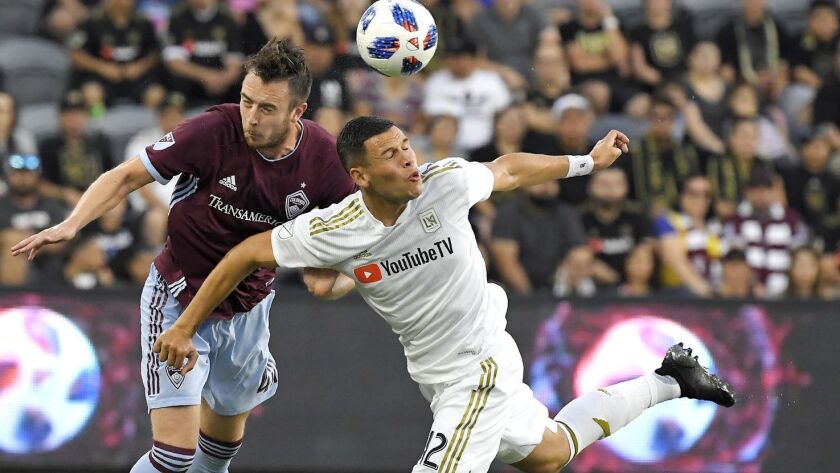 Reporting from Phoenix, Ariz. —
Christian Ramirez's first opportunity with the U.S. national team didn't go the way he had hoped it would.
Called into camp by interim coach Dave Sarachan a year ago, Ramirez trained for three weeks but didn't do enough to earn a uniform for the team's January friendly with Bosnia and Herzegovina.
He's determined not to let that happen again this year.
"I used [the snub] all year as something to drive me," he said after Friday's practice at Grand Canyon University. "Each day that's in the back of your mind. You don't want to go through that.
"You don't want to look back and be like 'Oh, I didn't get the most out of it,' something that I felt like I didn't do last year. I'm really trying to hold on to this year."
That plan seems to be working. Ramirez survived this week's roster cut and is one of three forwards remaining on a U.S. team that will play Panama on Sunday in Gregg Berhalter's first game as coach.
"He looks confident. And that's what you want," Berhalter said of Ramirez, who scored nine goals in 27 games in a 2018 MLS season split between Minnesota United and the Los Angeles Football Club. "You want players that can take what they've done in an MLS season and bring it to the national team environment with confidence and understand that they are good players. That's why they're here."
Ramirez acknowledges he struggled with that in his first national team trial. This time, he said, he came in fit after following a detailed offseason training program the LAFC staff set up for him, and he also knew what to expect after last winter's experience.
The change in coaches also helped because it gave him a chance at a new start.
"It's a refreshing feeling where everybody's starting on page one and you've got the capability of writing your own story," said Ramirez, 27, who grew up in Garden Grove. "Gregg's really detail oriented and he's made it really clear what he expects of a forward. That's made my job easier."
Also making the transition easier is the fact Berhalter coaches a possession-based, attacking style of soccer similar to the one Ramirez plays at LAFC.
"He looks comfortable," Berhalter said. "Overall he's doing a good job."
Getting his first national team cap — either Sunday against Panama or next week against Costa Rica — would be a major accomplishment for Ramirez, but it guarantees little beyond that. The 28 players Berhalter called up this month all came off MLS teams; for his next camp, in March, he'll have access to players on European clubs and that's likely to lead to invitations for forwards Bobby Wood, Josh Sargent and Tim Weah.
Sign up for our daily sports newsletter »
And if Toronto's Jozy Altidore, 29, returns to the fold after a 17-month absence, that will leave even less room at the position.
Ramirez says he can't worry about that now. If he seizes this opportunity he'll be able to live with whatever happens.
"If you use this momentum the right way it could lead to something big," he said. "I continue to take each day one day at a time and focus on it to make sure that I'm getting the most out of it. [Berhalter] brought each guy in here because he sees them fit into what he wants in the system.
"So you have to accept that you're here for a reason. I want to show him that he's correct about that and that I can be a piece going forward."
kevin.baxter@latimes.com | Twitter: @kbaxter11
---
All about the beautiful game
Go inside the L.A. pro soccer scene and beyond in Kevin Baxter's weekly newsletter.
You may occasionally receive promotional content from the Los Angeles Times.