Column: Unpatriotic? U.S. soccer star Megan Rapinoe says: 'I'm extremely American'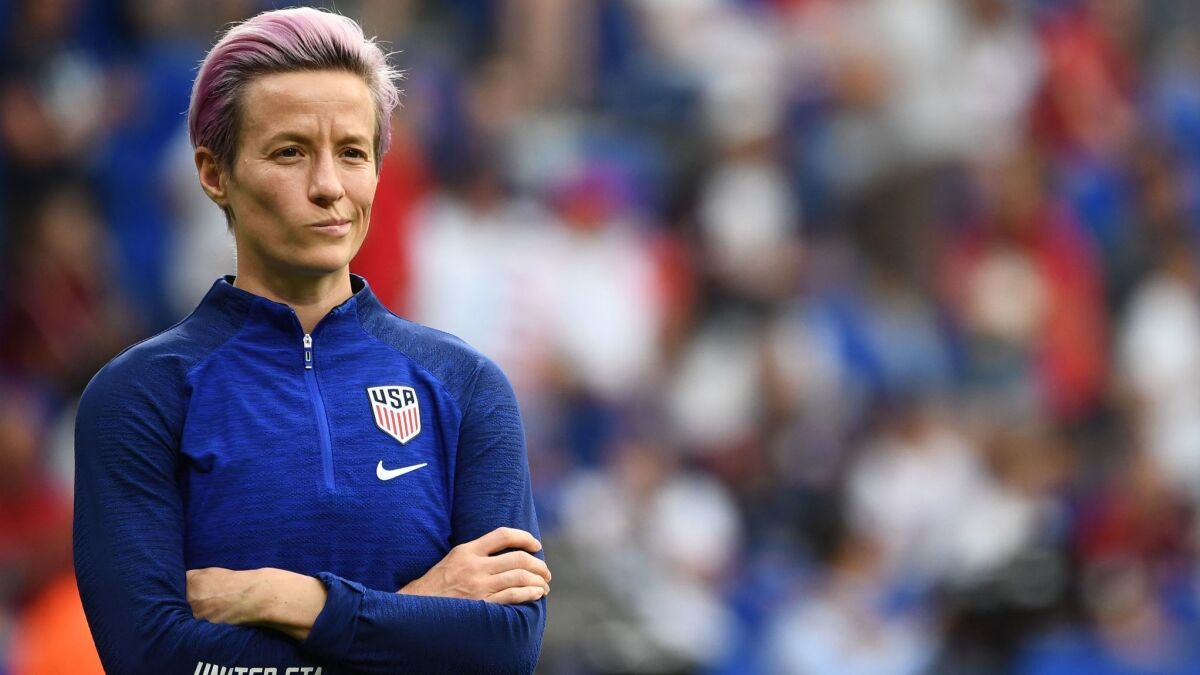 Reporting from lyon, france —
It was the day before the Fourth of July, the most American of holidays, when U.S. World Cup star Megan Rapinoe was asked what she'd say to those who have branded her as unpatriotic because she refuses to sing the national anthem and uses her soccer fame to advocate for LGBTQ rights and other social justice causes.
Rapinoe — who is capable of grand gestures such as her smiling, take-me-as-I-am, arms-outstretched pose after she scored the second of her two goals in the Americans' quarterfinal victory over France last week — offered a nuanced and passionate response that's worth attention. Her answer was especially appropriate on the eve of a holiday that celebrates the birth of a nation, one that was born out of dissent and has prided itself on being shaped by the free discussion of ideas.
"I think that I'm particularly and uniquely and very deeply American. If we want to talk about the ideals that we stand for — the songs and the anthem, what we were founded on — I think I'm extremely American," she said Wednesday, a day of recovery for the U.S. women after their tense 2-1 semifinal victory over England.
"I think for detractors, I would have them look hard into what I'm saying and the actions that I'm doing. Maybe you don't agree with every single way that I do it, and that can be discussed. I know that I'm not perfect, but I think that I stand for honesty and for truth and for wanting to have the conversation and for looking at the country honestly and saying, 'Yes, we are a great country, and there's many things that are so amazing.'
"And I feel very fortunate to be in this country. I'd never be able to do this in a lot of other places. But also that doesn't mean we can't get better. And it doesn't mean that we shouldn't always strive to be better. I think this country was founded on a lot of great ideals, but it was also founded on slavery. And I think we just need to be really honest about that and be really open in talking about that so we can reconcile that and hopefully move forward and make this country better for everyone."
Rapinoe, who will be 34 on Friday, kneeled a couple of times during the national anthem in 2016 — once during a National Women's Soccer League game and once during a national team game — but she has not taken a knee here, despite social media-fueled rumors to the contrary. She stands during the anthem with her arms at her sides and doesn't sing, but that's not unusual among professional athletes. Many use the anthem as a time to focus on the upcoming game and close their eyes or look down rather than looking at the flag, but they don't draw the same condemnation Rapinoe has gotten.
She seems to make people uncomfortable with her short pink hair, openness about her sexual orientation and willingness to take political positions. She's not the first athlete to capitalize on her celebrity status to support a cause and she won't be the last.
The idea of sports providing an escape from the "real" world is an idealized concept that was never entirely true: Jackie Robinson, Billie Jean King, Althea Gibson, Bill Russell, Arthur Ashe and Muhammad Ali, among others, used sports as a platform to fight racism and inequality. They made people uneasy too.
Holding and voicing strong opinions is only part of Rapinoe's identity. She's also a terrific forward who scored five goals and ranked among the tournament leaders before a mild hamstring injury kept her out of the lineup against England. She said the injury has improved and that she expects to be available Sunday in the final.
Rapinoe didn't set out to be a villain or a hero here, and was surprised to be thrust into the center of a frenzy last week when a months-old video surfaced of an interview she had done with the soccer magazine Eight by Eight. She had used an expletive to emphasize her opposition to visiting the White House if the U.S. team were invited by President Trump. She later apologized for the expletive but not for her sentiments.
Opinion: I helped spark the Rapinoe-Trump war. Trust me, put your money on the soccer star »
Trump tweeted Rapinoe "should never disrespect our Country, the White House, or our Flag, especially since so much has been done for her & the team." But he invited the team to visit, win or lose.
"I expect him to have a lot better things to do before that got on the to-do list," she said of Trump's Twitter spree. "I'm sure he skipped over a number of things.
"I don't really plan these things out. I just sort of say what I feel. I think I don't ever say anything I'm unsure about. I think I feel sure about everything that I do say, so I feel confident and comfortable dealing with it whenever it comes up. If it comes up late or comes up again, I guess you really can't control those things. I just live my life that way and didn't expect any of it but sort of expect all of it at the same time."
Follow Helene Elliott on Twitter @helenenothelen
All about the beautiful game
Go inside the L.A. pro soccer scene and beyond in Kevin Baxter's weekly newsletter.
You may occasionally receive promotional content from the Los Angeles Times.