France's last World Cup hero using expertise to help Belgium reach final
Reporting from ST. PETERSBURG, Russia —
The first time Antoine Griezmann met Thierry Henry he was 7. Henry had just helped France to its only World Cup title and Griezmann, who could barely reach the player's waist on tippy-toes, wanted an autograph.
Had a video of the meeting not surfaced recently, the moment might have been forgotten to all but Griezmann. In it Griezmann and a pint-sized friend chase down Henry and, after bending over to sign a soccer ball, the player turns to a pair of teammates and says "they're our successors."
On Tuesday, Griezmann has a chance to make Henry either a prophet or a profiteer when he leads France into the World Cup semifinals against Belgium. If Griezmann wins, he will have proven a worthy successor indeed by taking France to a World Cup final for the first time since Henry retired from the national team eight years ago.
But if Belgium wins it will be Henry who will profit in his role as an assistant coach to manager Roberto Martinez.
Henry, France's all-time leading scorer, joined the Belgium staff when Martinez did two years ago. A former English Premier League manager, Martinez wanted Henry to not only teach Belgium's players the finer points of the game but, perhaps more importantly, he wanted him to talk about winning with a team that had been weighed down by expectations.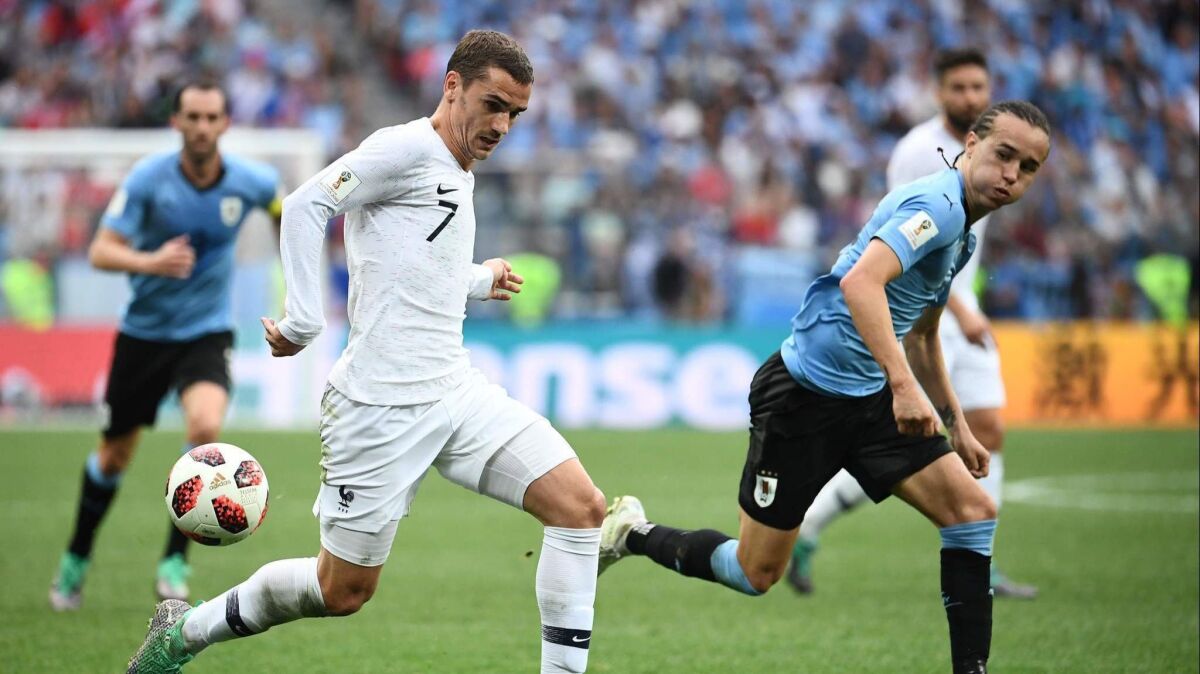 Belgium has played neighboring France 73 times, but the teams haven't met in three years — and hadn't met in a competitive game since the 1986 World Cup.
Now they play one another with everything on the line, sending Griezmann, France's top scorer with three goals — the same number Henry scored in his first World Cup — against a Belgium offense Henry has helped to a tournament-best 14 goals.
And that's not sitting well with everyone on the French side.
"I would be proud to show [him] that he chose the wrong camp," Olivier Giroud, the closest active pursuer to Henry's French record of 51 international goals, told reporters. "It is true that it is strange to have him against us for this match. I think it will be a peculiar match for him. As long as we win, that's fine with me."
Henry made his French debut less than a year before the 1998 World Cup, joining Didier Deschamps — now the French coach — Zinedine Zidane, Laurent Blanc and Patrick Vieira on perhaps the best French team ever. Playing at home it didn't lose a game, blitzing defending champion Brazil 3-0 in the final.
Two years later France won a European Champions, with Henry again leading the team with three goals. But that would prove to be the country's last major title.
Now comes a team led by Griezmann, 27. The Atletico Madrid striker was the top scorer in the 2016 Euros, leading host France to the final (where it lost to Portugal in extra time). In Russia, he has scored his team's first and last goal, converting a penalty kick in the second half of its opening win over Australia, then setting up one goal and scoring another in a 2-0 quarterfinal victory over Uruguay.
Griezmann has seven goals in his last six tournament knockout matches and nine goals and three assists in the World Cup and European Championship. He is also the first French player to score and assist in the same World Cup knockout game since Vieira in 2006.
That has led David Trezeguet, a World Cup champion and former teammate of Henry's, to make a prediction of his own: Griezmann and teenaged teammate Kylian Mbappe won't only succeed Henry, they'll surpass him.
"I think Griezmann has all the quality to overcome Thierry Henry, as Mbappe has, too," Trezeguet said. "Because they are young, they are determined and they are still growing as players."
What's certain is that with one more win Les Bleus are back in the World Cup final for the first time in a dozen years. And rather than having Henry waiting on the sideline to congratulate them, Griezmann and France now have their team's former captain on the sideline trying to beat them.
Giroud suggested Henry's real aim is to learn enough to earn a spot on the French coaching staff some day.
"He is lucky to be with a team with a fine generation of players. He is there to learn," Giroud said. "I would have preferred that he was with us and that he was giving his advice to me or to the other attackers. But we mustn't be jealous or anything about that. It doesn't shock me at all."
kevin.baxter@latimes.com | Twitter: @kbaxter11
---
All about the beautiful game
Go inside the L.A. pro soccer scene and beyond in Kevin Baxter's weekly newsletter.
You may occasionally receive promotional content from the Los Angeles Times.