Women's World Cup on TV: Spain and China look to advance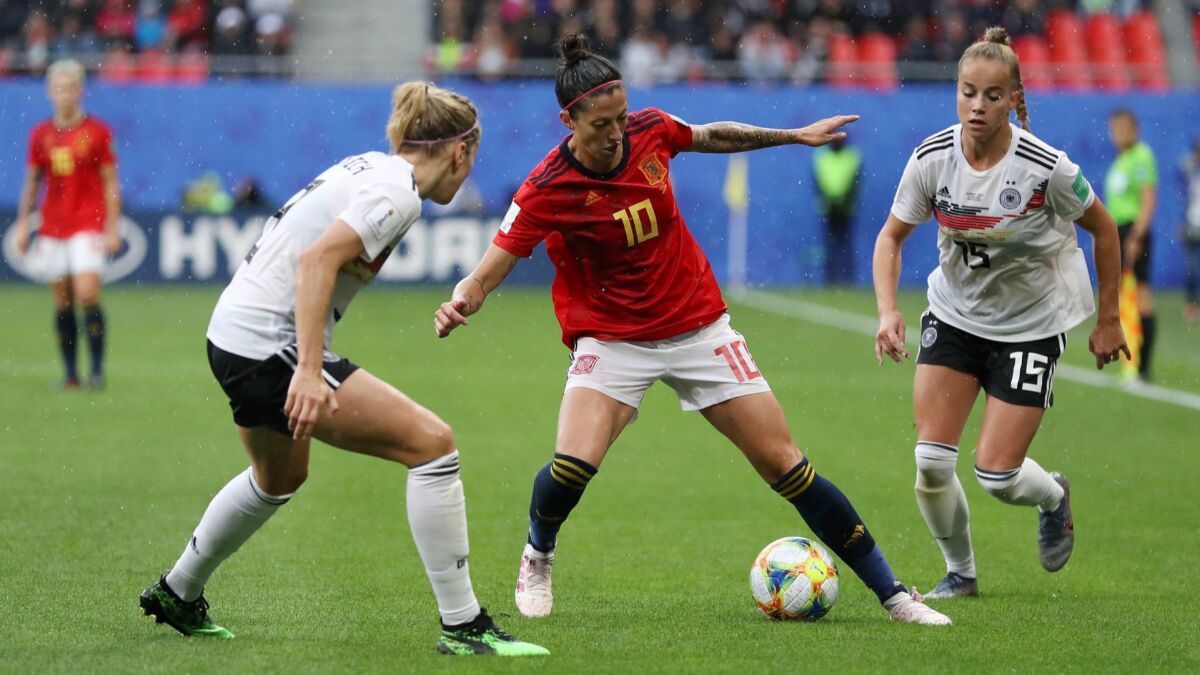 What to watch for in the Women's World Cup soccer tournament on Monday:
GROUP B: CHINA VS. SPAIN
Where: Stade Oceane, Le Havre
Time: 9 a.m. PDT
TV: FS1, Universo
The buzz: A win here would send the victor on to the second round while a draw could send both teams through, Spain as the group runner-up and China as a third-place team. But a loss for either team could end their tournament. The teams have faced off twice previously, with Spain sweeping a pair of 2015 friendlies by a combined 5-2. Both teams were shut out in 1-0 losses to Germany but Spain's three second-half scores against South Africa give it an edge in goal differential over China, whose only score in France was Li Ying's first-half goal in its win over South Africa.
SOUTH AFRICA VS. GERMANY
Where: Stade de la Mosson, Montpellier
Time: 9 a.m. PDT
TV: Ch. 11, Telemundo
The buzz: Although Germany hasn't impressed here, it has clinched a spot in the second round while South Africa has only a remote mathematical chance of advancing as a third-place team. But Germany's narrow goal-difference edge over Spain leaves it vulnerable. A loss to South Africa and a Spanish win over China would drop Germany to second place in the group and leave it with a much tougher round through the knockout stages. Germany has won its three previous Women's World Cup games against African opponents by a combined 15-0.
GROUP A
NIGERIA VS. FRANCE
Where: Roazhon Park, Rennes
Time: noon PDT
TV: Ch. 11, Universo
The buzz: France is through to the second round and given its edge over both Norway and Nigeria in goal differential, it figures to advance as the group champion. But after a less-than-impressive win over Norway, Les Bleues need a dominant effort in this one to get their mojo back. Four years ago on this date France posted its most emphatic Women's World Cup win ever, routing Mexico 5-0. Nigeria, the only African national to appear in all eight Women's World Cups, has some work to do. A win would send it through to the round of 16 for just the second time; a draw would leave the Super Falcons needing a Norway loss to advance. A loss wouldn't necessarily end their tournament but it would severely narrow the road through.
SOUTH KOREA VS. NORWAY
Where: Stade Auguste-Delaune, Reims
Time: noon PDT
TV: FS1, Telemundo
The buzz: Norway comes into the final day of group play in second place, thanks to a comfortable lead in goal differential over Nigeria. But that could vanish, blocking Norway's route to the second round, with a one-sided loss here and a Nigeria win or draw against France. Norway has never lost to an Asian team in the Women's World Cup and has failed to reach the second round just once in seven previous tries. South Korea, meanwhile, has advanced only once and it would take a highly improbable series of results for it to do so here. As a result it would probably be content with its first Women's Cup goal in four games, dating to 2015.
Sign up for our weekly soccer newsletter »
kevin.baxter@latimes.com | Twitter: @kbaxter11