World Cup: Leaders of North America's 2026 World Cup bid scurry to keep politics from trumping their advantage
Reporting from moscow —
Undeterred by the changing politics that have buffeted the United States-led North American bid for the 2026 World Cup, leaders of the three-nation campaign are banking on a more dependable ally to get them past the finish line — money.
More than 200 FIFA member nations attending the 68th FIFA Congress in Moscow will choose Wednesday between a debt-laden Moroccan plan and United 2026 — a joint effort of the U.S., Canada and Mexico — to organize soccer's 2026 world championships.
The United Bid, once endangered, has gained substantial strength in recent weeks and will go into Wednesday's vote as a heavy favorite. It needs only a simple majority of soccer's international governing body to bring the World Cup back to the U.S. — and Southern California — for the first time since 1994.
Full coverage: 2018 World Cup »
But with the Trump administration's bellicose rhetoric endangering support from many countries in the developing world, Carlos Cordeiro, president of the U.S. Soccer Federation, has remained on the offensive by trumpeting the potential economic benefits of a North American World Cup.
"This shouldn't be a geopolitical discussion or decision," Cordeiro said. "It should be based on the merits of the bid. The merits of the bid, we feel we have a compelling proposal."
Chief among them is the $14 billion in revenue and $11 billion in profits the United Bid is projecting for a North American tournament. That would bring each of FIFA's 211 members $50 million, a figure Cordeiro has not been shy about sharing with federations questioning whether to vote for the North American proposal.
The previous World Cup, held four years ago in Brazil, generated $4.8 billion for FIFA. Leaders of the Morocco bid said Monday they are expecting an African tournament to generate $5 billion in revenue. The United Bid is expecting to make half that amount in ticket revenue alone.
That doesn't mean it will win though. Wednesday's World Cup vote will be the first conducted with an open ballot, and there has been concern some federations will face pressure at home to vote against North America — uncertainty President Trump fanned this spring with a thinly veiled threat on Twitter.
"It would be a shame if countries that we always support were to lobby against the U.S. bid," the president wrote. "Why should we be supporting these countries when they don't support us?"
Speaking at the CONCACAF Congress in Moscow on Monday, Steven Reed, president of the Canadian Soccer Assn., told delegates their votes should be based not on the "politics of the moment" but rather on strengths of the bid itself.
Although Cordeiro mentioned politics several times in a round-table meeting with reporters Sunday, he said he has not heard that subject raised in the face-to-face meetings he and others with the bid committee have had with representatives of more than 150 federations.
"No one has said to us they're not voting for us because of who we have in the White House. Categorically, nobody," he said.
Cordeiro said the Trump administration has provided "amazing" support, offering guarantees regarding visas, infrastructure and other issues that proved vital in the United Bid receiving high marks in FIFA's technical evaluation.
FIFA recently graded the competing bids in 20 categories, with Morocco deemed a high risk in three areas — stadiums, accommodations and transport. Nine of the 14 stadiums Morocco proposed using have yet to be built, and the other five must be substantially renovated, part of the reason the bid projected infrastructure spending of $15.8 billion.
The Moroccans, bidding for a World Cup for the fifth time, also were graded as a medium risk in 10 other categories. The United Bid received no high-risk marks and were marked medium risk in three areas: organizing costs, human rights and government support.
"The Morocco 2026 bid and United 2026 bid represent two almost opposite ends of the spectrum," said the FIFA report, which was released earlier this month.
Cordeiro hasn't stopped pushing for votes, though. He met with five confederations Monday and is scheduled to meet with one more Tuesday, less than 24 hours before the vote. Then Morocco and the United Bid will each have 15 minutes to make final appeals before Wednesday's balloting begins.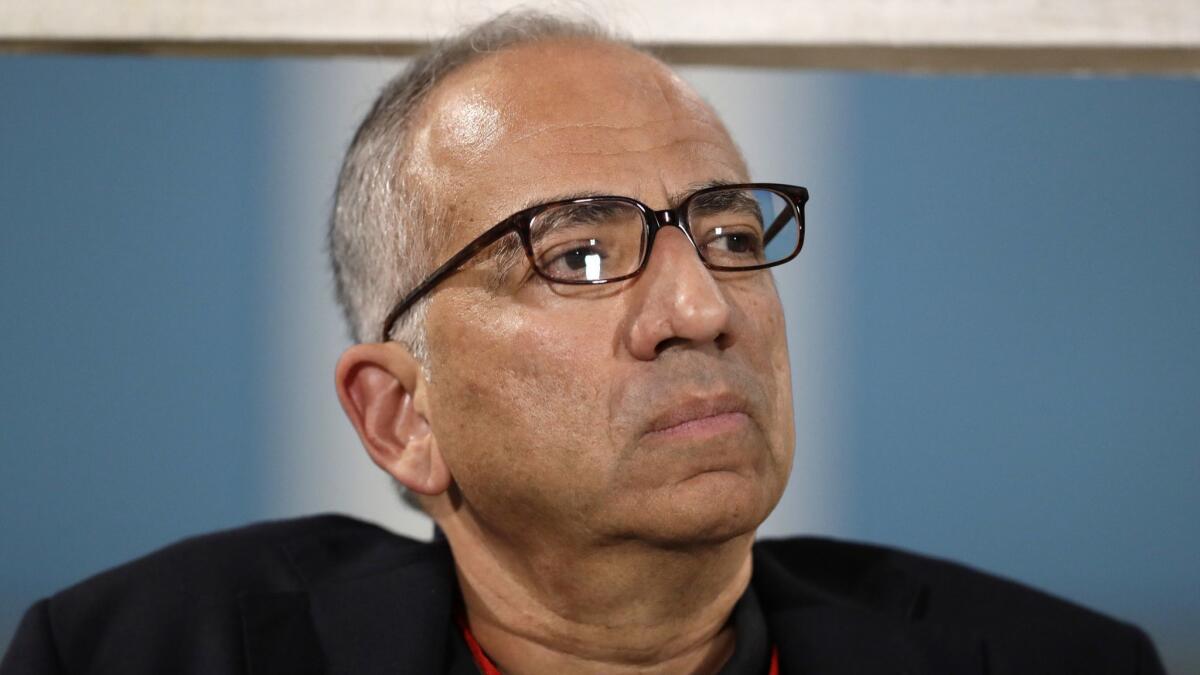 "We've been working basically nonstop," Cordeiro said.
"We know what it's going to take to win, which is 104 [votes]. I feel we have a path to victory. We're confident."
The 2026 World Cup, featuring 48 teams and 80 games, will be the largest and most complex in history. Ten group-stage matches will be held in Mexico and 10 more in Canada with the rest of the tournament to be played in the U.S.
Southern California is among the host sites that would be considered with games possible at both the Rose Bowl and the NFL stadium under construction in Inglewood.
The only other World Cup played in the U.S., which finished at the Rose Bowl, remains the most financially successful in history. That tournament also holds the records for average and overall attendance.
Cordeiro said it's time for the World Cup to come back.
"It's more than a generation," he said. "Most people don't remember the '94 World Cup. It's all ancient history.
"We're not thinking of losing. We'd like to win."
kevin.baxter@latimes.com | Twitter: @kbaxter11