Soccer newsletter: Claudio Reyna and his wife turn U.S. team into a soap opera
Hello and welcome to first weekly L.A. Times soccer newsletter of the new year. I'm Kevin Baxter, The Times' soccer writer, and today we'll discuss the youngest player ever selected in the NWSL draft, the women's league dealing out some heavy justice in the wake of its report into misconduct in women's soccer, and what Gareth Bale's retirement means for LAFC, which is rebuilding after one of the best seasons in MLS history.
But we start with more selfish antics from a pair of frustrated soccer parents who went behind the coach's back to try to get their son more playing time. Maybe next time Claudio and Danielle Reyna should just bring the orange slices to the game rather than igniting an internecine U.S. Soccer soap opera.
Whether the incident proves to simply be an embarrassment that quickly will be forgotten or a stain on the men's national team program that will endure, only time will tell. But it has already ended a lifelong friendship between two families; seriously damaged the careers of U.S. coach Gregg Berhalter, one of the most successful managers in U.S. soccer history, and Claudio Reyna, one of the most successful executives in MLS. It also left a black cloud hovering over the head of Gio Reyna, the unwitting victim at the center of the whole mess.
And the saddest, most tragic part is the people who drove the U.S. Soccer bus into the ditch not only are former national team players, but people whose experience in the game should have taught them better.
Although the Shakespearean tragedy reached its crescendo last week, when Berhalter admitted to a 31-year-old physical confrontation with the woman who later became his wife and the Reynas confirmed they were the ones who leaked details of the event to Earnie Stewart, U.S. Soccer's sporting director, the ordeal was set in motion two months ago, shortly after the U.S. team gathered in Qatar for the World Cup.
Enjoying this newsletter? Consider subscribing to the Los Angeles Times
Your support helps us deliver the news that matters most. Become a subscriber.
Berhalter, who gave Gio Reyna, 20, his first national team call-up and his first senior international appearance, reportedly told the player he would have a reduced role in Qatar. Gio did not take the news well, pouted through workouts and displayed such a poor attitude the coaching staff discussed sending him home.
That never happened, but Gio Reyna played just 52 minutes off the bench in Qatar — which angered his father.
"While in Qatar, I shared my frustrations about my son's World Cup experience," Claudio Reyna said.
His wife's frustrations didn't boil over until everyone had returned home and Berhalter, speaking at a summit on moral leadership, referenced some internal issues in Qatar involving a player he did not name. Other sources later identified the player as Gio Reyna, leading Danielle Reyna to phone Stewart and reveal details about a previously unknown incident involving Berhalter and his wife Rosalind.
"I did call Earnie Stewart just after the news broke that Gregg had made negative statements about my son Gio at a leadership conference," Danielle Reyna said in a statement shared with several media outlets. "I have known Earnie for years and consider him to be a close friend. I wanted to let him know that I was absolutely outraged and devastated that Gio had been put in such a terrible position."
But, she said, that wasn't attempted blackmail. It was, however, vindictive, mean-spirited, petty and underhanded. It's hard to understand how anyone could have thought any of this was a good idea or would produce positive results.
"I want to be very clear that I did not ask for Gregg to be fired, I did not make any threats and I don't know anything about any blackmail attempts," she said.
Berhalter disagreed while saying he was told someone had contacted U.S. Soccer to say "they had information about me that would 'take me down' — an apparent effort to leverage something very personal from long ago to bring about the end of my relationship with U.S. Soccer."
But wait, it gets worse. A lot worse.
Claudio Reyna and Berhalter were high school classmates and World Cup teammates. Claudio Reyna was best man at Berhalter's 1999 wedding to Rosalind Santana, who was a youth soccer teammate of Danielle Reyna as well as her college roommate — which is how she knew of the 1991 incident that occurred outside a North Carolina bar.
It gets worse because Claudio Reyna captained two World Cup teams and his wife had six caps with the women's national team, meaning both understand the team dynamic in which a coach chooses the lineup and the strategy and players then execute it. Surely Claudio Reyna, as captain, would not have accepted a player on his team not giving their all at a World Cup. Yet he excuses his son for doing that exact thing.
It gets worse because Danielle Reyna admitted to calling Stewart, who she calls a close friend, in an effort to impact Berhalter's behavior, but neither she nor her husband called the coach, a longtime family friend they have known for more than three decades. Instead, they went behind his back and tried to embarrass him by forcing he and his wife to relive an incident that occurred when both were teenagers.
"The worst part of it for me is my heart aches for my wife because it was her story to tell if she chose to or not," Berhalter said at a Harvard Business Review event Thursday. "That's what just really saddens me."
Claudio Reyna has no such regrets.
"I support my wife, Danielle, and her statement," he said.
The coach, in a social media post last week, admitted kicking his future wife on the legs after an argument when they were college freshmen. The incident never was reported to the authorities and Berhalter said he sought counseling in the wake of the incident.
"There are zero excuses for my actions that night; it was a shameful moment and one that I regret to this day," wrote Berhalter, who resumed dating Rosalind several months later. The couple has been married more than two decades and have four children — who may be finding out about the altercation for the first time.
As a result of the confrontation becoming public, U.S. Soccer has hired the Atlanta-based law firm of Alston & Bird LLP to conduct an independent investigation into the original incident as well as "potential inappropriate behavior towards multiple members of our staff by individuals outside of our organization," the federation said in a statement.
Until that investigation is completed Berhalter, 49, who had hoped his contract as coach of the national team would be extended, will remain in limbo and the team, which opens the new World Cup cycle later this month with friendlies against Serbia and Colombia, will be managed by Anthony Hudson, a former Berhalter assistant.
That leaves Berhalter's record with the national team frozen at 37-11-12, the best winning percentage by a men's national coach who worked more than two games.
Claudio Reyna, meanwhile, will continue his work with Austin FC, where he had built a reputation as one of the best sporting directors in MLS. That reputation almost certainly will take a big hit, though, in the wake of last week's news. How can a player or team executive feel safe confiding in Claudio Reyna, 49, if he's OK with ratting out his best friend?
Then there's the oft-injured Gio Reyna, the person whose best interests supposedly was at the center of this whole thing. At 20, he's already in his fourth season with Borussia Dortmund. He is the youngest American to play in the German Bundesliga and youngest to record an assist in Champions League play. If he can stay healthy, a big if for Gio Reyna, his future is blindingly bright.
Yet coaches now know calling him onto the national team roster could be fraught with unexpected consequences. And don't even think of benching him, regardless of how disruptive he becomes. Give Gio this though: He has apologized for his behavior. Meanwhile U.S. Soccer is left to clean up the wreckage caused by his parents, a former World Cup captain and his wife, who still believe they did nothing wrong.
Youth is served in NWSL
After spending a record $450,000 in allocation money to acquire the top spot in Thursday's NWSL draft, Angel City is expected to use that selection on Studio City Harvard-Westlake senior Alyssa Thompson, who reportedly has agreed to terms on a multiyear contract that could be the most lucrative in the franchise's short history.
Christen Press' three-year deal, which will pay her just less than $700,000, currently holds that record.
Thompson, 18, a former Gatorade player of the year from Studio City, had a longstanding verbal commitment to play for Stanford but elected to go pro and sign with the local team, in part to try to win a spot on the U.S. team for this summer's World Cup. Thompson made her national team debut last September.
Thompson will be the first top draft pick to never have played in college, but her signing continues a youth movement that began when Canyon Country's Olivia Moultrie won a preliminary injunction against the league that allowed her to join the Portland Thorns in 2021 at 16 and become the youngest player in league history. Last season Jaedyn Shaw played seven games for the San Diego Wave at age 17. Last week Shaw was named U.S. Soccer's young female player of the year.
Angel City obtained the top pick in Thursday's draft from Gotham FC in a complicated three-team trade that include the Thorns. Thompson then registered for the draft and was added to the list of eligible players, according to a source close to the league.
Former NWSL top draft picks
2013: Zakiya Bywaters (Chicago Red Stars)
2014: Crystal Dunn (Washington Spirit)
2015: Morgan Brian (Houston Dash)
2016: Emily Sonnett (Portland Thorns)
2017: Rose Lavelle (Boston Breakers)
2018: Andi Sullivan (Washington Spirit)
2019: Tierna Davidson (Chicago Red Stars)
2020: Sophia Smith (Portland Thorns)
2021: Emily Fox (Racing Louisville)
2022: Naomi Girma (San Diego Wave)
All but Bywaters have played at least 10 games with the U.S. national team
Bans, heavy fines show NWSL is serious about reform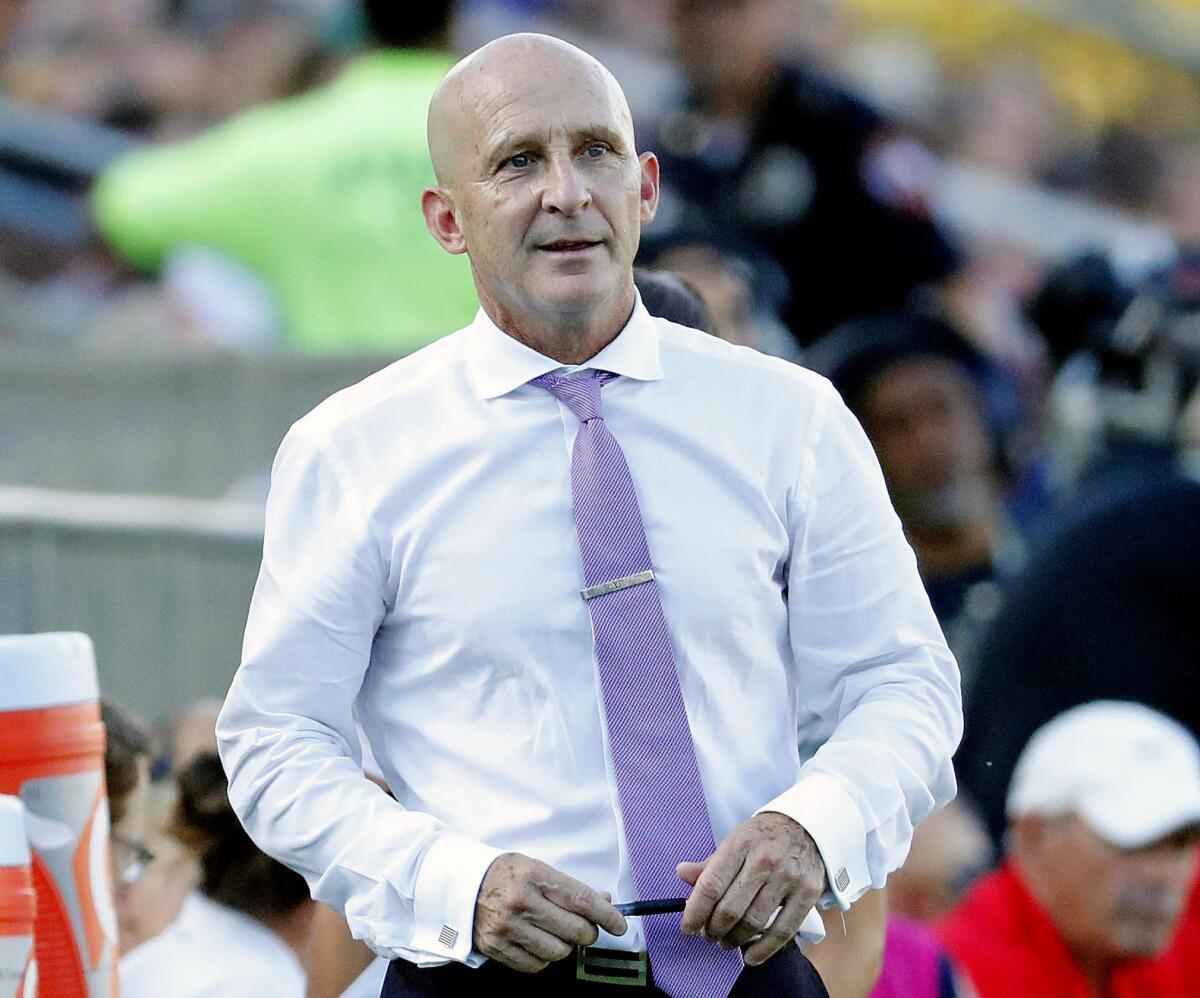 Speaking of the NWSL, the league put down the hammer Monday, handing down lifetime bans to four former coaches and fining two clubs at least $1 million after the release last month of a report into widespread misconduct in women's soccer in general and the NWSL specifically.
Former North Carolina Courage coach Paul Riley, Racing Louisville's Christy Holly, the Chicago Red Stars' Rory Dames and Washington Spirit coach Richie Burke have each been permanently excluded from the league while the future employment of more than a half-dozen others, including former UCLA coach Amanda Cromwell, is listed as "conditional."
The Red Stars were fined $1.5 million and Thorns $1 million; Arnim Whisler, who owns the Red Stars, and Thorns owner Merritt Paulson have agreed to sell their teams.
"The league will continue to prioritize implementing and enhancing the policies, programs and systems that put the health and safety of our players first," commissioner Jessica Berman said. "Those actions are fundamental to the future of our league, especially as we build a league that strengthens our players' ability to succeed and prosper on and off the pitch.
"As part of our commitment to accountability and deterrence, the league has determined that further corrective action with respect to certain organizations and individuals … is appropriate and necessary."
The penalties followed a year-long probe, conducted jointly by the league and its players association, into allegations of sexual harassment and verbal abuse in the NWSL. U.S. Soccer did its own study, which it released last October.
Goodbye, Gareth…we hardly knew you!
LAFC officially opened its preseason training camp Monday, but the reigning MLS champion did so without one of its biggest-name players, with Gareth Bale announcing his retirement after 17 seasons.
That came as a surprise said John Thorrington, the team's general manager and co-president, who was expecting Bale to be in Los Angeles this week for physicals and the start of training camp.
Maybe.
Last month's signing of Stipe Biuk of Croatia's Hajduk Split would have given the team seven forwards and probably left it in violation of MLS salary rules had Bale — who is not listed as a designated player — returned. As a result the Biuk signing sure looked like a move by a general manager who wasn't completely sure Bale would be back.
"After careful and thoughtful consideration, I announce my immediate retirement from club and international football," Bale wrote in a social media post Monday. "I feel incredibly fortunate to have realized my dream of playing the sport I love. It has truly given me some of the best moments of my life."
Why should he come back? Once the most-lucrative transfer in soccer history, he has more money then he'll ever be able to spend. Plus the reason Bale came to LAFC in the first place, while never said out loud, was obvious from the day he signed last June, shortly after he qualified Wales for its first World Cup in 62 years: Bale wasn't playing for Real Madrid, the club he helped to five Champions League titles, and he needed to join a summer league to get fit for the first fall World Cup. MLS provided that opportunity.
And though Bale playing sparingly — he started just twice and played only 347 minutes in 12 regular-season appearances — he left an indelible mark, coming off the bench to rescue LAFC's season with a goal deep in stoppage time in the second extra period of the MLS Cup final with Philadelphia. That goal sent the game to a penalty-kick shootout, which LAFC won to collect its first league title.
The World Cup didn't go as well. Bale captained his team in Qatar and scored his country's only goal, but Wales exited, winless, after the group stage. So with a league title in hand, no World Cup for another four years and the chance of even less playing time with LAFC this season, there was no point in Bale coming back at 33 just to sit on the bench.
Well, there is the golf in Southern California. But that, apparently, was not enough of a draw.
"We want to thank Gareth for everything he brought to our club," Thorrington said in a statement. "He arrived here with a goal to win championships in L.A., and, like he has done everywhere else in his career, he succeeded. It was an honor to have one of the most talented, dynamic and exciting players of his generation finish his career with a title for LAFC."
But now he's not here and Thorrington has the 20-year-old Biuk, who he signed to a four-year contract with a club option for 2027.
Bale won 21 trophies with Real Madrid, who paid $108 million to lure him in 2013. He retires as Wales' all-time leader in appearances (111) and goals (41); he scored 185 times in 553 games across all competition for LAFC, Real Madrid, Tottenham and Southampton.
The addition of Biuk and the departure of Bale are not the only offseason changes for LAFC; in the two months between winning both the Supporters' Shield and MLS Cup and the opening of training camp, Thorrington has made a number of moves. Midfielder Latif Blessing, one of just two players remaining from the club's original roster, was traded to New England for $400,000 in allocation money and midfielder Sebastian Méndez was allowed to leave for Brazil's São Paulo. In addition, LAFC added U.S. national team defender Aaron Long, Honduran international defender Denil Maldonado and Swiss goalkeeper Eldin Jakupovic, whose contract with Premier League club Everton ran out at the end of the year.
With center back Eddie Segura dealing with a "long-term" knee injury, Long will fill a big hole on the back line while Jakupovic will compete with John McCarthy for the starting spot in goal while top-choice goalkeeper Maxime Crepeau recovers from a broken leg.
And finally there's this …
U.S. national team standout Christian Pulisic will be out several weeks after sustaining a knee injury in Chelsea's 1-0 loss to Manchester City in FA Cup play Thursday. Pulisic started his third straight game for Chelsea since play resumed after the World Cup but left after 23 minutes following a challenge from defender John Stones as he went to take a shot….Alex Morgan, the NWSL's leading scorer last season with 16 goals, headlined the 24-player roster called up last week for the USWNT's first training camp of 2023. Missing from the team, which will play two friendlies in New Zealand, is Megan Rapinoe and NWSL MVP Sophia Smith, both of whom are dealing with injuries. Last week Smith, 22, was named U.S. Soccer's female player of the year …Speaking of the USWNT, former UCLA standout Mia Fishel led all of women's soccer with 33 goals last season for Tigres of Mexico's Liga MX Femenil … Mexican national team goalkeeper Memo Ochoa, who said he hopes to play in the 2026 World Cup at age 40, made 15 saves in his first two Serie A games for Salernitana but won neither, losing to Milan 2-1 and playing Torino to a 1-1 draw.
Podcast
Don't miss my weekly podcast on the Corner of the Galaxy site as co-host Josh Guesman and I discuss the Galaxy each Monday. You can listen to the most recent podcast here.
In case you missed it
Angel City acquires top pick in NWSL draft, will sign Alyssa Thompson
Alex Morgan highlights U.S. women's soccer call-up roster for January camp
Gio Reyna's parents reported Gregg Berhalter's domestic dispute to U.S. Soccer
Cristiano Ronaldo signs with Saudi Arabian soccer club Al Nassr
Appreciation: Pelé's singular brilliance endured despite rivalry with Diego Maradona
Pelé, who rose from a Brazilian slum to become the world's greatest soccer player, dies at 82
Quotebook
"I am finally ready for the next chapter of my life. First, I must express my appreciation to my first love. Thank you soccer for taking me all over the world."
Galaxy and national team midfielder Sacha Kljestan, announcing his retirement at age 37
Until next time...
Stay tuned for future newsletters. Subscribe here, and I'll come right to your inbox. Something else you'd like to see? Email me. Or follow me on Twitter: @kbaxter11.