Chicharito suffers right knee injury in Galaxy's U.S. Open Cup quarterfinal loss to Real Salt Lake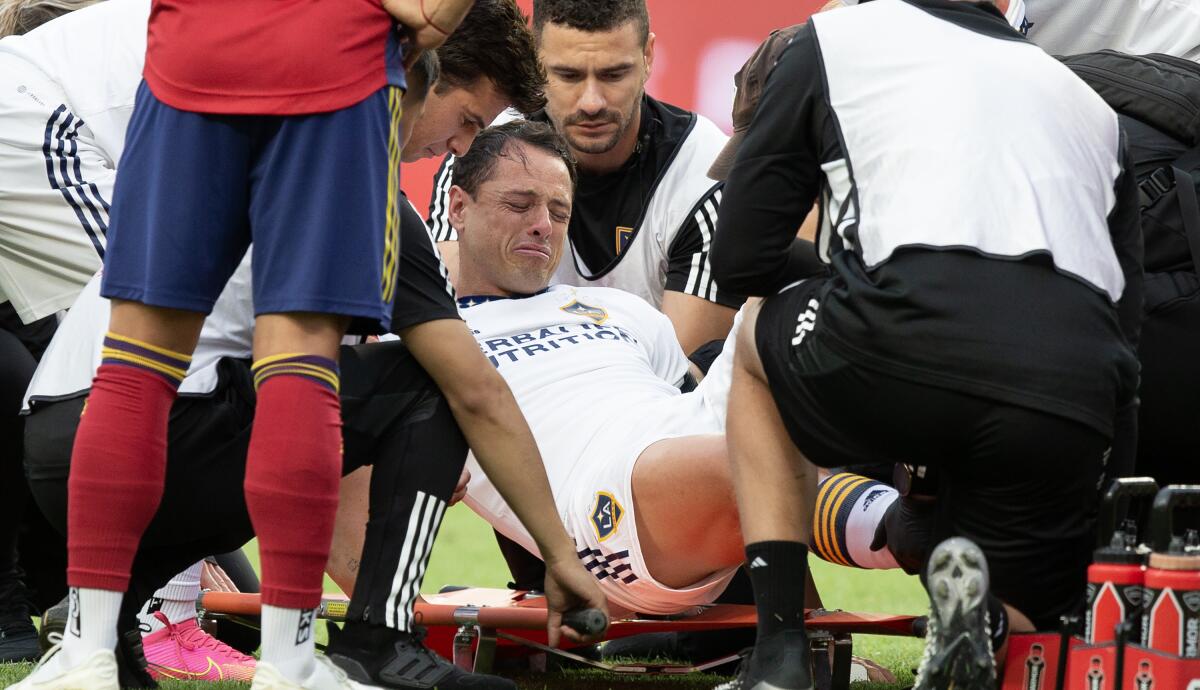 What has already been a bad season for the Galaxy got markedly worse Wednesday when team captain Javier "Chicharito" Hernández was stretchered off the field because of a right knee injury midway through the first half of the team's U.S. Open Cup quarterfinal in Sandy, Utah.
Real Salt Lake won the game 3-2, getting two first-half goals from Damir Kreilach and a Jefferson Savarino score early in the second half, then holding off a furious Galaxy rally behind goals from Gastón Brugman and Douglas Costa in the final eight minutes of regulation.
Of more concern, however, was the condition of Hernández, the team's leading scorer the last two seasons.
"I have hopes and prayers that it's nothing serious. But I have concerns because the guy had to come off the field," Galaxy coach Greg Vanney said of Hernández, who was scheduled to meet with team doctors after traveling back to Los Angeles.
"We won't know until we get an MRI to see where it's at. So our fingers are crossed. But we don't know yet what we're dealing with."
Hernández was charging up the center of the RSL defense in the 24th minute when he stretched for a pass from teammate Riqui Puig about 15 yards outside the penalty area. Hernández, who was not touched on the play, then tumbled to the turf and immediately motioned to the Galaxy bench for help as Puig and three RSL players moved in to console him.
He was carried off the field and to the locker room, his face covered with a towel and shaking his head, as teammates reached out to pat him on the shoulder.
Soccer superstar Lionel Messi is poised to join David Beckham's MLS team Inter Miami, marking the biggest transaction in league history.
Mexico's all-time leading scorer with 52 international goals, Hernández, who turned 35 this last week, is the final year of a contract that guarantees him $7.4 million this season, making him the third-highest-paid player in the league. His 35 goals the last two full seasons are second most in MLS over that period, but he has started only seven regular-season games this season, notching a goal and an assist.
He sat out the first five MLS games because of a hamstring injury and the Galaxy didn't win any of them. The team is 5-10-3 in all competitions this season and last in the MLS standings.