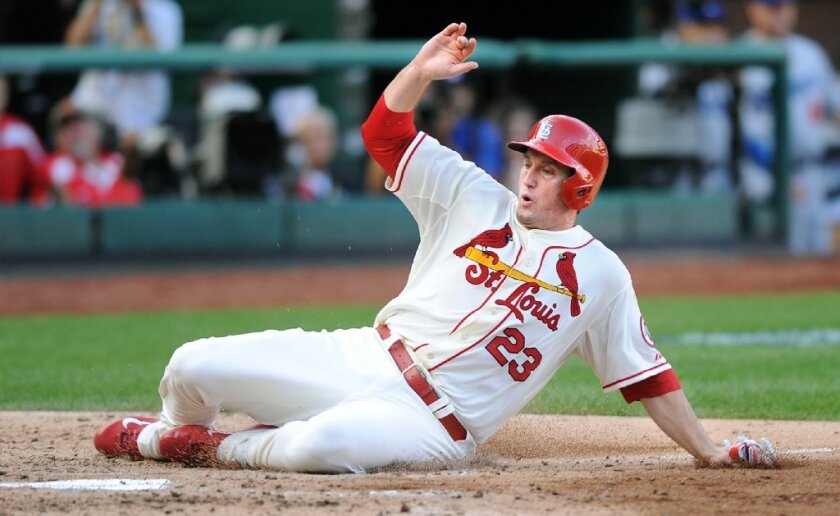 The Angels avoided arbitration with new third baseman David Freese and returning reliever Kevin Jepsen on Friday, signing Freese for $5.05 million and Jepsen for $1.46 million.
Both players settled at the exact midpoints of the difference between the salary figures they and the team exchanged in mid-January. It appeared the case of Freese, acquired from the St. Louis Cardinals in the Peter Bourjos trade in November, might go to a hearing because the sides were $1.9 million apart, a considerable gap.
Freese, the National League championship series and World Series most valuable player in 2011 for the Cardinals, hit .262 with a .340 on-base percentage, .381 slugging percentage, nine home runs and 60 runs batted last season.
Jepsen went 1-3 with a 4.50 earned run average in 45 games and underwent a season-ending appendectomy in late August.
With the January signings of closer Ernesto Frieri ($3.8 million) and reliever Fernando Salas ($870,000), the Angels have come to terms with all four of their arbitration-eligible players this winter.
ALSO:
A return of L.A. Rams? Owner said to buy possible stadium site
Clippers' Chris Paul is an All-Star reserve but DeAndre Jordan is not
Landon Donovan seems a lock for World Cup team, but role is up in air
---