Oklahoma's Baker Mayfield gets an earful from Georgia's Davin Bellamy: 'Humble yourself!'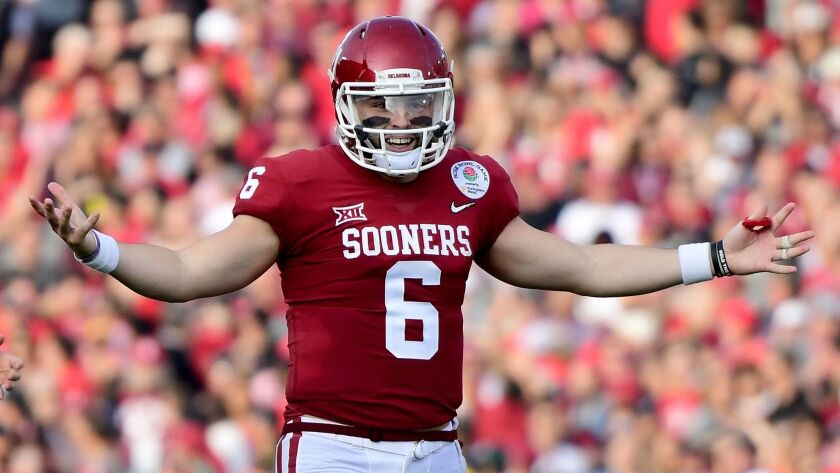 Baker Mayfield is a pretty big deal.
The Oklahoma quarterback won the Heisman Trophy in December after passing for 4,340 yards and 41 touchdowns and leading the Sooners into the College Football Playoffs as the No. 2 seed.
But after Oklahoma's dream of a national championship ended Monday with a 54-48 double-overtime loss to Georgia in the Rose Bowl, Bulldogs linebacker Davin Bellamy had some advice for Mayfield:
"Humble yourself!"
Bellamy shouted the phrase toward Mayfield several times after the game as the quarterback shook hands with Georgia players.
Before the game, Mayfield seemed to irk some Georgia players by running routes in the Bulldogs' end zone.
Earlier this season, Mayfield received attention for planting an Oklahoma flag in the middle of the Ohio State logo on the field and grabbing his crotch while pointing to the Kansas bench following Sooners victories. He later apologized for both incidents.
Bellamy seemed to be referencing all of that with the words he shouted at Mayfield on Monday.
"All I'm saying is humble yourself," Bellamy told ESPN. "All the flamboyancy ... I carry myself the same way, but humble yourself, man.
Baker Mayfield is the most polarizing player in college football. But in Oklahoma, he is OK »
"Our wide receivers came back and told us that they were running their routes before we went out there and he was on their line. Just humble yourself, man, just humble yourself. You're not built like that."
Mayfield did give a pretty humble response when asked by reporters about Georgia players yelling at him.
"They can say what they want," Mayfield said, "they won the game."
Twitter: @chewkiii
---
Get the latest on L.A.'s teams in the daily Sports Report newsletter.
You may occasionally receive promotional content from the Los Angeles Times.