Baker Mayfield is the most polarizing player in college football. But in Oklahoma, he is OK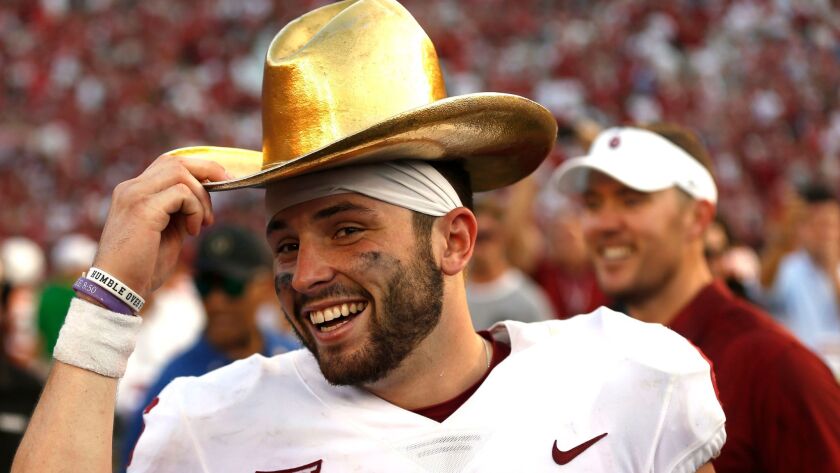 Take a stroll east from Gaylord Memorial Stadium and gaze at college football history.
Heisman Park is hallowed Oklahoma ground. Statues of the Sooners' Heisman Trophy winners strike aggressive poses. Billy Vessels hunching over, carrying the ball. Steve Owens turning up field, looking to batter an opponent. Billy Sims shifting his hips, to make a sharp cut. Jason White unloading a deep pass. Sam Bradford with his armed cocked.
At some point, quarterback Baker Mayfield will take up residence. At least one Oklahoma fan was a little impatient.
In November, weeks before the winner was announced, a sign was posted on a tree barren by winter: "Reserved for Daddy," it said, a nod to Mayfield's pre-game rant at Baylor players.
Mayfield had told them: "You forgot who daddy is. I'm going to have to spank you today."
The comments were pretty much par for the most polarizing player of the college football season.
Days before the Heisman was handed to Mayfield, an Oklahoma student began a petition demanding that the park statue's pose be Mayfield planting the Sooner flag, honoring a gesture that gained national attention after the Sooners defeated Ohio State.
It has collected nearly 9,000 signatures.
Mayfield has ruffled feathers around the Big 12 Conference, and beyond. He offended Ohio State fans. He made an obscene gesture toward Kansas players. But in the Sooner State, Mayfield is OK.
"This kid is special, he's different," said Rich Knapp, an Oklahoma fan for 50 years and the executive director of the university's Touchdown Club. "He walks over to the student section before every game and they go crazy."
All that is left to do is win a national championship. The next step in that quest comes at the Rose Bowl on Monday, when Oklahoma plays Georgia in a College Football Playoff semifinal.
It's heady stuff for a player who was a walk-on at two college programs, Texas Tech and Oklahoma. Yet there is little doubt Mayfield is comfortable in the spotlight, even if he sometimes has to later apologize.
"I don't know if we have ever had a player with his charisma, enthusiasm and ability," former Oklahoma Coach Barry Switzer said. "It's all there in one package."
::
Mayfield was reportedly sick this week and not available for any media access. However, it's safe to say he was preparing for Monday's game a month ago.
When his cellphone number was posted publicly, Mayfield responded with a tweet: "To whoever posted my cellphone #, bravo. But I got it changed. And to the Georgia fans that had kind words of encouragement ... I applaud your creativity."
Mayfield has never been shy.
"Baker is always challenging people," Oklahoma defensive end D.J. Ward said. "He challenged me at 'Madden.' I had to skunk him, 21-0. He threw two picks."
Even in practice, Mayfield can't deny his nature.
"We're not supposed to hit our quarterbacks in practice, but he is always trying to run through you," linebacker Emmanuel Beal said.
Former Oklahoma assistant coach Mike Jones summed up that attitude: "If you're going to beat him, you had better kill him."
Opposing teams don't always appreciate his moxie.
Mayfield has burned through the 2017 season with a take-no-prisoners swagger. He has passed for 4,340 yards and 41 touchdowns and reveled in the moments. He has also attracted criticism.
In February, he was arrested in Fayetteville, Ark., and charged with public intoxication and disorderly conduct. He pleaded guilty and paid a $943 fine.
"The only mistake he made was not out-running the Fayetteville police," Switzer joked. "My quarterbacks could have done that."
Switzer saw it as a boys-will-be-boys moment.
"I left him a message," Switzer said. "I said, 'Baker, I'm not calling to chew you out, I just want you to know that the same thing happened to me in 1958. All I want to know is have there been any improvements to the Fayetteville jail, because it was a hellhole back then.'"
It was the opening act in a rollicking season.
After defeating Ohio State, then ranked No. 2, Mayfield planted a Sooners flag in the turf at Buckeye Stadium. He later apologized, though some teammates didn't understand why.
"I started cheering him when he did that," Beal said. "I wished it was me."
Mayfield's exuberance has not been as well received by opponents.
After Iowa State upset the Sooners in Norman, Cyclones players planted their school flag in the turf. During the coin toss before the Kansas game, Jayhawks team captains refused to shake Mayfield's hand.
The payback was Mayfield grabbing his crotch and pointing to the Kansas bench after a Sooners touchdown during Oklahoma's 41-3 victory. Again, Mayfield apologized and coach Lincoln Riley benched him for the first series against West Virginia the following week.
None of it caused a negative ripple among Oklahoma fans.
"When you're in the spotlight, things happen," Knapp said. "These are 18- to 22-year-old kids. Try to remember what you were like in college."
Oklahoma supporters rattle off many instances in which Mayfield would be viewed in a more positive light.
Student Seth Truitt said that before every home game, Mayfield charges the student section and "jumps around, getting everyone pumped up." The cameras, he said, "never show those moments."
Knapp said that Mayfield has made unscheduled visits to a local children's hospital. "Someone will ask, 'Where's Baker?' and get told, 'He's at the hospital again,'" Knapp said.
Linebacker Caleb Kelly said that on days the Sooners host children with special needs, "Baker is over there rubbing elbows with them, talking with them, making them feel a part of things. That doesn't get talked about."
Jones has seen that upside in Mayfield's personality since kindergarten.
"He has a personality you just want to be around," said Jones, an Oklahoma assistant from 1978 to 1994 and also a longtime family friend. "He makes you laugh. It's also a personality where he dares you, 'Just try to tell me I can't do something.' "
::
There aren't many things from Austin, Texas, that Oklahoma fans are willing to adopt. "I would say Baker is the best thing to come out of there," Knapp said.
All Mayfield ever wanted was to play for Oklahoma. But the journey to Norman was not Point A to Point B. He was undersized — Oklahoma generously lists him as 6 feet 1 — and underappreciated.
A backup as a junior at Lake Travis High, Mayfield came off the bench to pass for 278 yards and run for 96 yards in a victory over rival Westlake. A year later against Westlake, he scrambled around the end zone before launching a 96-yard touchdown pass to give Lake Travis a 14-11 victory.
"I didn't see his size in high school," Jones said. "All I saw was him make play after play."
Yet no major school wanted him. Mayfield managed to push his way into Texas Tech and won the starting job as a walk-on freshman. In his first game, he passed for 413 yards and four touchdowns in a victory over Southern Methodist.
Mayfield sustained an injured knee in the fifth game. When he returned, he had lost his starting job.
"Things went so bad at Texas Tech, he'd had enough," Jones said. "He knew he was good enough to play."
Mayfield enrolled at Oklahoma, his dream school.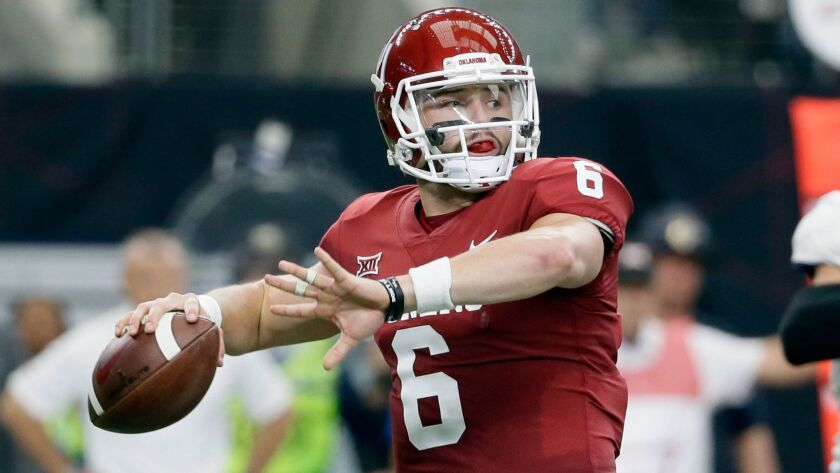 "He would come to games as a little kid and have the time of his life," Jones said. "I brought him down to the field when he was 7 and his eyes bugged out. From then on, all he wanted to do was play on that field."
Mayfield has, for three seasons, and rolled up 12,005 yards passing.
"Everyone talks about the year he has had this season," Switzer said. "Geez, he's had a great career."
Mayfield's Oklahoma legacy is secure.
"He's our Rudy," Jones said.
Except Rudy Ruettiger didn't win the Heisman Trophy at Notre Dame.
While Mayfield attempts to finish his college career with a national title, others are planning his coronation. Truitt and his friends began discussing Mayfield's statue in Heisman Park days before the trophy ceremony.
"He doesn't fit into the traditional persona of a lot of football players," Truitt said. "He has an edge to him. That flag-planting moment was the embodiment of everything he did this year."
Knapp laughed and said: "That ain't going to happen." But he feels something special needs to be done.
"Oklahoma has never seen anything like him," Knapp said, "and may not again."
---
Get our high school sports newsletter
Prep Rally is devoted to the SoCal high school sports experience, bringing you scores, stories and a behind-the-scenes look at what makes prep sports so popular.
You may occasionally receive promotional content from the Los Angeles Times.