Central Florida is college football's true national champion, according to Central Florida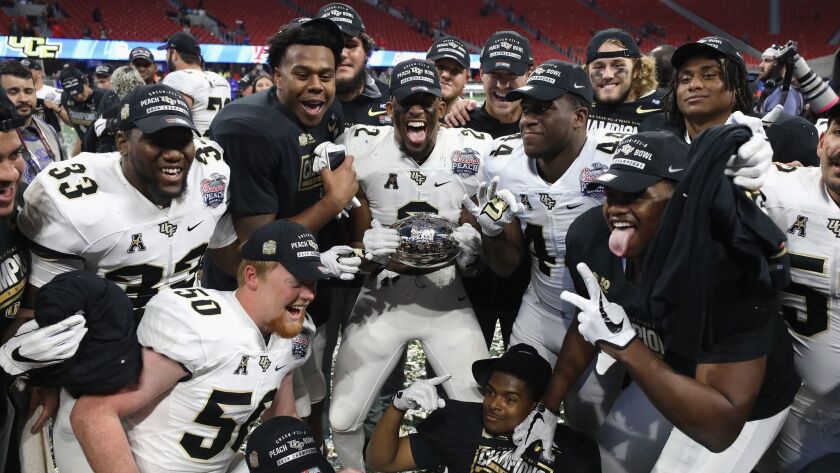 Apparently there's no need to play the College Football Playoff championship on Monday night. It seems college football already has a national champion, and it's neither of the teams playing in the big game.
At least that's what the University of Central Florida thinks.
The Knights may have entered bowl season ranked No. 12 in the nation by the CFP committee and played only two Power 5 teams all year, but they were the only undefeated team in the Football Bowl Subdivision.
And UCF's 13-0 record includes a 34-27 victory over Auburn in the Peach Bowl on Monday — that's the same Auburn team that beat Alabama and Georgia, the two participants in the FBS championship game.
So as far as the folks at the university in Orlando, Fla., are concerned, the Knights are the real national champions of the 2017 college football season.
Those folks seem pretty serious about it, too.
The display name on the verified UCF football Twitter account is now "2017 National Champions." Pinned to the top of that Twitter feed is a quote from university president John Hitt that refers to the Knights as national champs.
Central Florida athletic director Danny White also proclaimed the Knights national champions while on the field following the Peach Bowl.
And he hasn't stopped there. He's promising all the bling that comes with a national championship, including merchandise, a banner to be displayed at Spectrum Stadium and a parade. A UCF spokesperson confirmed to USA Today on Tuesday that the school was finalizing parade plans.
On Wednesday afternoon, White tweeted that the university has informed the team's coaches that they will be receiving national championship bonuses.
"We've just got a mature group of really talented young men that played 13 games and won them all," White said Tuesday on Dan Le Batard's ESPN Radio show, "and I think they deserve to be considered national champions."
Twitter: @chewkiii
---
Get the latest on L.A.'s teams in the daily Sports Report newsletter.
You may occasionally receive promotional content from the Los Angeles Times.