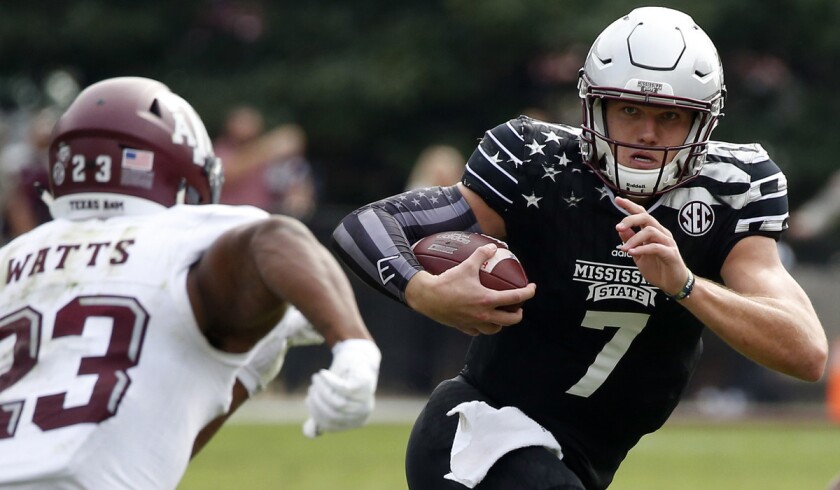 Break out the chips and cold drinks, but let Mike Hiserman handle the remote. Each Friday, the Times' deputy sports editor handicaps what's worth watching and what should be skipped on the weekend's menu of games:
FRIDAY
4:30 p.m.: Boston College at No. 18 Florida State, ESPN2.
SATURDAY MORNING
Mississippi State at No. 1 Alabama, 9 a.m., ESPN
Coming off an upset of then-No. 4 Texas A&M, Mississippi State now gets No. 1. Bulldogs quarterback Nick Fitzgerald is coming off two huge games — 536 total yards against overmatched Samford and 391 against Texas A&M. Jalen Hurts, Alabama's freshman quarterback, beat Louisiana State with his legs and can be expected to attack Mississippi State with his arm. The Bulldogs have the Southeastern Conference's worst pass defense.
No. 16 West Virginia at Texas, 9 a.m., FS1
West Virginia is 7-1, Texas 5-4. Yet Texas, with a coach that has been off and on the hot seat all season, is a two-point favorite. West Virginia has a top-20 defense. Texas has D'Onta Foreman at running back. Foreman is a load at around 250 pounds, and he can run. His last two games: 250 yards and two touchdowns in 32 carries against Baylor; 341 yards and three touchdowns in 33 carries against Texas Tech.
9 a.m.: Baylor at No., 11 Oklahoma, Channel 7; South Carolina at Florida, Channel 2; Iowa State at Kansas, FS West; Kentucky at Tennessee, SEC Network (SEC); Cincinnati at Central Florida, ESPNU; Southern Methodist at East Carolina, ESPNews; No. 10 Penn State at Indiana, ESPN2; Tulsa at Navy, CBS Sports Network (CBSSN); Rutgers at Michigan State, Big Ten Network (BTN).
9:30 a.m.: North Carolina State at Syracuse, KDOC.
11 a.m.: Miami at Virginia, Prime.
SATURDAY AFTERNOON
No. 9 Auburn at Georgia, 12:30 p.m., Channel 2
Georgia is the only team standing between Auburn and a showdown with in-state rival Alabama for the Southeastern Conference West Division title. The Tigers and Bulldogs are headed in opposite directions. Auburn has won six in a row; Georgia has lost four of its last six.
Texas Tech at No. 13 Oklahoma State, 12:30 p.m., FS1
This game starts in the afternoon but could stretch until night. Both teams throw and throw and throw. And neither team is much on defense. Consider it college football's version of the NBA All-Star Game.
No. 24 Louisiana State at No. 25 Arkansas, 4 p.m., ESPN
Will the real Arkansas run defense please stand up … or lay down? After Auburn ran wild against the Razorbacks for 543 yards, Arkansas throttled Florida last week, holding the Gators' run game to 12 yards. LSU was shut out by top-ranked Alabama last week, but the Tigers still lead the SEC with an average of 6.2 yards per run.
No. 20 USC at No. 4 Washington, 4:30 p.m., Channel 11
This could be called the Skeptic Bowl. Is Washington a legitimate top-four team, or have the Huskies simply exploited a weak schedule? Is USC one of the nation's most improved teams, or are the Trojans set up for another big fall? Washington's win over USC last season brought the end of Steve Sarkisian as coach of the Trojans. Another Husky win would bring the end of USC's Pac-12 title-game hopes.
12:30 p.m.: Vanderbilt at Missouri, SEC; Army vs. Notre Dame at San Antonio, Channel 4; Pittsburgh at No. 2 Clemson, Channel 7; Georgia Tech at No. 14 Virginia Tech, ESPNU; Illinois at No. 7 Wisconsin, ESPN2; Tulane at Houston, CBSSN; No. 5 Ohio State at Maryland, ESPN.
1 p.m.: Stanford at Oregon, Pac-12 Networks (Pac-12).
4 p.m.: No. 22 Boise State at Hawaii, CBSSN; Wake Forest at No. 6 Louisville, ESPN2; South Florida at Memphis, ESPNU.
4:30 p.m.: Minnesota at No. 19 Nebraska, BTN; Mississippi at No. 8 Texas A&M, SEC.
SATURDAY EVENING
No. 3 Michigan at Iowa, 5 p.m., Channel 7
Jim Harbaugh was Michigan's quarterback the last time the Wolverines were ranked No. 2 in the nation when they visited Iowa City. They lost, 12-10. Harbaugh the coach will be facing a Hawkeyes contingent that started strong but has already lost three home games. However, Michigan hasn't won at Iowa since 2005.
California at No. 23 Washington State, 7:30 p.m., ESPN
Cal Coach Sonny Dykes was a longtime assistant to Mike Leach, who now coaches Washington State. The influence rubbed off. Both teams are among the top 20 in the nation in scoring. Washington State's "Air Raid" offense has the game's No. 2 passing attack, averaging 383.9 yards per game. Cal's "Bear Raid" attack is No. 5 at 354.1 yards per game. Expect lots of scoring and hope for the kind of thriller that took place in 2014, when Washington State quarterback Connor Halliday passed for an FBS-record 734 yards and still lost, 60-59.
6 p.m.: Oregon State at UCLA, Pac-12.
7 p.m.: No. 12 Colorado at Arizona, FS1.
7:15 p.m.: Colorado State at Air Force, ESPNU; New Mexico at Utah State, ESPN2.
7:30 p.m.: San Diego State at Nevada, CBSSN.
---