L.A. Olympic bid leaders reaffirm willingness to consider 2028 Summer Games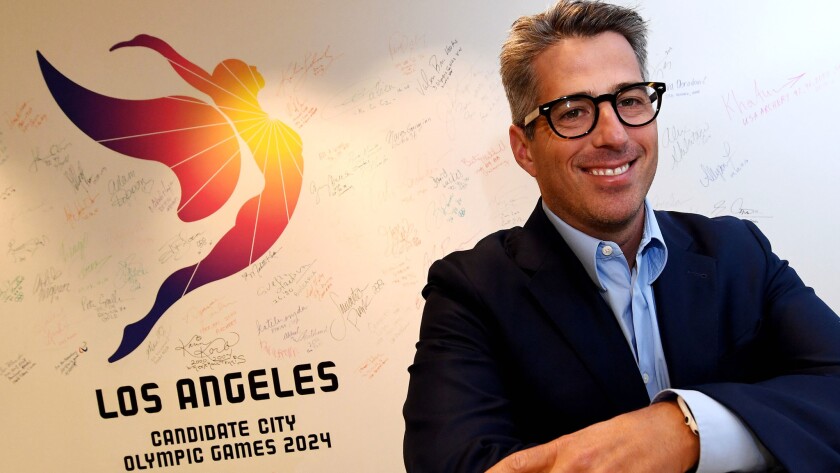 Los Angeles may have inched closer to hosting the Summer Olympics in 2028 – not 2024 – with a statement released Wednesday by the private bid committee trying to bring the Games back to Southern California.
In an open letter, LA 2024 chairman Casey Wasserman addressed expectations that the International Olympic Committee will seek to name two winners in the current bid competition between his city and Paris, giving 2024 to one and 2028 to the other.
That scenario works only if one of the candidates agrees to go second.
"To be blunt, LA 2024 has never been only about L.A. or 2024," Wasserman said in the statement. "Even when the issue of a dual award for the 2024 and 2028 Games was initially raised, we didn't say it's 'L.A. first' or it's 'now or never' for L.A. That sounds like an ultimatum.
"We could have used that strategy, but we didn't because we thought it was presumptuous to tell the IOC what to do and how to think. We're better partners than that."
Those words prompted at least one Olympic media outlet to declare L.A. had ceded the race – a suggestion that local bid leaders quickly denied.
There are, in fact, several ways to look at what Wasserman said.
For much of its campaign, LA 2024 has sought to play the role of the good guy, distancing itself from the arrogant "ugly American" tag hung on previous unsuccessful U.S. bids.
This stance becomes even more relevant at a time when President Trump has rankled leaders around the world.
Wednesday's statement continued LA 2024's strategy while also serving as a thinly veiled dig at Paris, which has repeatedly pushed back against the idea of accepting 2028.
But none of that diminishes that Wasserman clearly signaled a willingness to cooperate with the potential two-winner arrangement. The timing is significant.
Olympic leaders recently asked both bid committees what they might want in exchange for going second. While negotiations proceed, procedural steps must be taken.
On Friday, the IOC's executive board will decide whether to recommend the unusual move. Membership would then vote at a mid-July meeting in Lausanne, Switzerland.
Though there could be resistance from members who don't want their primary job – choosing host cities – taken away for the next eight years, the option is enticing to a movement that has seen numerous candidate cities withdraw over cost concerns.
LA 2024's message, which mentions partnership more than once, offers reassurance and, from Wasserman's standpoint, some insurance in a close race against another strong bid.
Host city votes have always been unpredictable, with favorites falling by the wayside as dark horses emerge for no predictable reason.
L.A. is considered the more economically stable choice for 2024 because it relies almost entirely on existing stadiums and arenas. That could also make the city a better bet to remain viable until 2028.
Paris has insisted construction of a costly athletes village could not be delayed. The City of Light also holds a sentimental edge, looking to bring the Games back 100 years after it last hosted them in 1924.
So a two-winner scenario would guarantee that L.A. gets the Olympics. It would give Wasserman tangible results for the $50 million or so he raised to fund the bid.
Does that mean LA 2024 blinked first in a game of chicken? Perhaps.
But nothing precludes the bid committee from continuing to campaign for 2024 in the months before September's ultimate vote. Or from seeking a bigger slice of IOC revenues and other concessions in exchange for waiting around.
"It has always been our contention that LA 2024 had to make as much sense for the Olympic movement as it did for the people of L.A.," Wasserman stated. "And we've stuck to that premise."
ALSO
L.A. Mayor Garcetti wants money for youth sports if city hosts 2028 Olympics
Olympic leaders to debate giving 2024 and 2028 Games to L.A. and Paris
LA 2024 releases new visuals of potential Olympic Games
Follow @LAtimesWharton on Twitter
---
Get our high school sports newsletter
Prep Rally is devoted to the SoCal high school sports experience, bringing you scores, stories and a behind-the-scenes look at what makes prep sports so popular.
You may occasionally receive promotional content from the Los Angeles Times.