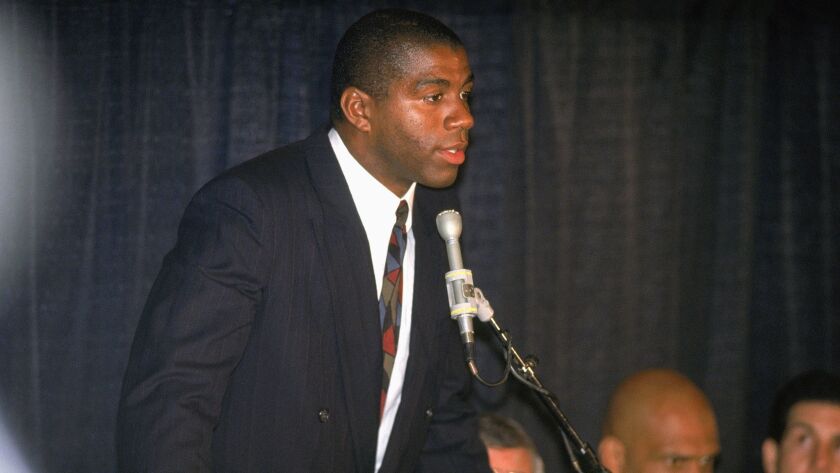 Magic Johnson's life had already changed several days before Nov. 7, 1991.
But it was on that date that the Lakers superstar decided to share with the world the shocking news he had recently received from doctors — that he was HIV positive.
"November 7, 1991 was a life-changing day that I never saw coming," Johnson wrote in a post on his website, The Playbook, commemorating the 25 years that have passed since his historic announcement.
"Up until then, I thought the hardest thing I'd ever done was play against Michael Jordan or Larry Bird, but on this day I began the fight of my life. This day, I began to realize how God was working in my life. My faith gave me strength to stand up and tell the world that I had contracted Human Immunodeficiency Virus (HIV)."
But that day wasn't life-changing only for Johnson.
Back then, a diagnosis of HIV or AIDS was considered a death sentence of sorts. It was also widely believed that AIDS and HIV only affected the gay community. On this day a quarter-century ago, Johnson started helping to shatter those misconceptions, something he continues to do to this day.
"Today is a celebration of life, a celebration of what some people thought was a death sentence 25 years ago. It's a celebration of everything I've been through until now," Johnson wrote on The Playbook.
He added: "Though I had accepted my new status, telling the world was a different ordeal. In the early 1990s hearing about anyone with HIV/AIDS meant that they didn't have long to live. I felt it was my duty to educate as many people as I could about the disease. It was then that I began my new journey to walk every day in God's purpose. Today, I continue to do everything I can to bring awareness and education about this disease to the community."
Twitter: @chewkiii
ALSO
Sparks take some tips from Magic Johnson going into the WNBA Finals
Magic Johnson has Lakers rescind his ceremonial vice president title
Clippers Coach Doc Rivers says Magic Johnson's latest tweet is pretty sweet
---