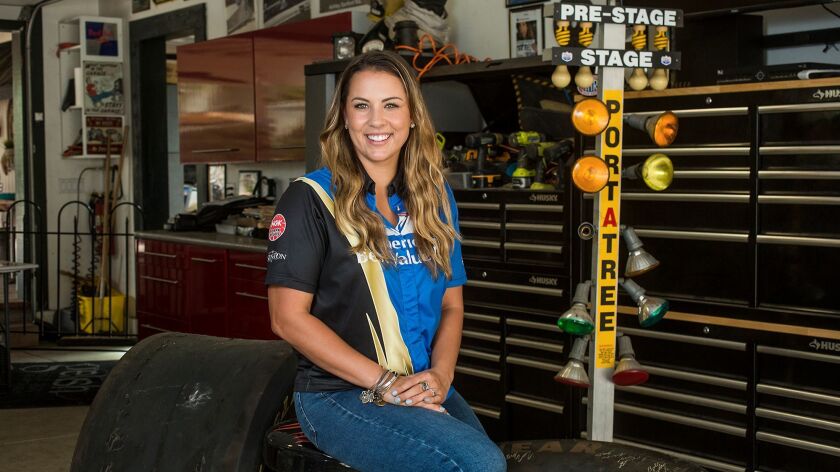 Ashley Sanford grew up in a mixed household.
Her younger sister Sydney "was a girly girl" who painted her nails and played with Barbies. Ashley, on the other hand, would strap her Barbie dolls to remote-controlled cars and race them around the backyard of her Fullerton home.
"She wanted to be a professional drag racer," said her mother Michele. "I didn't believe it could happen. My daughter? Never."
Never say never. Because Michele's eldest daughter has not only become a drag racer, but at 23 she's seen as a rising star in a sport where gender is a descriptor and not a detriment. Women drivers have won 136 events in drag racing's four professional divisions; compare that with NASCAR, where a woman has never won a race in the top four divisions.
"Females have had success," said Brittany Force, daughter of drag race legend John Force. "We beat up on the boys every single weekend."
If Force can do that again this weekend at the NHRA Finals at Auto Club Raceway in Pomona, she'll win her first top fuel season title. Force enters Friday's qualifying second in the standings, 20 points behind Steve Torrence.
Sanford, meanwhile, preliminarily qualified ninth, running 270.64 mph in a top alcohol dragster on the first day of what she hopes is in her last competition in what amounts to NHRA's apprentice division.
Sanford, who had three rides in a top-fuel dragster this year, hitting a top speed of 323 mph in Indianapolis, will make the jump to NHRA's top division full time next season. And she can hardly wait.
"I had the time of my life," she said of the Indianapolis race. "It is the best feeling in the world. You get out and you feel like you're on top of the world. The amount of power these cars produce in 3½ seconds, there is truly nothing like it on the planet.
"We pretty much are astronauts in these cars."
Sanford knew she wanted to be an Earth-bound astronaut from a young age.
Her father and grandfather both raced competitively, mostly in dune buggies, and Ashley followed in their tire tracks. When she was just 8 she began racing ATVs, winning her first event.
But the time she was 14, she was sharing a sand dragster with her grandfather and by the time she was old enough to get a driver's license she was covering a 300-foot dirt drag strip at 150 mph.
"I was addicted to the adrenaline and rush of these cars at a young age," she said. "I literally would tell my friends 'oh my gosh. When I grow up my dream is to be racing top fuel in the NHRA.'
"A lot of people didn't understand me. That's for sure."
When her Troy High classmates headed off to college, Sanford entered what she calls the school of drag racing, with her family selling their race cars and spending $250,000 to outfit her with a top alcohol dragster. Her dad, Shane, a retired fireman and general contractor, became her crew chief and the five mechanics that ready the car still work for free.
But even with a volunteer crew, racing a top-alcohol dragster can cost as much as $15,000 a weekend. Stepping up to top fuel will cost more than 10 times as much — which is why Sanford is still making pastrami sandwiches at Tony's Deli in Anaheim.
"I still need to make money," she said. "There's an old saying in drag racing. The only way to become millionaire in drag racing is start out with $3 [million]."
Even working double shifts, there's probably not enough pastrami available to balance Sanford's racing spreadsheet. A number of sponsors have offered to help, and though the family said they have nothing firm on the table, they're confident they'll be able to fund a top fuel team by the time NHRA returns to Pomona to start the 2018 season in February.
"She'd be great for the sport," said Brittany Force, whose younger sister Courtney races funny cars. "She's young. She's great in front of cameras. And she's a great driver."
Michele Sanford agrees, although she admits she's still scared each time her daughter straps into a 10,000-horsepower rocket for a four-second run down an asphalt strip.
"I always am," said Michele, who eventually sought advice from her doctor.
"He said 'if that's what she wants to do, you have to let her do it. You're going to hold her back from her dreams, her passion? That's what she chose to do'."
Gates open at 8:30 a.m; Pro Stock Qualifying, noon; Nitro Qualifying, 12:30 p.m.; Top Alcohol Qualifying, 1:45 p.m.
Gates open at 8:30 a.m.; Top Alcohol Qualifying, 10:30 p.m.; Pro Stock Qualifying, noon; Nitro Qualifying, 12:30 p.m.; Top Alcohol Eliminations (round 1), 1:45 p.m.; Pro Stock Qualifying, 2:45 p.m.; Nitro Qualifying, 3:30 p.m.
Gates open, 9 a.m.; Track walk, 9:30 a.m.; Nitro Eliminations (round 1), 11 a.m.; Pro Stock Eliminations (round 1), noon; Top Alcohol Eliminations (round 2), 12:15 p.m.; Nitro Eliminations (round 2), 12:45 p.m.; Pro Stock Eliminations (round 2), 1:15 p.m.; Top Alcohol semifinals 1:30 p.m.; Nitro semifinals 2:15 p.m.; Pro Stock Semifinals 2:33 p.m.; Top Alcohol finals 2:40 p.m.; Pro Stock finals 3:30 p.m.; Nitro finals, 3:37 p.m.
To purchase general-admission or reserved seats, call 800-644-4444. Tickets also are available online at www.NHRA.com/tickets. Children12 and under are free in general admission areas with a paid adult. Students can save 50% percent on general admission at the gate with a student ID; military and first responders can save 20%.
Follow Kevin Baxter on Twitter @kbaxter11
---