Pac-12 basketball: Utah rallies from 17 down to beat Arizona State 96-86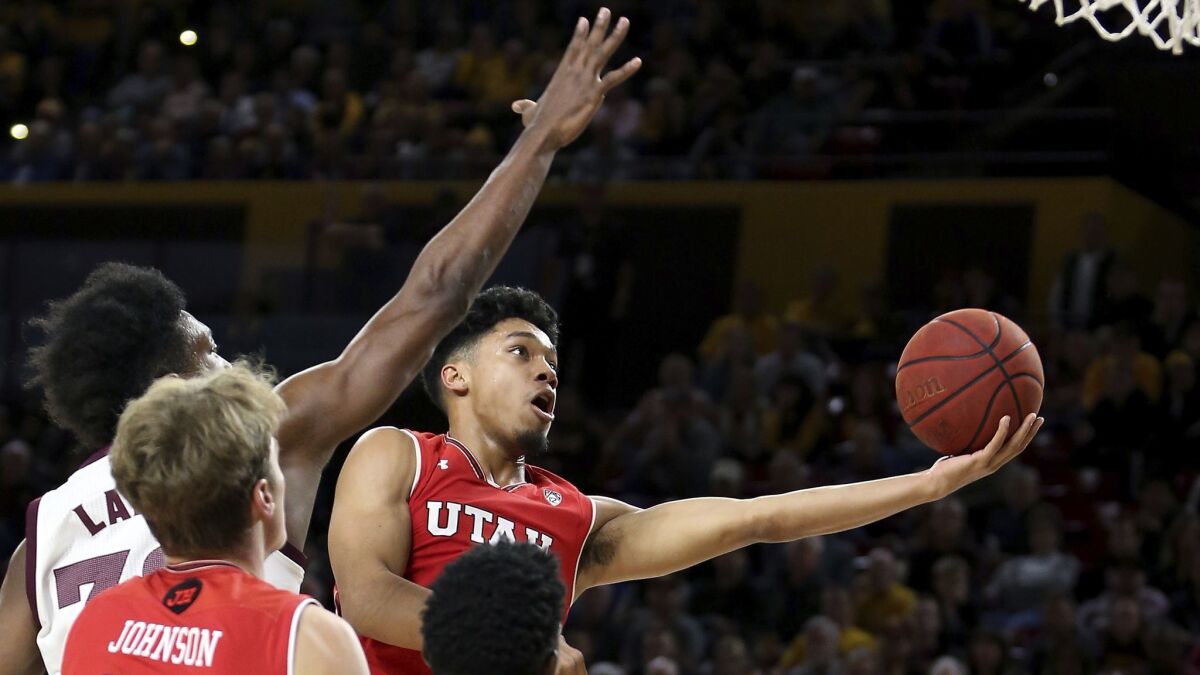 Utah got its Pac-12 season off to a stumbling start, struggling against Arizona State's defensive pressure while watching the Sun Devils take off in transition.
Down 17, the Utes found their way at both ends of the court, turning what appeared to be headed toward an ugly loss into an uplifting win.
Sedrick Barefield scored 24 points, Donnie Tillman added 21 and Utah rallied from a 17-point deficit to beat Arizona State 96-86 Thursday night.
"It was a lot of resilience, obviously," Utes coach Larry Krystkowiak said. "We didn't start the well and then I thought we settled in. Guys saw the ball go in and we chipped away at it."
Utah (7-6, 1-0 Pac-12) got off to a shaky start before long-distance shooting its way back into the game. The Utes made 16 of 30 from the 3-point arc and used a big run spanning halftime to build a 12-point lead.
Barefield made 5 of 11 from 3-point range and Tillman was 6 for 8.
Arizona State (9-4, 0-1) seemed to shake off a disappointing home loss to Princeton, jumping on the Utes early while building the big lead. The Sun Devils fell back into the same habits that cost them against the Tigers, watching a four-point halftime lead turn into a double-digit deficit.
Arizona State hurt itself at the free-throw line, going 12 for 25, and had numerous defensive breakdowns, leaving the Utes open at the 3-point arc far too often.
Remy Martin led Arizona State with 22 points.
at Arizona 64, Colorado 56: Brandon Williams had 14 points and six assists to lead a balanced Arizona attack and the Wildcats opened defense of their Pac-12 regular-season title with a 64-56 victory over Colorado on Thursday night.
Brandon Randolph had 11 points and freshman Devonaire Doutrive tied a season high with eight for the Wildcats, who were without starting guard Justin Coleman most of the way because of an undisclosed injury.
Coleman, who came in averaging 10.1 points and was second on the team with 41 assists, played four minutes in the first half and missed his only field goal attempt.
McKinley Wright IV had 17 points and six rebounds and Lucas Siewert had 11 points for the Buffaloes (9-4, 0-1), who have lost three of their last four. Tyler Bey had 11 rebounds.
Arizona (10-4, 1-0) did not lead for the first nine minutes before rallying. Williams had seven points and Doutrive had six as the Wildcats closed the first half on a 26-13 run for a 39-24 halftime lead and never again trailed.
Colorado trimmed a 17-point deficit to 57-50 on D'Shawn Schwartz's 3-pointer with 2:47 remaining before Randolph hit a layup to halt the rally.
Chase Jeter had seven points, eight rebounds and two blocks for Arizona, which is an NCAA Division I-best 90-4 at home since the start of the 2013-14 season.
Colorado had not played since Dec. 25 and Arizona had not played since Dec. 22. The rust seemed to show at the offensive end as Colorado shot 35.8 percent with 17 turnovers and Arizona shot 43.1 percent.
Arizona's Ira Lee had five points and three rebounds in 13 minutes. He spent Dec. 23 in jail after pleading guilty to driving under the influence last summer.
Get our high school sports newsletter
Prep Rally is devoted to the SoCal high school sports experience, bringing you scores, stories and a behind-the-scenes look at what makes prep sports so popular.
You may occasionally receive promotional content from the Los Angeles Times.