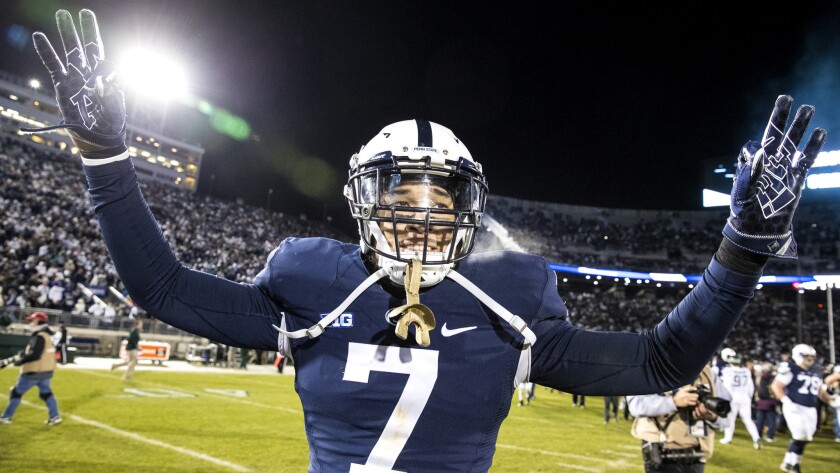 The text message arrived on Koa Farmer's phone as Penn State's third-year sophomore slept the morning after Christmas.
Brent Pry, the school's defensive coordinator, wanted him to call immediately.
Farmer roused himself in an upstairs bedroom at his family's home in Lake View Terrace — the name is tattooed on his left arm along with a slew of palm trees — and figured he was in trouble.
But Pry brought much different news. Sophomore outside linebacker Manny Bowen had been suspended for violating unspecified team rules. Farmer would start in his place against USC in the Rose Bowl.
"I was probably really short with him, acting like I didn't care," Farmer said Friday. "But I was so excited."
The thought of playing at the Rose Bowl — an 18-minute drive down the 210 Freeway from home if traffic is clear — was thrilling enough. Starting the game? Farmer boiled the feeling down to two words: "big time."
The former multiposition standout at Sherman Oaks Notre Dame High couldn't wait to tell his father. Jamal Farmer played at Granada Hills High and set an NCAA freshman record with 18 rushing touchdowns for Hawaii in 1989. He encouraged his son to take up football to become more aggressive, more physical on the basketball court. However, football quickly pushed basketball aside.
Koa Farmer raced downstairs and into the garage dressed only in his underwear.
"Dad, I'm starting," he recalled saying. "He was like, 'What? What?' It was funny."
Farmer's reputation for big plays, plenty of speed and versatility followed him from high school to Penn State.
"He was just big. He wore these gigantic shoulder pads," said USC cornerback Adoree' Jackson, who played against Farmer in high school. "He played almost every position on the field. He's just a playmaker, a ballhawk. ... I mean, I don't think pretty much anything has changed about him. It's just gotten better."
UCLA and USC were among the schools that recruited Farmer. He committed to California — Marshawn Lynch is one of his favorite players — but couldn't resist the pitch from Penn State Coach James Franklin.
A snowstorm coincided with Farmer's visit to the school. He had never seen snow before, more accustomed to spending free time boogie boarding at Manhattan Beach or Zuma Beach than braving below-freezing temperatures. Stuck in Philadelphia, the family had to rent a car and drive to State College, Pa.
"It wasn't ideal," Franklin said. "But actually when we got him on campus and got in that stadium and had all the lights on, having dinner overlooking the stadium and the field was white, it was beautiful."
Earlier this season, Farmer, who wants to work for the FBI or DEA after football, shifted from safety to linebacker, in addition to regular work on special teams.
Malik Golden, a fifth-year senior who considers Farmer to be a younger brother, said he believes he's the most versatile member of the team, capable of doing anything from returning punts to playing slot receiver.
Defensive end Evan Schwan, another fifth-year senior, thinks Farmer's speed adds a dimension to Penn State's defense.
And Pry sees "an endurance guy … a warrior."
During the recruiting process, Farmer told Franklin he dreamed of playing in the Rose Bowl. Now he'll start the game.
"It was a long journey, man," Farmer said. "It felt like all the puzzle pieces were connected."
Quick hits
Penn State junior linebacker Jason Cabinda also has ties to the Los Angeles area. He lived in Buena Park until his family moved to Virginia when he was 4. Cabinda's sister attended USC. ... Senior linebacker Brandon Bell is using the trip to sample L.A.'s cuisine, including a trip to Roscoe's House of Chicken and Waffles on Thursday. He gave a thumbs-up to his meal of four chicken wings and one waffle — with a caveat. "I'm probably not allowed to say that [because of] college, the NCAA, probably can't give any shoutouts," Bell said. ... Count sophomore running back Saquon Barkley among those impressed by USC senior Stevie Tu'ikolovatu, even he if he can't pronounce the defensive lineman's name. "He's just massive," Barkley said. "He's real twitchy and quick and can beat you with a power move or surprise you with a quick spin move."
Twitter: @nathanfenno
---