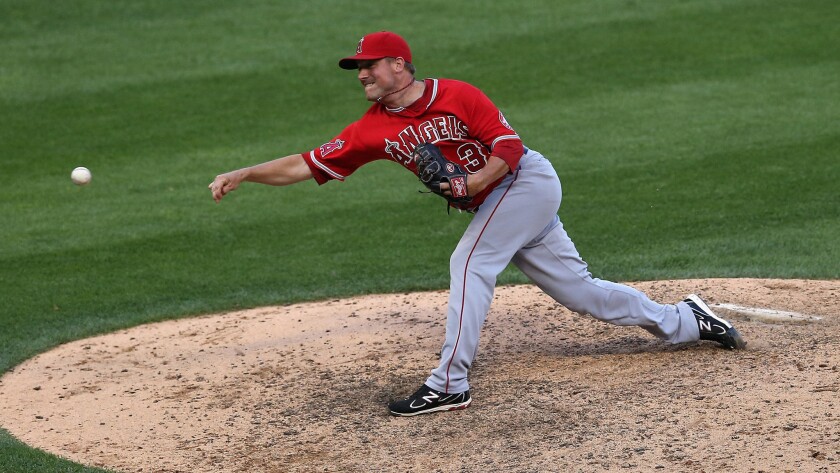 Reporting from Chicago —
Sidearm-throwing Joe Smith is not your prototypical closer, a guy "who comes in throwing 97 miles per hour with a nasty breaking ball," as Manager Mike Scioscia said.
The Angels don't care as long as Smith continues to do what he did Tuesday night, when the right-hander got the last three outs in each game of a doubleheader sweep of the Chicago White Sox at U.S. Cellular Field.
"We wouldn't be talking about any kind of pennant race without Joe Smith -- he's anchored our bullpen," Scioscia said after 8-4 and 7-5 wins over the White Sox moved the Angels (47-35) to within 3 1/2 games of the first-place Oakland Athletics in the American League West.
"He has the ability to get ground balls, he throws strikes, and he's having a terrific season for us. He's got the makeup to pitch the ninth inning, and he's doing a good job of it."
Smith replaced newly acquired left-hander Rich Hill with the bases loaded in the ninth inning of the first game and needed only four pitches to get Dayan Viciedo to ground into a double play and Alejandro De Aza to ground out.
The low-stress inning positioned Smith to return for the nightcap, and he needed only nine pitches to retire the side in order and become the first Angels pitcher to save both games of a doubleheader since Troy Percival against the Kansas City Royals on Sept. 6, 2003.
"It's not really that bad -- if you can keep your pitch count down, that usually helps," said Smith, who said he once pitched in both games of a doubleheader with Cleveland. "I did it before, and after throwing four pitches in first game, I knew I could do it again."
Smith, 30, is in his seventh big-league season and first with the Angels after signing a three-year, $15.75-million contract last winter. But this is the first time he's had a chance to close, the struggles of Ernesto Frieri and Frieri's subsequent trade to Pittsburgh thrusting Smith into a ninth-inning role.
"I love pitching the ninth," Smith said. "I've never had the opportunity to close at the big-league level. But if you ask any reliever if you want the ball in the ninth, that's what it's all about."
Smith rarely tops 90 mph with his fastball, but his pitches dip and dart all around the strike zone, making it difficult for hitters to make solid contact. He is 2-0 with a 2.78 earned run average and nine saves in 37 appearances, striking out 40, walking eight and allowing three homers in 35 2/3 innings.
"Everybody likes to have the power arm, the strikeout guy, but I'm biased toward guys who don't throw that hard," Smith said. "My feeling is, if I keep the ball down and induce ground balls and keep the ball in the yard, it's going to take three hits to score one run."
---