History, not foe, is best-selling point for Floyd Mayweather Jr.'s next fight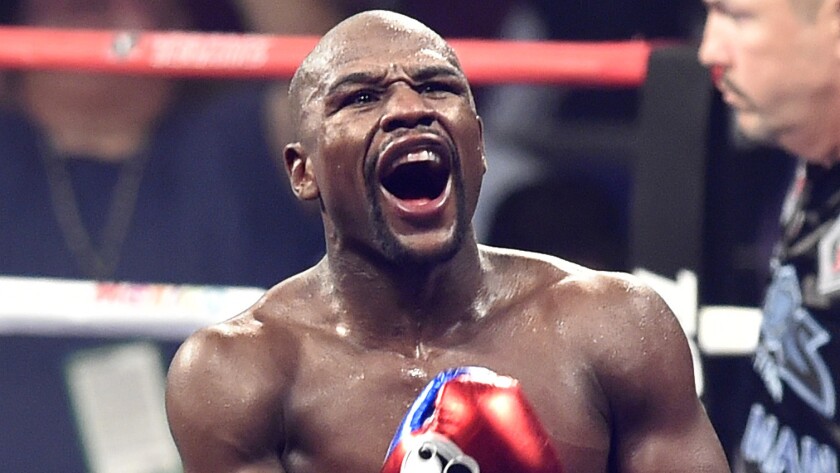 The draw of Floyd Mayweather Jr.'s next fight isn't the opponent.
Few are convinced former welterweight champion Andre Berto can beat Mayweather (48-0), and few – for Mayweather fight standards – are expected to dish out $60 or $70 to watch the Sept. 12 bout from MGM Grand in Las Vegas.
So history has been made the selling point.
"This is going to be Floyd's last fight," Leonard Ellerbe, president of Mayweather Promotions, told The Times. "What better way to go out than in a very electrifying, exciting fight?
"Somebody's going to get knocked out. Floyd wants to go out with a big bang."
Berto (30-3, 23 knockouts) will certainly do his part. His history of forward fighting made him a champion, led him to an impressive March victory over Josesito Lopez in Ontario, and it also got him in trouble.
In 2011, he relinquished his belt to Victor Ortiz in a gripping fight that featured two knockdowns by each. Ortiz used the victory as a springboard to a Mayweather fight that he lost by a controversial fourth-round knockout later that year.
In 2012, Berto got out-boxed by Robert Guerrero in Ontario, suffering two badly swollen eyes, as Guerrero rode that win to a date against Mayweather in which he was badly outboxed.
Many have connected those dots, and any hyping of the match sounds like boilerplate material used by any promoter at any boxing show.
"It's going to be a great fight," Ellerbe said. "I know [Berto], he's never, ever in a boring fight. This fight is guaranteed excitement. He's been in a number of wars. He's been in fights where he gets knocked down. But he gets back up and fights. He's looking to make his mark in history."
See?
But if this is Mayweather's last bout – love him or hate him – the cause for appreciation should be there, said Showtime's Vice President Stephen Espinoza, whose network will broadcast the bout on pay-per-view.
"By all accounts, Floyd is serious this is his last fight, so by any definition, this is historic – Floyd potentially tying [unbeaten former heavyweight champion] Rocky Marciano, and it might be the last time we see this once-in-a-generation boxer in the ring," Espinoza said.
"So regardless of the opponent – and I do think the opponent will provide us with an entertaining fight – we know this is a night not to miss because of the historical significance."
Part of the skepticism about Mayweather's retirement interest is that he's played this card before – twice, actually – and returned. Also, Las Vegas will next year open a new arena for a likely NHL team that would be ideal for Mayweather's shot at 50-0.
"There's a lot of skepticism because Floyd continues to perform at such a high level and is still the most skilled fighter in the sport," Espinoza said. "So it's hard to believe that anyone would retire, but Floyd has never wavered … that he intends for this to be his last fight."
Espinoza added that although Mayweather's contract with CBS/Showtime expires with the Berto bout, if Mayweather opts to return to the ring, "I strongly believe we will be the first call. It's been a successful collaboration for both of us."
First, there's a fight to market, an activity that will include a stop in Los Angeles on Thursday by both fighters for a news conference closed to the public.
"The other day I was in the gym, just watching [Mayweather] work [and] you can tell he will be very aggressive in the fight," eEllerbe said. "And you know Berto's going to be aggressive. We know neither guy is going to take a step back. You saw that in the last fight. We can definitely expect a train wreck."
Part of the reason for delaying the announcement of the fight so long, Espinoza said, was to secure an impressive undercard that will include a super-middleweight title fight between Badou Jack and George Groves, and a compelling rematch between Puerto Rico's Roman Martinez and Mexico's Orlando Salido.
Mayweather and Espinoza also sought to place the bout on CBS, but Espinoza explained, "Network television advertising operates on a completely different timetable. Those ads [for Sept. 12] are sold six to eight months earlier and we're looking at a time of year [that advertisers] have already spent a lot of their budget.
"That was really the challenge. There was interest from the sponsors and the CBS, but it wasn't realistic to bring all the elements together."
Mayweather has exceeded $30-million purses in each of his five prior Showtime fights, but the letdown between this bout and his May 2 victory over Manny Pacquiao that generated $440 million in pay-per-view buys will certainly put a damper on this bottom line.
"Our deal has always been flexible," Espinoza said. "It's a collaboration that has worked for each of us – event by event. We always make the deal work for both of us regardless of the structure.
"To some extent, no matter who this opponent was, there would be some amount of disappointment. Because when you're coming off an event with such magnitude as Mayweather-Pacquiao, with the performance against an opponent perceived as Floyd's biggest threat in his career, the question becomes, 'How do you challenge this guy?'
"And it's difficult when he performs at such a level against the top in his division that people start expecting the impossible of him in order to be impressed. To some extent, he's a victim of his own success."
ALSO
Andre Berto says hard road gives him a shot to beat Floyd Mayweather Jr.
Canelo Alvarez-Miguel Cotto close to deal for Nov. 21 Mandalay Bay bout
Cris 'Cyborg' Justino threatens to sue Ronda Rousey over steroid comment
Follow Lance Pugmire on Twitter @latimespugmire
---
Get our high school sports newsletter
Prep Rally is devoted to the SoCal high school sports experience, bringing you scores, stories and a behind-the-scenes look at what makes prep sports so popular.
You may occasionally receive promotional content from the Los Angeles Times.