Japan's Shoma Uno leaps to title at Four Continents competition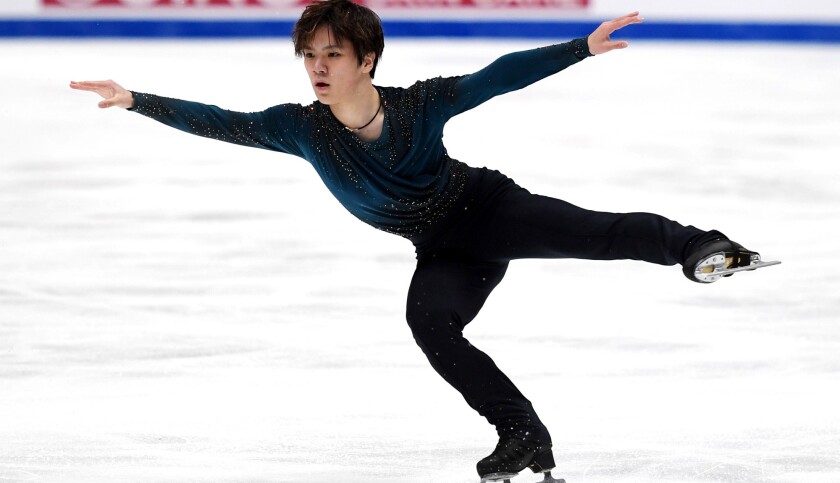 When Shoma Uno completed his near-flawless performance to Beethoven's "Moonlight Sonata," he kneeled on the ice at Honda Center as if he didn't have another breath or stride left in his body.
Uno, the Olympic men's figure skating silver medalist a year ago at Pyeongchang, had overcome a sore ankle and a highly competitive field to put himself in the lead at the Four Continents championships on Saturday, and many thoughts flashed through his mind in the few seconds before he lifted his head and acknowledged the crowd's roars.
"There wasn't a lot of happy emotions when I collapsed," he said after his lead held up, and by a large margin. "It was like, 'I really did it.' I thought about how I was injured after nationals and how I can bring [his skating] to the next level."
No one approached the level the 21-year-old Japanese skater reached on Saturday. He set a record with a score of 197.36 for his free skate as he leaped from fourth after the short program to a resounding victory.
Jin Boyang of China finished second with 273.51 points and Vincent Zhou of the U.S., who had led after the short program, took third with 272.22 points after the judges penalized him for under-rotating three of his jumps in his free skate program to "Crouching Tiger, Hidden Dragon." His free skate was ranked the fifth best.
"I did a very good quad lutz at the beginning but then my mind got a little blurry going into the quad salchow and that could have been better," Zhou said of one of the jumps the technical panel called under-rotated. "I thought that I skated great today. The most important thing that I got from today was the love for the sport. The audience was absolutely incredible and they helped me feel good about how I skated."
Sign up for our daily sports newsletter »
Jason Brown of the U.S. came up short in his attempt to cleanly land a quadruple jump in competition for the first time. He put his hand down as he landed his quadruple salchow and the judges penalized him for under-rotating it, but he was awarded good scores for his skating skills, choreography and interpretation. His free skate score of 172.32 was the fourth highest, behind Uno, Jin, and Keegan Messing of Canada's vibrant Charlie Chaplin routine.
"I'm very proud of the performance. It's a personal-best this season so I'm just proud of the growth," said Brown, who will join Zhou and three-time U.S. champion Nathan Chen at the world championships in Saitama, Japan, next month. "Every single competition I've gone to I've just gotten stronger and stronger….The field here is awesome. I'm really proud to be out there with such incredible men."
The third American competitor, Tomoki Hiwatashi, finished eighth with 236.79 points.
The competition will conclude on Sunday with the free dance segment of the ice dance competition. U.S. champions Madison Hubbell and Zachary Donohue stood first after the rhythm dance, with 81.95 points, just ahead of Americans Madison Chock and Evan Bates (81.17) and Canada's Kaitlyn Weaver and Andrew Poje (80.56).
An exhibition gala will follow at 6 p.m.
---
Get the latest on L.A.'s teams in the daily Sports Report newsletter.
You may occasionally receive promotional content from the Los Angeles Times.