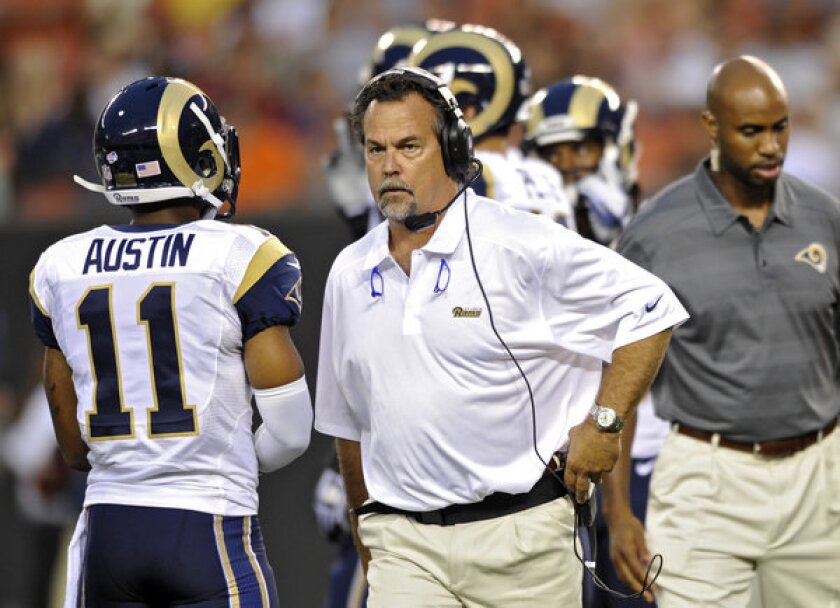 St. Louis Rams Coach Jeff Fisher was almost as pointed in his comments about TV analyst Bernie Kosar as the former NFL quarterback was about the Rams' performance in a preseason game.
St. Louis started slowly and lost to the Cleveland Browns, 27-19, on Thursday night. Kosar came to the defense of Rams starting quarterback Sam Bradford by calling his receivers "horrible" and repeatedly took shots at backup quarterback Kellen Clemens, saying that he "can't stand watching him play."
Kosar was the analyst with play-by-play announcer Jim Donovan for WKYC Channel 3's broadcast.
"I'm just surprised that Bernie has such a lack of respect for players and this game," Fisher told reporters. "To be honest with you, I lost a lot of respect for him. It's highly unlikely he knew anything about our football team, but felt the need to make those comments. I don't think they were justified."
Fisher pointed out that Clemens completed 6 of 13 passes for 116 yards and a touchdown. The Browns did intercept two of Clemens' passes, though.
Donovan even at one point during the broadcast asked Kosar about his highly critical comments.
"What if some of the parents are watching?" Donovan asked. "I'd be embarrassed," Kosar replied.
Sports Illustrated writer and NFL expert Peter King weighed in about the telecast.
EARTH CITY, Mo.--My question for Kosar after comments in Cle-StL preseason game: Were you drinking? Good guy. But waaay over the top here.— Peter King (@SI_PeterKing) August 11, 2013
Fisher took a couple of shots at Kosar as well.
"I guess I'm a little disappointed," Fisher said. "I feel bad for them, that they had someone doing the broadcast feel the need to speak that way about players, specifically on our team and coaches for that matter.
"Bernie's got his issues, they're well documented."
Those personal problems include health issues possibly stemming from concussions, financial and drinking.
ALSO:
PGA Championship live updates: Final round at Oak Hill
Jack Clark loses radio show over Albert Pujols PED allegation
UCLA's Malcolm Jones is trying to take advantage of his last chance
---